How to Protect Yourself from Wildfire Smoke During West Coast Fires
The West Coast wildfires burning in Washington, Oregon, and California are producing thick smoke that has resulted in air quality alerts across all three states.
The smoke is also circulating above the Pacific Ocean and has traveled as far east as Michigan.
While wildfire smoke is already harmful, the effects have been made worse by the coronavirus pandemic. The harmful pollutants in the smoke can irritate the lungs and increase susceptibility to respiratory infections, including COVID-19.
It is, therefore, more important now than ever to take steps to protect yourself and your family against wildfire smoke, especially for people in at-risk groups.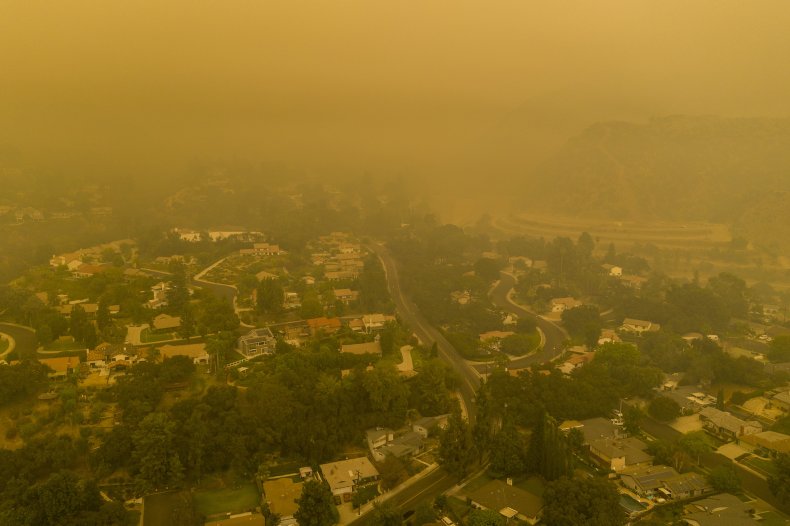 Air Quality in Washington, Oregon, California
There is an air quality alert in much of western and northwestern Oregon and a dense fog advisory just inland from the coast, covering cities including Portland, Salem, and Eugene. A dense smoke advisory is also in place further inland, to the east of the three aforementioned cities.
An air quality alert has been issued for much of western Washington, including areas like Seattle and Tacoma, and will be in effect until 11 a.m. PDT. NWS Seattle says that "air quality will be unhealthy, very unhealthy, and hazardous across most of Western Washington into Monday due to abundant smoke near the surface."
There is an air quality alert in parts of northern and central California, including areas surrounding Stockton, Fresno, and Bakersfield. The air quality alert was issued on September 9 and will remain in effect until the fires are extinguished. A dense smoke advisory also covers parts of eastern California, into Reno and Carson City in Nevada.
Wildfire Smoke Health and COVID-19 Risks
Wildfire smoke is a complex mixture of harmful air pollutants and the exposure to these air pollutants can irritate the lungs, cause inflammation, alter immune function, and increase susceptibility to respiratory infections, likely including COVID-19, according to the Centers for Disease Control and Prevention (CDC).
The CDC reports that recent scientific publications suggest that air pollutant exposure worsens COVID-19 symptoms and outcomes.
The people who are most at risk from wildfire smoke are children under 18 years old; adults aged 65 years or older; pregnant women; people with chronic health conditions such as heart or lung disease, including asthma and diabetes; outdoor workers; people of low socioeconomic status, including those who are homeless and with limited access to medical care.
Additionally, due to the COVID-19 pandemic, other groups of people may be at risk from wildfire smoke, including those who are immunocompromised or taking drugs that suppress the immune system, and those with or recovering from COVID-19, due to compromised heart and lung function.
How to Protect Yourself from Wildfire
Those who are at risk should use a HEPA filter or a portable air cleaner. Keep windows and doors closed at home, and use fans and air conditioners to keep air circulating indoors.
Reduce time spent outdoors and keep windows closed when driving.
Avoid creating more indoor and outdoor air pollution by frying foods, sweeping, vacuuming, and using gas-powered appliances, for example. Additionally, avoid using candles, gas, propane, wood-burning stoves, fireplaces, or aerosol sprays.
Pay attention to the temperature forecasts and know how to stay safe in extreme heat, including using window shades and drinking plenty of water.
While N95 respirators provide protection from wildfire smoke, they are currently in short supply due to the pandemic, and cloth face coverings do not capture most small particles in smoke.
Pets should also be kept inside, in a well-ventilated room, as they can be impacted by wildfire smoke too.
Stay up to date with your local authorities' advice and be prepared to evacuate. Have an evacuation plan ready, maintain social distancing when evacuating and follow the CDC's guidelines on staying safe at a public shelter during the coronavirus pandemic.