Protest Erupts at Nigerian Ambassador's House in Maryland Over Killing of Protesters in Lagos
After soldiers in Lagos, Nigeria reportedly opened fire on a demonstration against police brutality on Tuesday, protesters arrived at the U.S. Nigerian ambassador's residence calling for justice.
Protests began in October in Lagos against the special police force known as the Special Anti-Robbery Squad (SARS). According to Amnesty International, SARS is "notorious for the widespread torture and other ill-treatment of Nigerians." Tuesday's shootings occurred in the Lekki district of Lagos, the largest city in Africa. While a confirmed number of casualties has yet to be released, witnesses at the scene told Reuters that at least two people had been struck by gunfire.
Nigerians gathered in front of the Maryland home of Sylvanius Adiewere Nsofor Nigeria's Ambassador to the U.S. Tuesday to protest the violence. Video posted on social media showed the crowd and one voice can be heard to say, "My son is never coming back. My son is dead."
This video contains strong language which may be deemed objectionable by some readers. Discretion is advised.
Amnesty International Nigeria tweeted that it had received "credible but disturbing evidence of excessive use of force occasioning deaths of protestors" in the Lagos protests on Tuesday.
Newsweek reached out to the Embassy of the Federal Republic of Nigeria in Washington, D.C. for comment.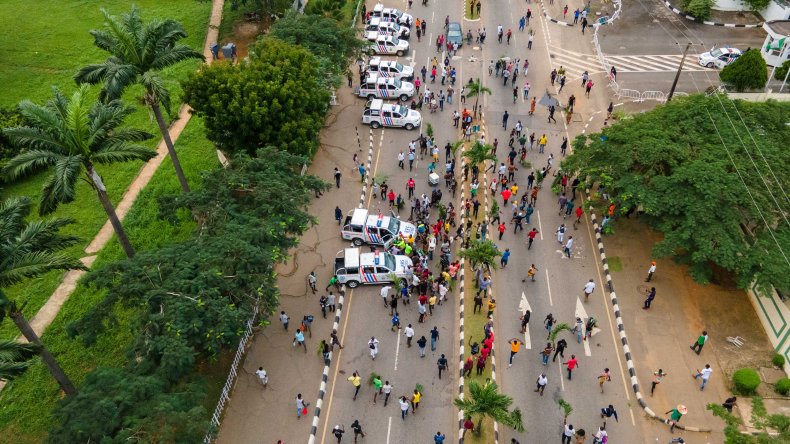 Calls for the disbanding of SARS begin in 2018 after Nigerians reported they had been harassed by the squad. Allegedly, some SARS members have engaged in extortion and jailing individuals who could not give them any money. In October, a video surfaced on social media which purported to show an individual being beaten by SARS officers.
In October, the office of the president of Nigeria, Muhammadu Buhari, said that SARS had been "dissolved with immediate effect" and that members of the squad would be redeployed. Despite that announcement, protests continued as people called for an end to brutality throughout the police force. On Tuesday, public officials called a 24-hour curfew on Lagos in an attempt to quell the protests.
Violence against protesters led some U.S. celebrities to voice their support for the demonstrators on social media using the hashtag #EndSARS.
"Standing with & praying for the brave young people of Nigeria who are on the front lines of this senseless violence," performer Nicki Minaj tweeted Tuesday. "Your voice is being heard."
"I'm calling on @mbuhari and the @hqnigerianarmy to stop killing young #EndSARS protesters," tweeted Hillary Clinton.
On Monday, protesters overran a prison in Southern Nigeria and set the prisoners free. According to tweets from the Nigeria Police Force, protesters carried weapons and munitions away from the prison's armory. Some sections of the prison were set on fire.
After the prison break, Nigerian Correctional Service public relations officer DCC AC Njoku said in a Monday statement that Buhari's administration would "leave no stone unturned in ensuring adequate dispensation of justice for all."