Protest Leaders Largely Calm Amid Unrest as Police Violence Tests Mayors and Governors
Protesters leading the wave of demonstrations that have spread across the country in response to the death of George Floyd have grown calm in recent days, as many mayors and governors stepped up to address national pushes for change in policing tactics.
More than a week after Floyd's death in police custody on May 25, the focus of many protests shifted to memorializing Floyd, who was eulogized by Reverend Al Sharpton in Minneapolis and remembered in another ceremony in Brooklyn, New York on Thursday.
"There have been protests all over the world. Some have looted and done other things, and none of us in this family condones looting or violence," Sharpton said during Thursday's memorial service. "The overwhelming majority of the people marching wasn't breaking windows, they were trying to break barriers."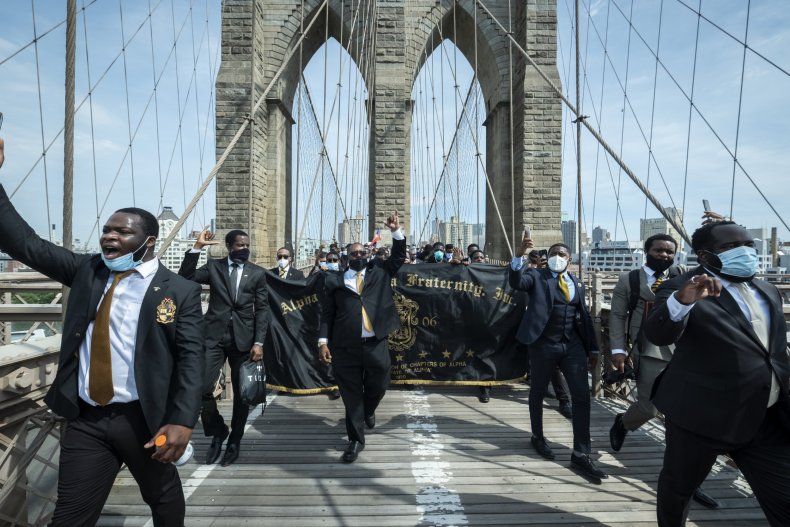 Sharpton's message came as many leaders around the country acknowledged the systemic racism that exists within local and state police departments. In Minnesota, Governor Tim Walz on Tuesday announced an investigation into the last 10 years of policing policies and procedures at the Minneapolis Police Department. A former chief of the Minneapolis police told Newsweek Thursday systemic racism existed not just within the Minneapolis Police Department, but within law enforcement organizations across the U.S.
In Louisville, Kentucky, Mayor Greg Fischer on Wednesday announced an official review of the Louisville Metro Police Department two days after the department's police chief was fired. The decision came on the heels of an exchange of gunfire between officers and protesters last week, during which one civilian was fatally shot. Earlier this year, Louisville police also gained national attention after the death of Breonna Taylor, who was shot in her home. The shooting occurred as officers served Taylor a "no-knock warrant," a practice that Fischer said this week was suspended.
"As we begin a search for a new police chief, this seems like a very good time to review the policies, procedures and structure of our police department to ensure that it aligns with the goals and values of our entire community," Fischer said in a news release.
Newsweek reached out to Fischer's office for further comment but did not receive a response in time for publication.
In Los Angeles, Mayor Eric Garcetti said Wednesday the Los Angeles Police Department would also undergo a review for ways in which it could evolve its policies. Mayors in Nashville, Pittsburgh, Atlanta, Portland and several other cities made similar announcements this week, as former President Barack Obama called on all mayors to review policing strategies and accept feedback from their communities.
As government leaders announced their intentions to address calls for reform, and as additional charges were brought against the officers involved in the incident that resulted in George Floyd's death, the violence seen in the early days of the protests began to wane, enabling many cities to lift curfews put in place to mitigate the damage caused during the demonstrations.
"I'm more hopeful today than ever," Sharpton said during his eulogy. "There is a time and a season, and when I looked this time, and saw marches where in some cases young whites outnumbered the blacks marching, I know that it's a different time and a different season."
In addition to the protests that have spread across the U.S. calling for change in the wake of Floyd's death, demonstrations calling for justice have also popped up in other countries, a result that Sharpton said fueled his hope for change.
"This is the time of building with accountability in the criminal justice system," Sharpton said.