Martin Gugino, Elderly Protester Shoved to the Ground By Police, Is a Longtime Peace Activist
Videos of an elderly man being shoved by police officers while protesting in upstate New York made waves on social media on Friday, sparking instant outrage. Only adding to protesters fury was the discovery of the victim, 75-year-old Martin Gugino's longstanding history of activism.
Gugino was standing peacefully near City Hall as a protest in honor of George Floyd dispersed on Thursday night when he was approached by city and state troopers shortly after Buffalo's 8 p.m. curfew began. Two officers wearing tactical gear pushed him down, causing Gugino to fall on the concrete, severely wounding his head. A number of officers were captured walking past Gugino as he lay on the ground bleeding from the head before he was eventually taken to Erie County Medical Center on Thursday. He has since been confirmed in critical but stable condition.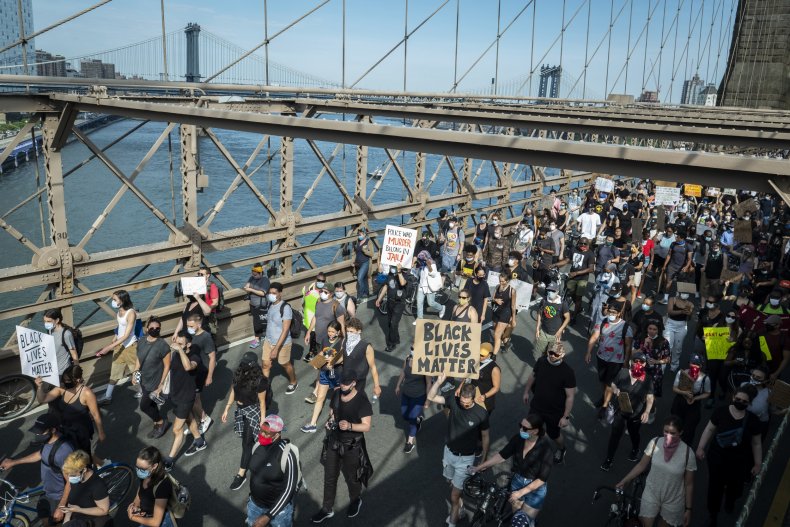 A resident of Amherst, New York, Gugino is a longtime peaceful protester and has advocated for a number of social justice issues through the Western New York Peace Center, according to his friend Terrence Bisson.
"He is a gentle person who really believes that he must stand up for what he thinks is right," Bisson told Buffalo News on Friday. "That's why he went to the demonstration. He would never resist physically any kind of orders. He's a bit frail, not because of his age. He has some health problems."
Bisson added: "He is very focused. I'm sure he will get through this. It's kind of tragic. He's the last person you would want to push down. He's the kind of person who you would want to speak up."
Just a day before Thursday's encounter with law enforcement, Gugino spoke out against the mandated curfew, writing, "Protests are exempt from curfews because Congress (and mayors) may make no laws that abridge the right of the people peaceably to assemble and complain to the government. The government should receive the complaint with thanks, not arrest the people or beat them."
The Buffalo native formerly worked in computer technology, but nowadays he reportedly spends his time condemning President Donald Trump's administration and advocating for a range of issues from climate change, racial equality and nuclear disarmament, which he also discusses on his YouTube channel.
After the video of Gugino's fall went viral, New York Governor Andrew Cuomo announced an investigation on the officers involved was pending.
"This incident is wholly unjustified and utterly disgraceful. I've spoken with Buffalo @MayorByronBrown and we agree that the officers involved should be immediately suspended pending a formal investigation. Police Officers must enforce — NOT ABUSE — the law," Cuomo wrote on Friday.