Parents and Teachers Protest Orange County Vote Allowing Schools to Reopen
The Orange County Board of Education (OCBE) voted 4-1 on Monday evening to allow schools to reopen next month, although the decision to open remains with the local districts and schools.
The vote—which allows schools to reopen with in-person instruction and without masks or social distancing guidelines—has been met with protests from parents and teachers.
As reported by CBS Los Angeles, a group of parents and teachers gathered outside of the meeting to protest children returning to school without following safety regulations issued by the state of California. There were also parents at the meeting to support the OCBE's decision to reopen schools next month.
A petition demanding that the OCBE follow the California Board of Education (CBOE)'s guidelines for reopening schools safely states: "Our Teachers, Staff, and Students must not return to school unless our Orange County School Districts implement safety measures guided by the CBOE's recommendations, outlined by the CBOE in Stronger Together.
"These recommendations are not just for the safety of our Teachers, Staff, and Students but for every single person they come in contact with."
The petition says that the OCBE has a "moral imperative and social duty" to enforce "mandatory masks, regular cleaning and sanitizing high touch surfaces, [and] social distancing (through reduced class size using block schedules, or hybrid distance/in person teaching)."
The petition gained thousands of signatures following the vote and has more than 40,000 at the time of writing.
The Safe School Reopening OC Facebook group, which is behind the petition, posted a video of its admin Brooke Aston Harper saying: "I want you to remember to take all of your anger and all of your frustration and all of your passion and turn it in the right direction towards your local school boards and your local districts. Let them know about our petition which has almost 40,000 signatures.
"Go find your local school board and your local school districts and make sure that they're going to do the right thing. You guys have every right to be mad—let's direct it in the right direction."
Harper told Newsweek: "The most important thing for our parents, staff, teachers, and students is to contact their local school boards, districts, and superintendents. The Board made very clear something I have been trying to impress upon anyone who will listen—individual school districts will set policy for the upcoming school year.
"The Board of Education's purpose was to sway public opinion. The pro-safety residents of Orange County have to support their local districts and school boards by writing letters, calling, and sharing our petition and the statements we've collected on our website, with their local leaders."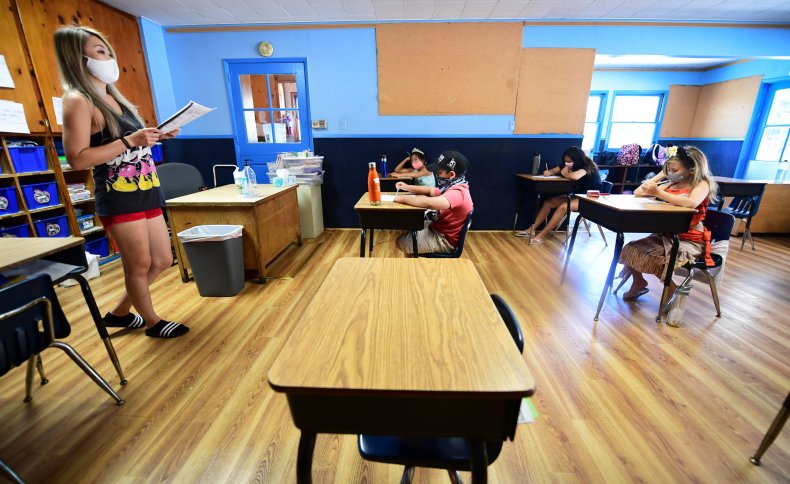 Orange County Superintendent Dr. Al Mijares issued a statement ahead of the meeting and said: "There has been some confusion, and understandably so, over the role of the OC Board of Education and our agency, the Orange County Department of Education (OCDE).
"OCDE and my office have worked with local school district leaders to develop 'Orange County Together: A guide to safely reopening schools in the COVID-19 era.' This resource, available on our website, is in alignment with the California Department of Public Health, which stresses the importance of social distancing and face coverings when social distancing measures are difficult to maintain."
The OCBE's decision was made on the same day that California Gov. Gavin Newsom enforced partial closures across the state, with more extensive closures on the worst-affected counties—including Orange County—and on the day that neighboring Los Angeles County and San Diego County announced that instruction would take place online this fall.
Austin Beutner, the Los Angeles school district's superintendent told the Los Angeles Times: "Let me be crystal clear. We all know the best place for students to learn is in a school setting. We're going in the wrong direction. And as much as we want to be back at schools and have students back at schools—can't do it until it's safe and appropriate."
According to Centers for Disease Control and Prevention (CDC) guidelines, the risk of the spread of coronavirus increases in school settings as follows: The lowest risk is virtual-only classes, and there is more risk with small, in-person classes with groups of students remaining with the same teacher and not mixing, and students remaining six feet apart and not sharing objects.
The CDC suggests using hybrid virtual and in-person class structures, or staggered/rotated scheduling to accommodate smaller class sizes, as examples of the "more risk" school setting.
Finally, the highest risk according to the CDC is full-sized, in-person classes, activities, and events where students are not spaced apart, they share classroom materials or supplies, and mix between classes and activities.
According to the Johns Hopkins University, Orange County has recorded more than 24,000 cases of the coronavirus.
The graph from Statista below demonstrates which states are reversing on reopening, including California, amid the COVID-19 resurgence in the U.S.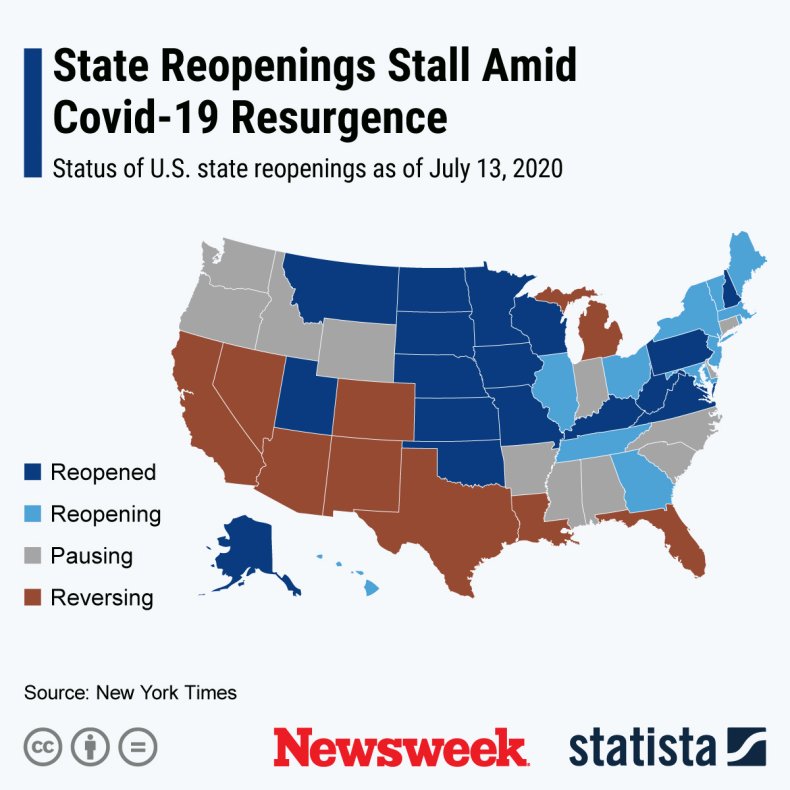 Newsweek has contacted the Safe School Reopening OC group and an OCBE representative for comment.