In Photos: Immigrant Ban Protests at Airports Across America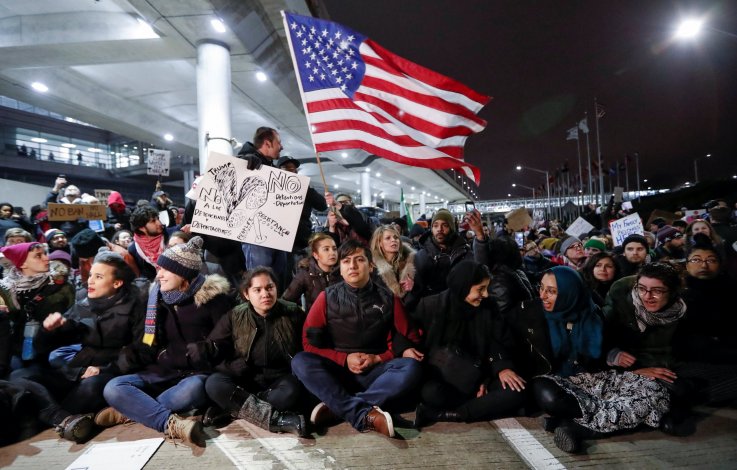 On January 27, President Donald Trump signed an executive order blocking all migration to the U.S. from seven chosen Muslim countries, including immigration by asylum seekers, refugees, persons with dual citizenship, and those employed by the U.S. military as contractors or other staff. As a result, protests took place in major cities across America for a second consecutive Saturday–all of which culminated in the ACLU successfully getting a federal judge to grant a temporary stay on the order for traveling immigrants. A short time ago, the group released a statement on the ruling:
A federal judge tonight granted the American Civil Liberties Union's request for a nationwide temporary injunction that will block the deportation of all people stranded in U.S. airports under President Trump's new Muslim ban. The ACLU and other legal organizations filed a lawsuit on behalf of individuals who were subject to the ban. The lead plaintiffs have been detained by the U.S. government and threatened with deportation even though they have valid visas to enter the United States.

Lee Gelernt, deputy director of the ACLU's Immigrants' Rights Project who argued the case, said:

"This ruling preserves the status quo and ensures that people who have been granted permission to be in this country are not illegally removed off U.S. soil."

ACLU Executive Director Anthony D. Romero, had this reaction to the ruling:

"Clearly the judge understood the possibility for irreparable harm to hundreds of immigrants and lawful visitors to this country. Our courts today worked as they should as bulwarks against government abuse or unconstitutional policies and orders. On week one, Donald Trump suffered his first loss in court."
These are photos of the protests that took place on January 28, from San Francisco to New York to everywhere in between.