Protest Planned in Minneapolis Against Police Brutality After Death of Man Kneeled on By Cops
Thousands plan to gather in Minneapolis on Tuesday in protest of police brutality after a black man died shortly following his arrest.
The protest, hosted by Black Lives Matter Minnesota, will take place outside the Cup Foods supermarket in Minneapolis, according to a Facebook group. The protest is set to begin at 5 p.m. CT, and over 3,000 people have said they will attend as of 1:49 p.m. ET.
Protestors will gather to remember George Floyd, the black man who died Monday night after an encounter with officers from the Minneapolis Police Department. Videos of Floyd's arrest were posted across social media on Monday, showing a police officer pinning him to the ground with a knee on his neck. In one video, shared to Facebook by Darnella Frazier, Floyd can be heard telling officers that he can't breathe as he is pinned and he later appears to lose consciousness.
According to Minneapolis police, the encounter began on Monday night, when police were called to the 3700 block of Chicago Avenue South for a man, later identified as Floyd by his family's attorney, attempting to use forged documents at a Cup Foods supermarket. When police arrived at the scene, they found Floyd in his car. According to police, Floyd appeared intoxicated and was ordered to get out of his vehicle.
"Officers were able to get the suspect into handcuffs and noted he appeared to be suffering medical distress. Officers called for an ambulance. He was transported to Hennepin County Medical Center by ambulance where he died a short time later," a statement from the Minneapolis Police Department reads. "At no time were weapons of any type used by anyone involved in this incident."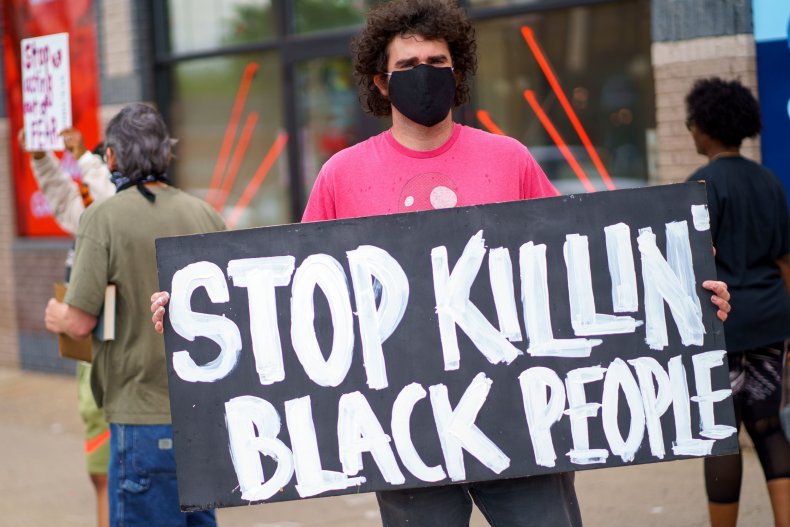 Despite the statement issued by the police, the Facebook group planning the protest wrote that "the truth is that MPD officers caused the medical distress and death of the victim through their inhumane actions."
"We are gathering at the site of Mr. Floyd's death, to demand justice for the victim and his family. We demand for the names of the officers in question to be released; and for those officers to be fired swiftly and criminally charged for their murderous conduct," the Facebook group adds.
In addition to the protest, a number of other prominent figures across the state have begun to speak out against the incident, including Minneapolis Mayor Jacob Frey.
"Being Black in America should not be a death sentence. For five minutes, we watched a white officer press his knee into a Black man's neck. Five minutes. When you hear someone calling for help, you're supposed to help. This officer failed in the most basic, human sense," Frey posted on his Facebook page.
Newsweek reached out to the Minneapolis Police Department and Black Lives Matter Minnesota for further comment but did not receive a response in time for publication.