Reverend Who Interrupted Jeff Sessions Speech Motivated by Faith: 'God Calls Them My People'
A pastor who interrupted Attorney General Jeff Sessions during a speech on Monday said the protest was motivated by his faith.
Reverend Will Green quoted Matthew 25:42-43 to Sessions, who was speaking about religious freedom at the Boston Lawyers chapter of the Federalist Society.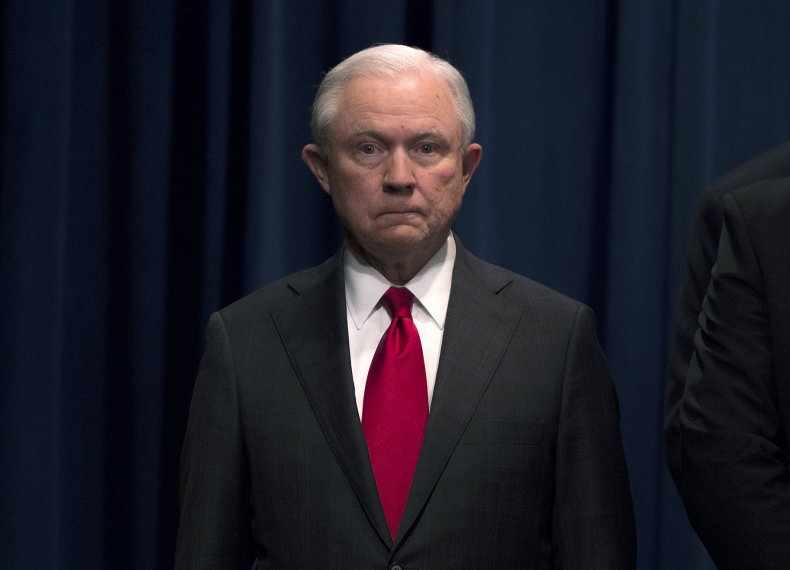 "The 25th chapter of Matthew, this story, is a wonderful tool for us to use to examine our lives," Green said on Tuesday while speaking with CNN's John Berman. "It's a wonderful way for us to hold our lives up against the teachings of Christ, up to the witness of Jesus and to really look within, to get honest and to say, 'How are we doing? How are we treating others?'"
The Methodist pastor of the Ballard Vale United Church in Andover said that his faith guides him to care for the 4,000 refugees walking toward U.S. border. The Pentagon announced yesterday that it would send up to 5,200 troops to the U.S.-Mexico border. Defense Secretary James Mattis and combatant commanders authorized the troops en route to border to carry live rounds, Newsweek reported.
Green advocated treating the migrants with compassion.
"I call these people my friends," he said. "I call them my neighbors, I call them my family. God calls them my people. Jesus calls them beloved and that's who I listen to for my messaging."
Sessions, a Methodist, dismissed the disruptions, saying "I don't believe there's anything in the Scripture ... [or my] theology that says a secular nation state cannot have lawful laws to control immigration ... not immoral, not indecent, and not unkind to state what your laws are and then set about to enforce them."
The audience enthusiastically applauded him, Vox reported.
Reverend Darrell Hamilton II, who came to Green's defense after the first protester was escorted out of the room, criticized the attorney general for not protecting religious liberty. As he was also led out of the room by security, he questioned whether Sessions truly intended to defend religious liberty.
"Jeff Sessions is not a champion of true religious liberty. And as a Baptist preacher, in the long legacy of Baptist preachers such as Roger Williams and John Leland, I disrupted Jeff Sessions to defend the protection of both soul and religious freedom of all people as a true witness of Christian religion practice," he told Religion News Service, according to NBC News.
He said Sessions' "entire political agenda is antithetical to the gospel of Jesus Christ."