What's the History Behind China's Current Obsession With Xinjiang?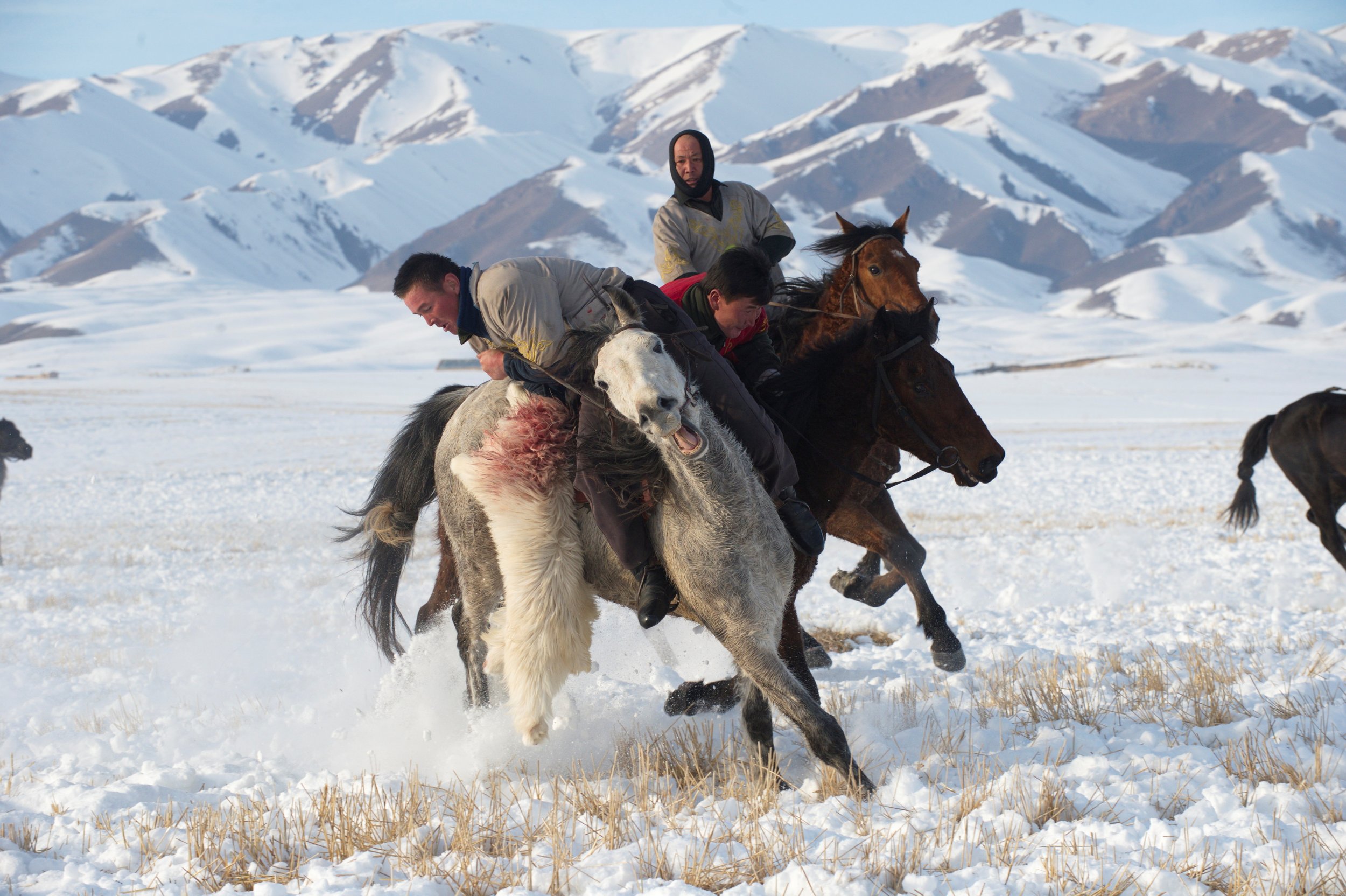 When the Islamic State militant group (ISIS) released a video last week that included scenes of Uighur fighters training in Iraq, it raised international concern that China could be ISIS's next target.
The video, which features child soldiers, shows two executions. Its timing coincided with a recent knife attack and troop deployment to Xinjiang.
Military parades in the western region have increased over the past few weeks, amid growing tensions between Han Chinese and Uighur separatists.
But why is the Xinjiang region causing China so many problems?
Where is Xinjiang?
The landscape in Xinjiang is scattered with boulders and mountains across the Karakum desert. A new bullet train loops between the region's capital Urumqi and Lanzhou, in the neighboring Guangxi province. From the train window, passengers can see open mines, factories or desert, so they tend to pull the blinds shut and sleep instead.
The region has received a lot of investment from Beijing and fear of uprisings has led the government to install three checkpoints to enter and exit Urumqi station, and deploy armored vehicles on the city's streets, alongside riot police, who stand guard on street corners.
According to China's state-run Xinhua news agency, eight people were killed and 10 injured in February when "three knife wielding" men stabbed people in Pishan County. Last month, Chinese troops displayed a show of force against terrorism in the region. The parade was the third event in Urumqi in the space of a week, and included thousands of armed soldiers.
What is Xinjiang's background?
Very little of Xinjiang is habitable and it is the largest of China's administrative regions. The Uighur Muslims used to form its majority population, and they are more closely aligned to Central Asia than China.
Originally part of the Turkic region that included Kyrgyzstan, Mongolia, Kazakhstan and Takistan, the Uighurs are traditionally a nomadic group of people. Their plight is similar to the Tibetans—there is resentment against Chinese rule because the Uighurs say their culture and religion is oppressed by Beijing.
Uighur arrests in the region nearly doubled in 2014, and included the high-profile apprehension of academic Ilham Tohti.
Xinjiang only became part of China in 1949, and 46.7 percent of the population are Uighur Muslims. The proportion of Uighurs to Han Chinese used to be greater. In 1949, just 6 percent of Xinjiang's population were Han Chinese, now it has reached nearly 40 percent. The reason the proportion of Han increased was because the government encouraged Han emigration into the region. Relations between the two groups have continued to be strained.
Independence was briefly declared in 1949 and Xinjiang became East Turkestan. However, just a few months later the region became part of Communist China.
Are ISIS operating in Xinjiang?
The East Turkic Islamic Movement (ETIM) is an extremist group founded by separatist militants in Xinjiang. They were described by the U.S. state department in 2006 as the "most militant" of Uigher separatist groups. China blames ETIM for flashes of violence in Xinjiang, while ETIM claims China exaggerates its actions to justify repression in Xinjiang.
China has accused ETIM of being affiliated with ISIS, and the most recent video has Beijing concerned. The foreign ministry announced China is "ready to work with the international community to continue fighting the East Turkestan terrorist forces."
Chinese experts estimate around 100 Chinese citizens have joined ISIS in Syria, and not all of them are Uigher.
Have there been uprisings?
During the 1990s, a wave of nationalism spread throughout Xinjiang as Central Asian countries became independent from the USSR, but greater control from Beijing helped manage the situation.
Violence in the region has been sporadic and mainly contained since 2009, when uprisings caused the deaths of 156 people after clashes between Han Chinese and Uighurs in a factory. China's response to the 2009 Uighur uprisings included jailing the "separatists" and interrogating protesters about possible links to terror.
Another attack followed in 2014. After a knife-wielding man killed 29 people at Kunming railway station in 2014, President Xi Jinping called for tighter state control in Xinjiang. He requested that Uighurs be assimilated better into Chinese culture in an effort to control violence in the region, describing the way Uighurs held tightly together "as close as the seeds of a pomegranate."
To what extent does Beijing control Xinjiang?
The region gets significant investment from Beijing, with the latest infrastructure project—$25 billion in new roads—announced in January. However, Amnesty International released a report saying it believed the Chinese were oppressing Uighurs for their religious beliefs, which authorities claimed were illegal and separatist. "The government wants to discourage religion. No official is allowed to pray in a mosque. And no one under the age of 18 is allowed in. No children," one man told a BBC journalist in a 2015 report from Xinjiang.
Many Uighurs struggle to find senior employment as they tend not to be as well-educated as the Han Chinese. In addition, the government does its best to restrict the Uighurs from practising their religion. These measures included some civil service institutions stopping Muslims from fasting during Ramadan. China has portrayed Uighurs as terrorists, using this interpretation as a way to allegedly increase oppression within the region.
The show of force by troops was an opportunity for politician Chen Quanguo to appear strong within the region, showing there would be ultimate repercussions for any future protests or uprisings.
Last month, the local government instructed thousands of drivers to install GPS trackers on their cars so authorities can observe their movements. The instruction is compulsory, and will affect cars driven in the Bayingolin-Mongol district, which borders Central Asia. It's thought the measure could be rolled out across the region over time.