Protester Arrested After Shooting Olympic Torch With Water Pistol
Police in eastern Japan have arrested a woman who fired a water pistol at an Olympic torch in protest at the Tokyo Games, which begin this month.
A viral video of the incident on July 4 shows bystanders watching the Olympic torch relay in the city of Mito, Ibaraki Prefecture, when 53-year-old Kayoko Takahashi lifts what appears to be a plastic water gun and takes aim at a passing torch bearer.
According to a report in Mainichi Shimbun on Tuesday, Takahashi was shouting slogans such as "No Olympics" and "Stop the Games."
She is stopped by two security officers, the clip shows. Takahashi was arrested on suspicion of discharging the water pistol as well as "forcible obstruction of business," the newspaper said.
The 77-year-old runner targeted by the protester was anchoring the day's relay event around Senba Park, the newspaper reported. The torch run concluded as scheduled.
Takahashi admitted the offenses, the paper added, but it is not yet clear whether she has been formally charged.
Sunday's incident was filmed by Takahashi's partner, Reuters reported on Tuesday. The couple from the city of Hitachi—roughly 60 miles northeast of Tokyo—had traveled to Mito for the event.
Hotori Amano, Takahashi's partner of 17 years, told Reuters he "had no idea that his girlfriend had a water gun," nor was he aware of her plans to disrupt the torch relay.
While spraying the torch, Takahashi reportedly shouted: "Extinguish the torch fire, I'm against the Tokyo Olympics!"
The Japanese public is divided on the question of whether the Games, which are scheduled to begin on July 23 after a one-year delay, should go ahead.
Recent polling has found that more than half the public opposes the hosting of the Tokyo Games as the coronavirus pandemic continues. Some surveys reported that 80 percent of respondents were opposed.
Japan has averaged over 1,000 new COVID-19 cases each day in July, with Tokyo accounting for one-third to half of new infections. Reported deaths each day have remained in single to double digits.
Less than 15 percent of Japan's population has been fully vaccinated—far behind the nations leading the race towards full vaccination, as seen in the chart below, produced by Statista.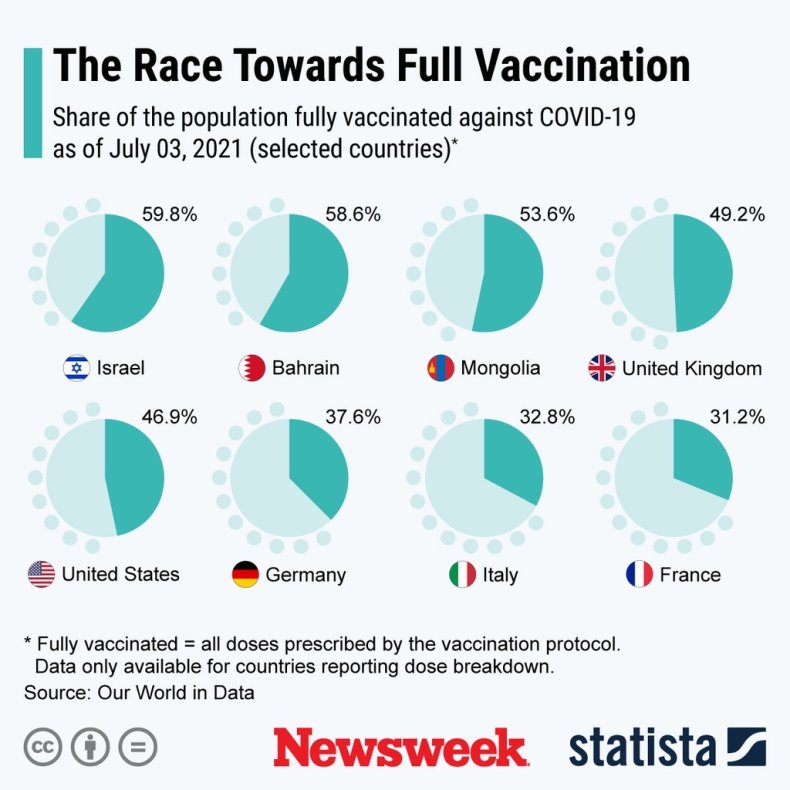 A Mainichi Shimbun report on Wednesday said the Japanese government was considering keeping all spectators out of Olympic venues' a big policy shift.
The decision is being influenced by increasing COVID-19 infections, the newspaper said, which are driving up public concern and dissatisfaction with the government's handling of the pandemic.
The government is scheduled to hold meetings with relevant parties, including the Tokyo Olympic committee, on Thursday.