Protester Arrested for Brandishing Gun Acted In Self Defense, Lawyer Says, May Sue Police
A Louisville protester and man driving a car both pulled out their firearms on Friday, but questions remain regarding who was the victim and who was the instigator.
The altercation happened following a demonstration at Attorney General Daniel Cameron's office. After calling for Cameron to charge the Louisville Metro police officers involved in the fatal shooting of Breonna Taylor, many protestors continue onto the streets. As some walked down Hurstbourne Parkway, a brown sedan moved into the left turn lane and abruptly stopped.
Aerial footage from the Louisville Metro Police Department shows Robin Ash, one of the protestors, taking a handgun from what appears to be her waistband and pointing it at the man driving the brown sedan. After approaching the vehicle, she appears to return the firearm to her waistband.
The Louisville PD said Ash was apprehended a "short time later." The police department said she put the drivers and others in "extreme danger" and charged her with wanton endangerment and criminal mischief.
But, her attorney, David Mour, said it wasn't a criminal act, but an act of self-defense, as the man "drove aggressively" toward the protesters when he moved into the left turn lane.
"Under Kentucky law, she was defending herself ... Kentucky is a stand your ground state," Mour told Newsweek. "This is a gun culture and a Second Amendment state and this lady did nothing but protect herself and people around her."
Ash was also charged with being a convicted felon in possession of a handgun, a charge Mour said isn't true because she isn't a "felon in possession of a handgun." In his final executive action before leaving office, Governor Steve Beshear, whose son Andy, is the current governor, granted 197 pardons and six commutations. Among them was Robin Crandal, who later married and took on the last name of Ash, Mour said.
Beshear's executive order granted Ash a "full, complete and unconditional pardon." A certificate Mour shared with Newsweek showed Beshear restored her ability to vote and hold public office, two rights people forfeit with a felony conviction. However, it did not restore any other civil rights, including "the right to receive, possess or transport in commerce a firearm or to serve on a jury."
Newsweek reached out to Mour for clarification and the Louisville Police Department for comment but did not receive a response in time for publication.
Sheri Wright saw Friday's altercation between protesters and the driver and a video she posted on Facebook showed the man exiting his vehicle with a firearm in hand. He pointed the weapon at the protesters and demanded to know who dented the side of his car.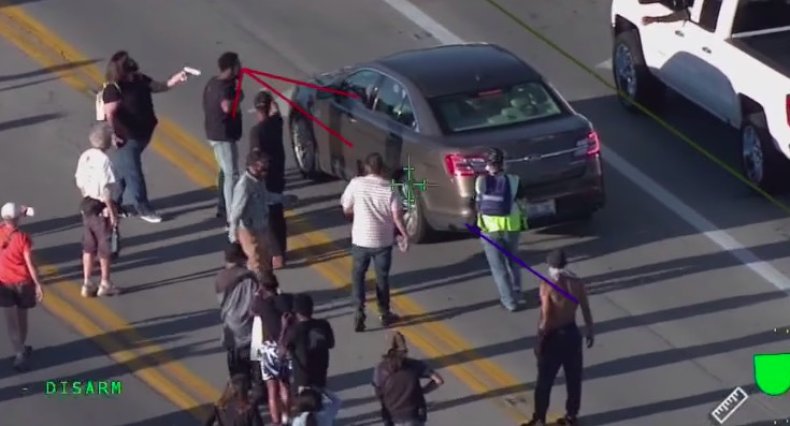 Wright's video didn't capture Ash's actions, but, as someone who was on the scene, she defended the 34-year-old. During a Kentucky Alliance press conference on Sunday, Wright said the driver "tried to run over protesters."
"What do you do when somebody threatens you with a gun? You run, or you defend—fight or flight," Wright said. "So I'm not going to knock anyone that felt her life was threatened, because I certainly felt my life was threatened, as did everyone there."
Mour sent Newsweek a photo of the man brandishing his weapon while still inside his vehicle and said he considers at least 100 counts of wanton endangerment an appropriate charge. It's a charge he said individuals are going to pursue in criminal complaints on Monday.
"They got the wrong person," Mour said. "This is malicious prosecution ... I would not recommend this lady plead [guilty] to anything. I'll take my chance against a jury."
Along with "vigorously" contesting the charges against Ash, Mour, who has filed two lawsuits against LMPD, said he's happy to do it again if his research shows his client was arrested without probable cause.