Protester Who Allegedly Repeatedly Slammed Police Officer's Hand in Door Charged With Assault
A Lawrence, Kansas man has been charged with repeatedly slamming a Kansas City, Missouri police officer's hand in a door at police headquarters Friday night.
Preston T. Foster, 23, allegedly slammed the door on the unidentified officer's hand as he was trying to leave police headquarters while a protest was going on outside.
Foster told police he was trying to brace the door to keep officers from leaving, according to a statement from the Jackson County Prosecutor's Office obtained by Newsweek.
Foster was arrested after attempting to escape police and charged Saturday with fourth-degree assault and resisting arrest. Both crimes are misdemeanors punishable by up to a year in jail and a $2,000 fine. Prosecutors recommended Foster be released on his own recognizance.
Foster was the first protester to be charged in the demonstration outside the Kansas City Police Department (KCPD) headquarters on Friday evening, according to The Kansas City Star. Protesters were calling for the KCPD to be defunded, with the money cut from police budgets to be reinvested in housing, education and healthcare. They also were calling for an end to a federal initiative that would send 255 federal officers into Kansas City, after the death of LeGend Taliferro, 4, who was fatally shot while sleeping on June 29.
Some demonstrators vandalized a statue honoring police officers who died in service, spray-painting phrases including "Abolish KCPD," "Feds go home," and "Google Donavan Labella," referring to a protester in Portland, Oregon who was shot in the head by a federal officer.
Police arrested 11 people for property damage and assault during the protest. In addition to Foster's alleged slamming of an officer's hand, police said that other demonstrators punched and pushed other officers. Authorities used pepper spray against protesters who assaulted officers—including Foster—around 11 p.m. local time, but confirmed that projectiles and tear gas were not used.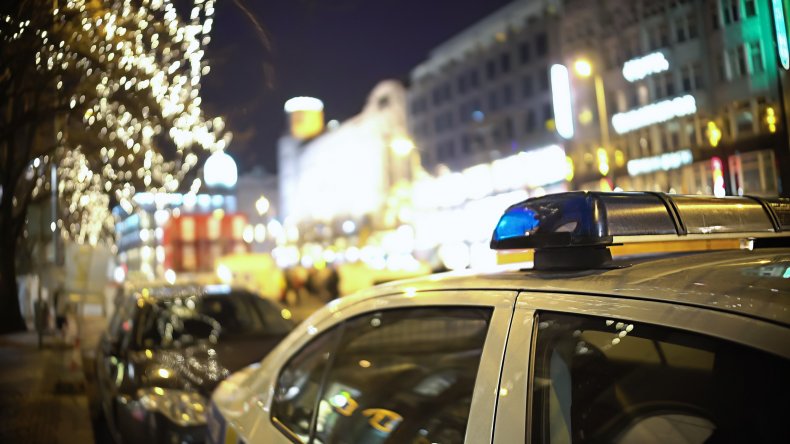 The protest was organized by local Black organizations, according to The Kansas City Star, including Black Rainbow. Ray Billis, a Black Rainbow member, disputed the police's statement that only demonstrators assaulting officers were pepper sprayed.
"I got pepper sprayed and a number of other protesters around me got pepper sprayed and all of us were peaceful protesters," Billis told the paper. "No one was assaulting police officers."
Police spokesman Jacob Becchina responded to Billis' statement by suggesting that the pepper spray was blown by wind into peaceful protesters. He also said the protest was declared unlawful before the spray was deployed.
"It's not as if someone was legally standing on the sidewalk during the course of 'peaceful legal' protest and got sprayed," he told the paper.
Kansas City Mayor Quinton Lucas shared a statement on Facebook Saturday morning, condemning the vandalization of the statue.
"Defacing a monument to police officers killed in duty, tearing up public buildings that our primarily Black employees are cleaning the next day, throwing explosives at a door to intimidate the lady working by the door at night... None of those actions tell this Black man you care about me or my family's struggle. None of it tells me you're trying to make change beyond some video views in a night," Lucas wrote.
"If you're about a movement, be about the people you're fighting for. If you're about a fad, violence, acting a fool, or having something to do one summer while the rest of us face issues for a lifetime, please just go somewhere else," he added.