A judge on Wednesday acquitted Amber Ortega, a Tohono O'odham woman who was arrested while praying and "compelled to protect the land," the Arizona Daily Star reported, at a border wall construction site in Arizona.
Ortega and her mentor, Nellie Jo David, were arrested in September of 2020 after they physically put themselves in the way of the wall's construction near Quitobaquito Springs, a site sacred to the Hia C-ed O'odham people, the Tucson Sentinel reported.
The two were charged with interfering with an agency function and violating a closure order, two misdemeanors. According to the Sentinel, while David accepted a plea deal in June requiring her to pay $200 and serve a probation period, Ortega insisted that federal law should protect her religious beliefs.
Ortega's defense said she should be protected under the 1993 Religious Freedom Restoration Act, which prohibits federal and state governments from "substantially burdening a person's exercise of religion."
The Daily Star reported that in a November bench trial, U.S. Magistrate Judge Leslie A. Bowman said the area's closure did not meet the "substantial burden" requirement because Ortega still had access to Quitobaquito Springs. She also declined to hear the testimony of a Tohono O'odham elder.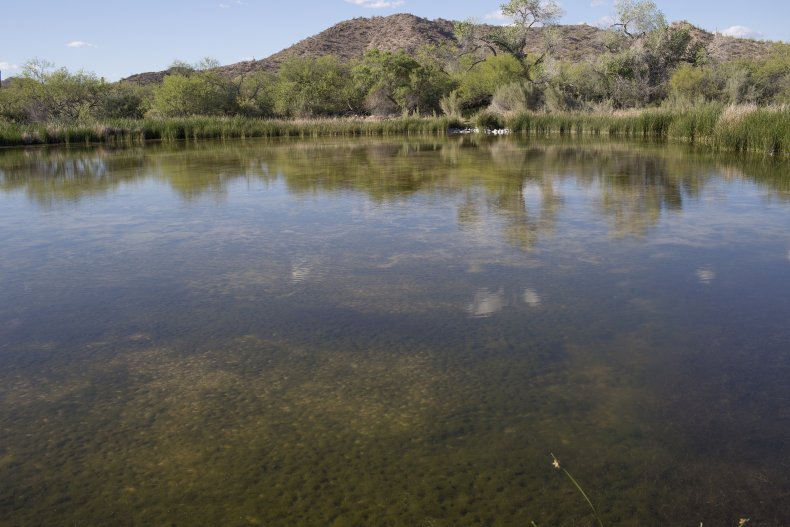 However, according to the Daily Star, Bowman reversed her decision after Amy Knight, Ortega's attorney, argued that Ortega had a right not only to pray, but to protect her ancestral land from destruction.
According to National Geographic, Quitobaquito Springs is an oasis that provided water to the Hia C-ed O'odham tribe and is regarded as a sacred place. Tribal elder Ophelia Rivas described it to the magazine as "a living element provided to all from our Elder teacher."
The report said that the spring's pond, which is only 200 feet from the U.S.-Mexico border, was being negatively affected by the nearby border wall construction, with the pond's water levels dropping 30 percent in just three months to its lowest level in more than 10 years.
The Hia C-ed O'odham, or Sand People, are one of the five branches of the O'odham. The Hia C-ed Hemajkam LLC website says that the U.S. government considered the indigenous group extinct because of their nomadic lifestyle. There are only about 1,000 people alive determined to be direct descendants of the Hia C-ed O'odham.
The University of Arizona's Native Nations Institute reported that the Hia C-ed O'odham joined the Tohono O'odham nation in 2013. Historically, both lived at Quitobaquito, according to the National Park Service.
The Sentinel reported that Bowman's change of mind felt like "a dream" to Ortega.