Protesters Against COVID Mandates Descend on NY Capitol Ahead of Hochul's State Address
Protesters are flocking outside of the New York State Capitol in Albany ahead of Governor Kathy Hochul's first "State of the State" address.
In a video posted to Twitter by independent photographer Leeroy Johnson, protesters were seen gathered outside the building on Wednesday morning. Johnson reported the demonstration was against the state's vaccine mandates and other COVID-19 requirements.
Music playing in the background of the clip included the lyrics, "I ain't wearing no mask. You can't make me afraid."
Hochul, the first female governor in the state's history, is slated to speak at 1 p.m. Eastern time. The event, during which Hochul will outline her top priorities for 2022, has a limited capacity this year due to the pandemic.
New York has experienced a surge in infections and hospitalizations due to the emergence of the highly transmissible Omicron variant. Cases have risen 243 percent over the past two weeks and hospitalizations have risen 110 percent, according to a tracker from the New York Times.
The state shattered its own daily-single case record twice last week, reporting 74,207 positives on December 30 and 67,090 cases the day prior.
"We're not in a good place, I'm going to be really honest with you," Hochul said at a news conference on Monday.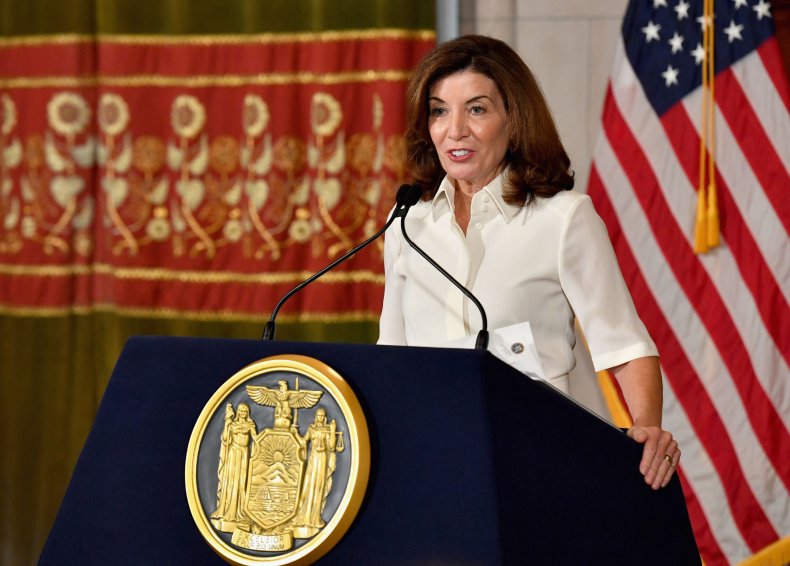 Hochul has imposed several COVID-19 restrictions since taking office in August after the resignation of former Governor Andrew Cuomo. Cuomo stepped down after a damning report stated he sexually harassed current and former state employees, and created a toxic work environment. He has denied the allegations.
Last month, Hochul announced a statewide mask mandate for all indoor public places unless a business or event venue has implemented a vaccine requirement. Businesses that don't comply with the order could face a maximum $1,000 fine per violation.
"The temporary measures I am taking today will help accomplish this through the holiday season," Hochul said at the time. "We shouldn't have reached the point where we are confronted with a winter surge, especially with the vaccine at our disposal, and I share many New Yorkers' frustration that we are not past this pandemic yet."
The governor has also required state healthcare workers to become fully vaccinated against COVID-19. The U.S. Supreme Court upheld the mandate in December.
New York employees who work in certain facilities offering health care to individuals served by the Office of Mental Health and the Office for People with Developmental Disabilities are also required to get the vaccine.
Newsweek has contacted Hochul's office for comment on the protests.
Update 1/5/22, 11:45 a.m. ET: This story was updated with more information and background.