Miami-area supporters of protests in Cuba stopped traffic on a Florida highway on Tuesday.
The Florida Highway Patrol and Miami-Dade police blocked the Palmetto Expressway northbound traffic on Tuesday afternoon as supporters rallying for protesters in Cuba halted traffic further south.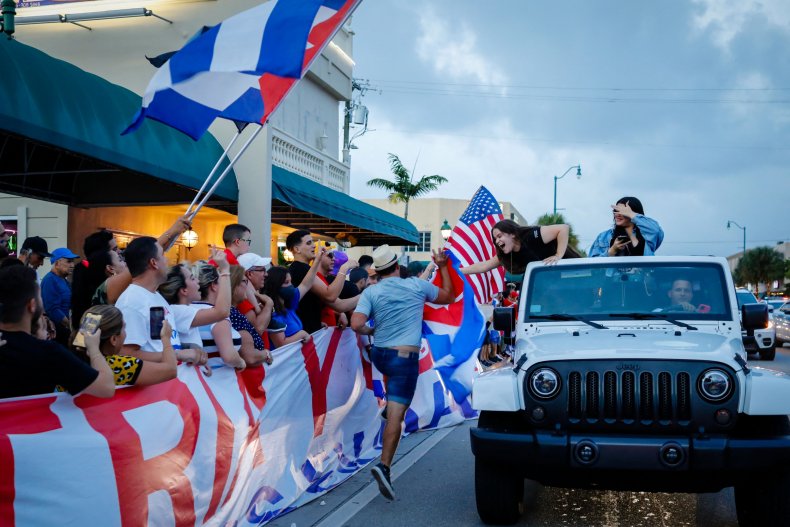 Local Fox affiliate WSVN showed footage from the Florida Department of Transportation's Traffic Cam on Twitter. The video showed the road closure and marching from various angles. The station also wrote in its tweet: "The Palmetto Expressway (SR-826) has been shut down in both directions near Coral Way and SW 32nd Street as protestors voicing their support for the people of Cuba went onto the expressway."
The Palmetto Expressway, also known as State Road 826, is a bypass route in the greater Miami area that stretches for approximately 30 miles from U.S. Route 1 in Pinecrest to State Route A1A in Sunny Isles Beach.
Traffic was reportedly stopped in both directions on the expressway on Tuesday afternoon, beginning at around 1:35 p.m. The Associated Press reported that demonstrators sat down on the busy highway, causing traffic to grind to a stop.
Demonstrations broke out across Cuba over the weekend with protesters expressing anger against the communist government over a lack of COVID-19 vaccines, as well as concern about severe blackouts and food shortages. The demonstrations have been called the largest on the island in decades.
South Florida is home to the largest U.S. population of Cuban-Americans, and thousands of people in Miami have been marching in support of the Cuban protesters.
Earlier on Tuesday, Florida Gov. Ron DeSantis held a round table with elected officials at Miami's American Museum of the Cuban Diaspora. The meeting was closed to reporters, but DeSantis said during a news conference afterward that the protests in Cuba were about more than vaccines and other basic items.
"They are revolting against a corrupt communist dictatorship that has ruled that island with an iron fist for over 60 years, that is responsible for death and destruction, not just on the island of Cuba but really throughout the Western Hemisphere, with their actions supporting other Marxist regimes," DeSantis said. "These are people that fundamentally desire a fresh start. And they desire a free society."
On Monday, U.S. President Joe Biden also backed the protesters in Cuba. Speaking to reporters, he said, "The Cuban people are demanding their freedom from an authoritarian regime. I don't think we've seen anything like these protests in a long, long time if, quite frankly, ever."
"The U.S. stands firmly with the people of Cuba as they assert their universal rights," Biden said.
Update 07/13/21 3:35 p.m. EDT: This story has been updated to include more background information.