Protesters Arrested As 'Thousands' Of Students Rally Against Ann Coulter Speech In Berkeley: 'She's A Fascist'
Hundreds of protesters gathered at the University of California at Berkeley on Wednesday, rallying against an appearance by conservative pundit Ann Coulter.
Speaking to Newsweek hours after the protest, Refuse Fascism protest organizer Atlas Winfrey said he believed there were as many as 2,000 people at the protest.
Protesting Coulter's presence on campus, students chanted "she's a fascist," while also rallying against the Trump administration, Winfrey said. "The demand that was thunderously roaring was 'Trump/Pence out now.' That was overwhelmingly what the crowd was saying."
Some of the demonstrators, the University of California Police Department (UPCD Berkeley) said in a tweet, were wearing masks at the campus event.
At least seven demonstrators, Winfrey said, were arrested at the protest, with one activist, Brandy Youssif, a student at Berkeley City College, still being held by police with her bail set at $60,000.
The protest organizer said he believes Youssif was unfairly targeted by police because she entered Coulter's talk and spoke out against the conservative pundit.
"She had never done anything like this before, but she knows in her heart that Ann Coulter is a racist, that she's a Nazi and that if she doesn't act, the whole situation is only going to get worse," Winfrey said.
It is unclear what exact charges Youssif is facing, however, Winfrey said assault charges were among them, with the protester being accused of assaulting police officers during her arrest.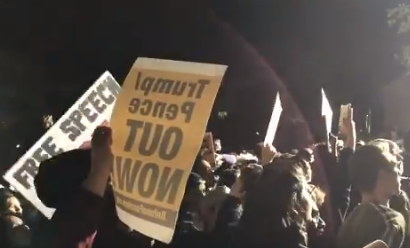 Protesters flooded the campus at the University of California at Berkeley on Wednesday, rallying against an appearance by conservative pundit Ann Coulter.
Refuse Fascism
Winfrey said he did not believe that Youssif assaulted police during her arrest. He also said he felt that having her bail set at $60,000 was "disproportionate."
An officer who answered the phone at UPCD Berkeley said they were unable to comment on the incident and requested that Newsweek call back for more information at a later time.
Refuse Fascism has been calling on supporters to "flood" the police department and Berkeley City Jail's phone lines with calls to demand Youssif's release.
Winfrey said Refuse Fascism was also anticipating further protests on Thursday to call for Youssif's release, as well as for schools like UC Berkeley to stop hosting conservative commentators and politicians on campus.
During Wednesday's protests, demonstrators appeared to set up a projection asking, "Why do the Berkeley College Republicans keep inviting Nazis on campus?"
Protesters also branded Coulter a "Nazi" and "fascist" in chants during the demonstration.
Coulter tweeted out footage of her walking past protesters on Wednesday night, calling it her "red carpet walk."
She also pointed out that demonstrators had failed to block people from entering her speech.
"They didn't block 'em at all," she said, sharing footage of an altercation between demonstrators and at least one person attempting to access the venue where Coulter would be speaking.
Newsweek has contacted Coulter and UC Berkeley for comment.