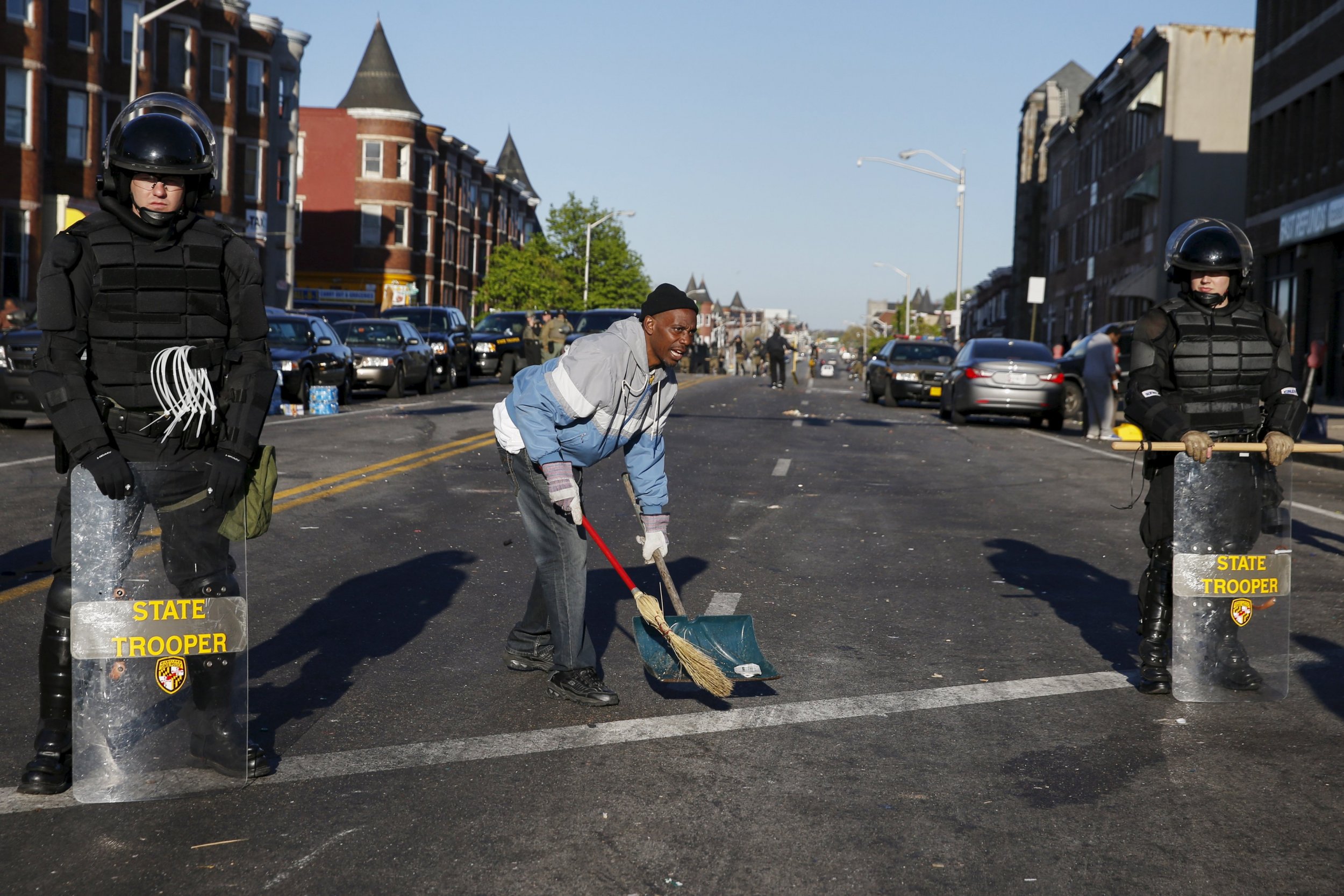 BALTIMORE, MD—On Monday evening, following a day of violent protest, over a dozen police officers were injured, three major fires raged across the city, and 27 people had been arrested. The riot comes on the same day Freddie Gray, a 25-year-old black man who died of injuries sustained during an arrest, was buried.
What began as several hundred rowdy high schoolers turned into a violent riot in Baltimore on Monday. After school let out, teenagers near the Mondawmin Mall, where the Gray funeral was held, began throwing rocks and bottles at vehicles, mainly police cars. The rioting spread and became more violent. Rioters threw bricks at police officers, looted local businesses and set fires. By nightfall, the governor of Maryland declared a public emergency and the National Guard was brought in.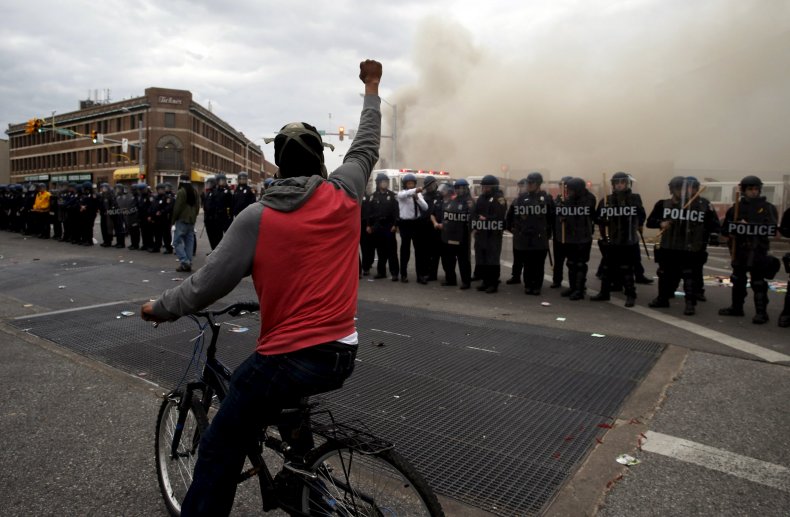 In Focus
See photos of the chaos in Baltimore, where riots have broken out following the funeral of Freddie Gray, a black man who died in police custody.
Launch Slideshow

21 PHOTOS
Protesters in Baltimore have been demonstrating for several days against police brutality, upset Gray did not receive proper medical attention following his arrest. Gray sustained a spinal cord injury during the transportation following his arrest. The circumstances surrounding his injury, such as whether police failed to get him medical attention swiftly enough and whether he was transported incorrectly, is being investigated by authorities.
The Gray family had asked protesters not to demonstrate today in order to peacefully bury Freddie. In a press conference this afternoon, the police department did not confirm the Gray's funeral was the catalyst for the riot, though many rioters cited Gray's death in interviews.
"The family of Mr. Gray asked people to be respectful, but they just ignored that. And these are kids out here right now. But some of the parents don't care," Darlene Dorsey, a Baltimore resident, toldNewsweek.
The violent riots reminded Council President Jack Young of the 1968 riots, which "were taking place during the assassination of Martin Luther King, where people were destroying their own properties in their community." Young added: "This is unacceptable; this is not what Freddie Gray's family wanted."
An attorney for the Gray family said those instigating the riots "don't respect his death."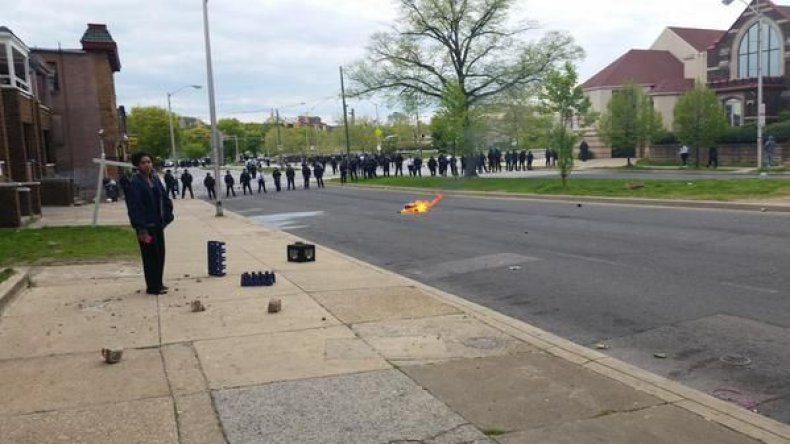 Many of protesters appeared to be under the age of 18. The Baltimore Police Department repeated urged parents to find their children and get them off the streets. "We have young adults here who are 15, 16, 17 years old. They know right from wrong," Baltimore Police Commissioner Anthony Batts said at a press conference. "For those parents who have kids that came off that [school] campus, take control of your kids. This is our city."
Batt believes the curfew, which begins tomorrow, will help authorities regain control of Baltimore. "People compare us to Ferguson, but Ferguson is a much smaller city. We had opposite areas of the city popping up. We were pulled so thin."
Barbara Taylor, a 15 year resident of the area, spotted a number of young rioters running away from authorities. "I tell them to go home when they about to tear it up."
Rioters looted a pharmacy, convenience store and liquor store. "Lotta crime. That's all I'm sayin. These people don't live around here. They up there cleaning out CVSes," Taylor told Newsweek. "This is our neighborhood. And they coming down to our neighborhood, tearing it up for no reason at all. It has nothing to do with anything going on."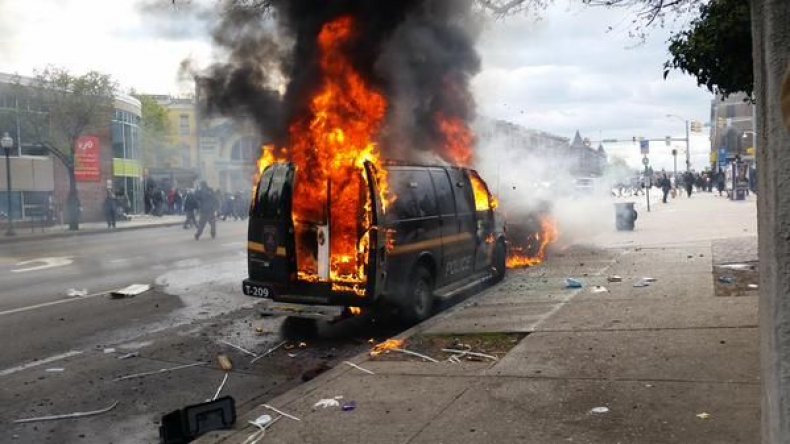 CVS, one of the stores which was looted, was closed in advance of the looting. According to spokesman Mike DeAngelis "no customers or employees were in the store when looters broke into it."
Several businesses, including CVS, were burned during the riot. Firefighters battling the flames had liquor bottles thrown at them. On live television, a rioter wearing a gas mask ran up to the fire hose and cut it while firefighters tried to get water on the flames. Eventually, the police department moved in to protect the hose.
A Newsweek reporter witnessed looters take iced tea, candy, boxes of toilet paper, diapers, liquor and snow-cone syrup.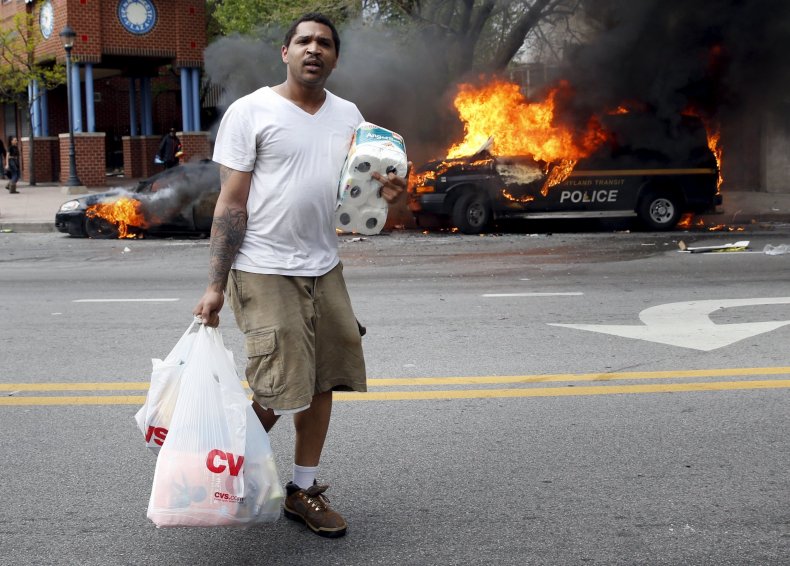 "I'm a lifelong resident of Baltimore," Baltimore mayor Stephanie Rawlings-Blake said in a statement on Monday. "Too many people have spent generations building up this city for it to be destroyed by thugs who in a very senseless way are trying to tear down what so many have fought for."
Around 9 p.m., a church-owned construction site was on fire. The building was to be a senior home and community center. It was not immediately clear if the building was set on fire deliberately, though witnesses and reporters on the scene speculated the cause was arson.
Rioters also attacked cars, setting a number of police cars and vans on fire. One police car was nearly flattened, as rioters jumped and stomped on it. A police spokesman described the rioters as "outrageous criminals."
Police officers on the ground wore riot gear and held a police line at numerous locations. Early in the day, some police officers were videotaped throwing rocks back at the protesters.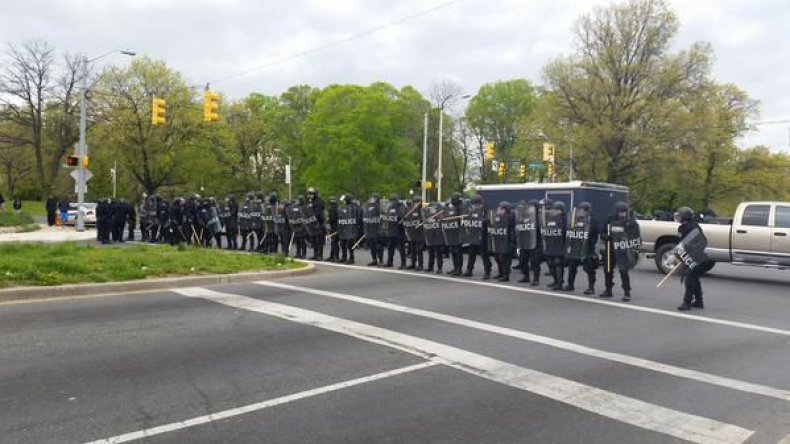 Earlier today, the Baltimore Police Department said they had determined three gangs, the Crips, Bloods and Black Guerilla Family, have united to harm law enforcement. One man, who self-identified as a member of the Crips, told reporter Justin Fenton he did not approve of the riots: "This is our community."
Members of all three gangs met with members of the local clergy at the New Shiloh Baptist Church, the church in which Gray's funeral services were held. Local media described the meeting as peaceful and organized. Commissioner Batts did not believe the gangs instigated the violence: "The youth thought it was cute to throw cinder blocks at the police department."
Eric Kowalczyk, a police spokesman, confirmed law enforcement used tear gas and pepper balls in an attempt to disperse protesters. One witness told Newsweek the police department was using an LRAD noise device, a long range acoustic cannon which causes extreme pain in the ears. Such machines were used by authorities during riots in Ferguson, Missouri, following the death of Michael Brown. In Baltimore, it sounded "really loud alarm," according to a Newsweek reporter.
Several reporters had their cameras stolen or smashed, according to a producer with CBS. Reporters were hit with tear gas while in the riot area, according to the news network.
A preliminary report about the circumstances surrounding Gray's arrest and injury is expected this week. Six officers have been suspended awaiting the results of the inquiry.
"If they just get the police officer that did it, that solves the whole problem. But this is not necessary, all this madness," Dorsey told Newsweek. "The policemen have been doing this for so long, that I guess people thought this was an opportunity to get back. That's how it is."
A map of the locations affected by these riots:
The executive order declaring a state of emergency in Maryland:
Gov. Lawrence J. Hogan Jr. Activates National Guard by Newsweek_Magazine
Additional reporting by Iva Dixit.