Watch Protesters Block Bus Filled With Migrant Detainees in Southern Texas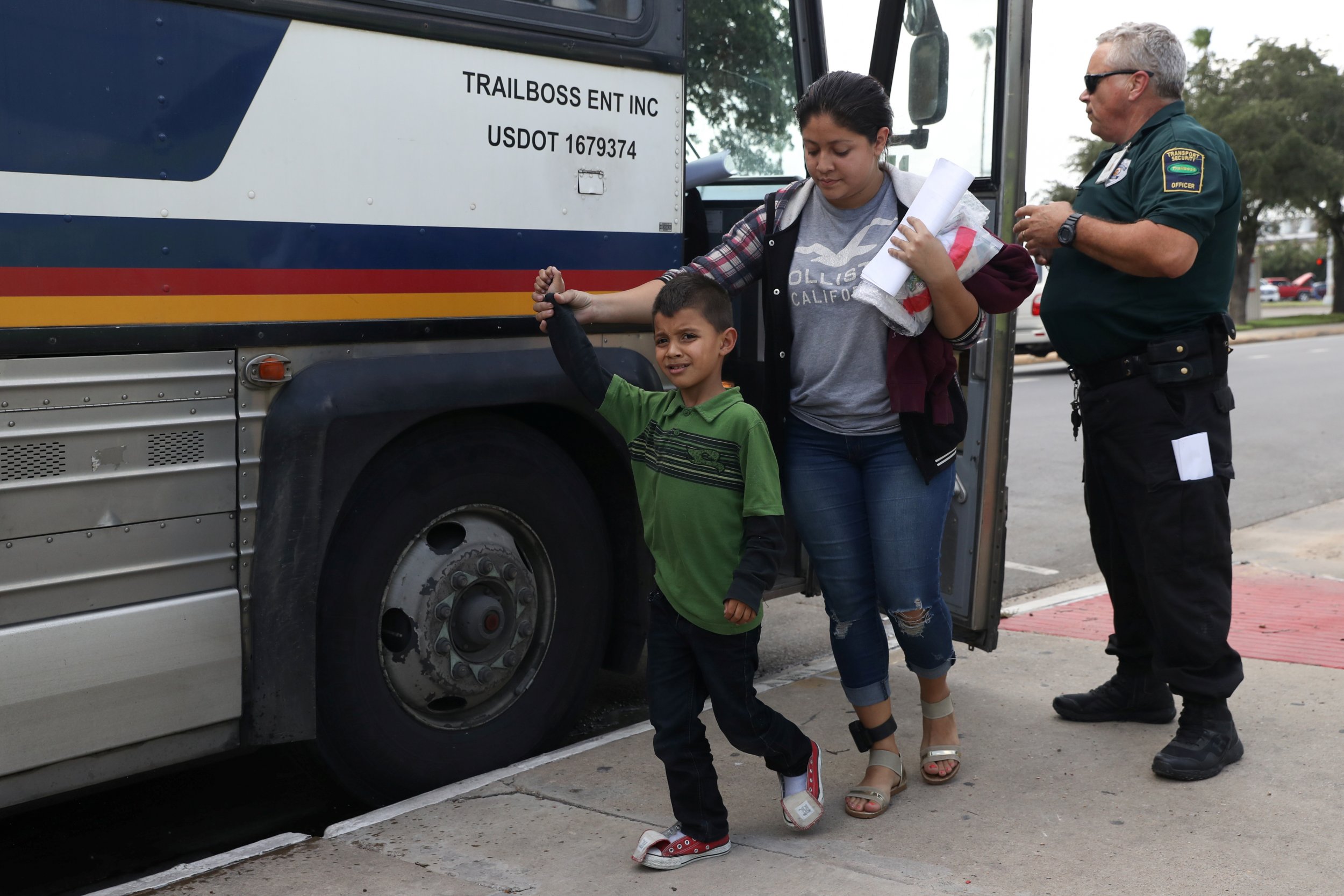 Dozens of protesters blocked a bus filled with migrant detainees as it tried to leave a border patrol processing center in McAllen, Texas.
Protesters were already giving speeches as part of a planned rally outside the facility when a bus attempted to leave the processing center, transferring undocumented immigrants to an unknown location. It's unclear how many children or adults were on the bus.
Protesters turned toward the bus and began chanting "We see you! We love you!" After getting in front of the bus to prevent it from moving, protesters formed a human chain and started chanting "Set the children free!" and "We are America!"
You can watch a video of the protest here.
One protester told MSNBC he came from Austin, Texas, to show resistance and "protest the detention of families and children."
"Immigration issues are not just an immigrant problem," he said. "It's the entire country's problem. There's no reason kids need to be separated in cages."
Another woman told CNN in Spanish that she "saw the small hands of children."
The bus eventually backed up and used a different street to exit the facility while surrounded by border patrol agents and police.
No arrests or injuries were reported.
More than two dozen Democratic U.S. House members toured the same processing center earlier that day. California Congresswoman Jackie Speier said it was "for all intents and purposes, a prison." The group of lawmakers told reporters there were children sleeping behind bars, on concrete floors and under emergency "mylar" heat-resistant blanks.
Other demonstrations took place on Saturday across the country from Homestead, Florida, to San Diego, California, in protest of the Donald Trump administration's immigration policy of separating children from families who illegally cross the border.
President Trump signed an executive order on Wednesday that halted his administration's separation of immigrant families. That "zero-tolerance" practice resulted in more than 2,300 children being taken from their parents. It's still unclear when and how those thousands of migrant children will be returned to their parents.
Attorney General Jeff Sessions said "we never really intended" to separate families, despite in early May announcing the Trump administration would begin separating parents and children at the border.
"If you are smuggling a child, then we will prosecute you, and that child will be separated from you, as required by law," Sessions said on May 7. "If you don't like that, then don't smuggle children over our border."