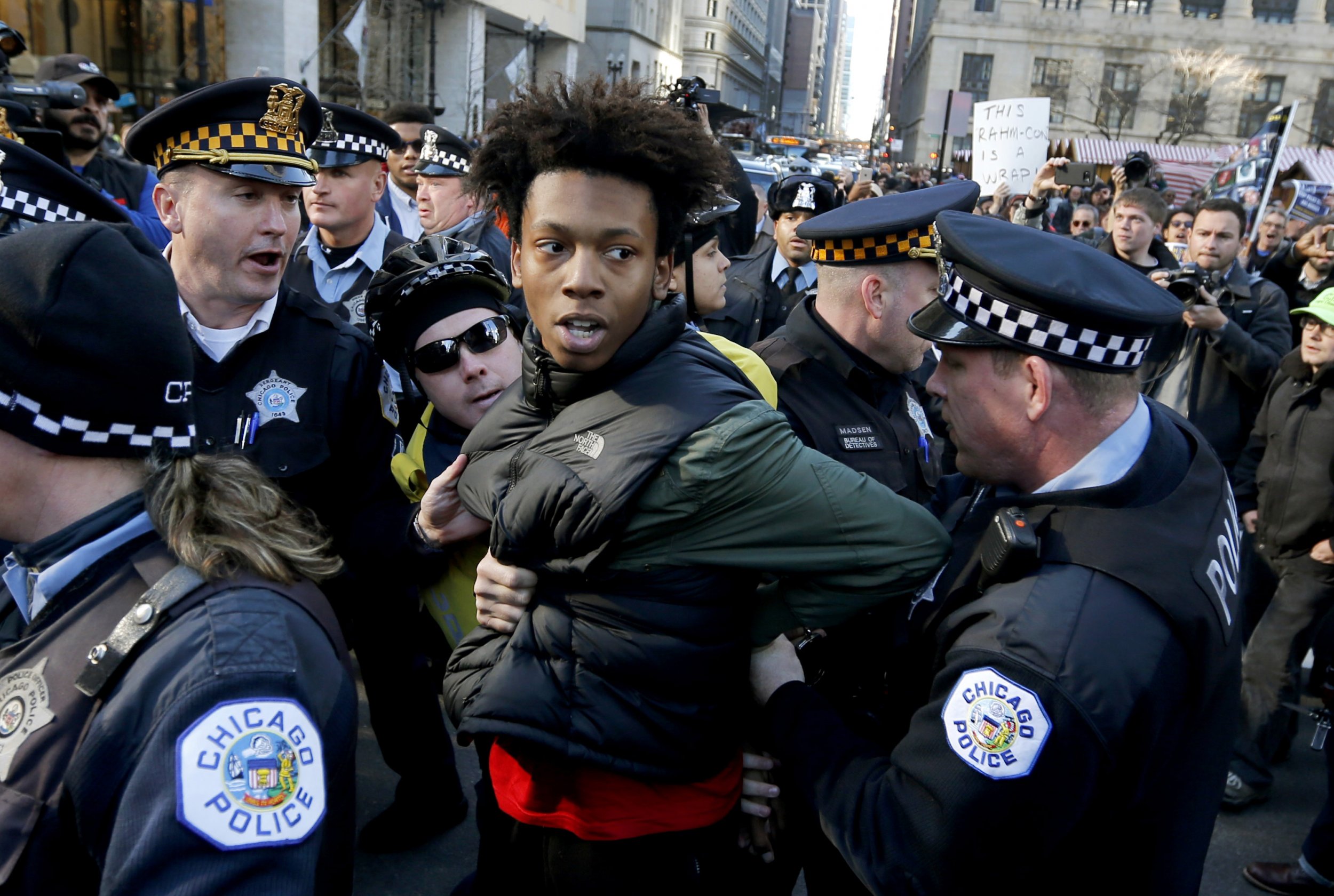 As controversy swirls over high-profile police killings in the city, hundreds of protesters blocked streets in downtown Chicago and tried to storm two business buildings on Wednesday afternoon as part of a citywide walkout to demand that Mayor Rahm Emanuel resign.
Hours earlier, during a special City Council meeting that he'd called, Emanuel publicly apologized for the 2014 police-involved shooting death of Laquan McDonald, a 17-year-old black city resident, and pledged to fix Chicago's broken police practices. The mayor also criticized the police department for being quick to fire weapons.
Demonstrators chanted "16 shots and a cover-up!" and "Rahm, resign!" as they marched through the city's financial district on Wednesday. One protester held a sign that said, "All I want for Xmas is for Rahm to resign." Another said, "Fire Rahm!" They are also seeking the resignation of Cook County State's Attorney Anita Alvarez.
In November, a judge ordered the release of dashboard camera video footage showing Chicago officer Jason Van Dyke firing at McDonald 16 times within seconds of exiting his police vehicle in the October 2014 incident. Van Dyke has been charged with first-degree murder. The video footage taken from the officer's patrol car quickly set off protests around Chicago, and the U.S. Department of Justice has opened an investigation into the police department.
A few days after the video of McDonald's killing was released, Emanuel asked Police Superintendent Garry McCarthy to step down after four years of service. John Escalante, formerly the 14th District Commander, was named the interim superintendent.
Using their bicycles on Wednesday afternoon, police successfully blocked demonstrators from storming the Chicago Board of Trade and the Chicago Board Options Exchange.
"We are going to go from pain, to protest, to power," Willie Fleming, of the Chicago Anti-Eviction Campaign, said to the crowd over a megaphone.
"This is about corruption overall," another said.
At times, demonstrators blocked traffic and walked alongside cars and holiday shoppers. One protester, Lamon Reccord, was taken into custody by Chicago police, but was later released on the scene after demonstrators blocked the vehicle where he was being held.
At times, demonstrators blocked traffic and walked alongside cars and holiday shoppers.
Protesters spontaneously started marching through the city in the early afternoon hours, first by surrounding a police wagon, according to an NBC News affiliate. Chicago NBC reporter Anthony Ponce estimated that the sporadic crowd spanned two city blocks.
The protesters' shouts of "Whose streets? Our streets!" and "No justice, no peace!" echoed demonstrators' cries in cities following other police-involved shootings, including those of Michael Brown in Ferguson, Missouri, in August 2014 and Tamir Rice in Cleveland in November 2014.
"It's bigger than a shooting...it's a culture of corruption. It's the daily practices and procedures of the police department, the City Council of Chicago and the mayor's office," Fleming told Ponce as he walked among the protesters.