Protesters Brave Thunderstorms At Teachers' Rally In Hong Kong, During 11th Straight Weekend of Demonstrations
Several thousand Hong Kong school teachers and supporters braved heavy thunderstorms on Saturday to start another weekend of marching to press the government to formally withdraw from a controversial extradition bill, as well as to consider broader social demands. This is the 11th consecutive weekend of protests.
Protesters—clad in their signature black and holding umbrellas—marched down streets in Kowloon, chanting: "Liberate Hong Kong! Revolution of our time!" despite fears that police could adopt tougher tactics to drive activists off the streets.
After gathering peacefully in the central business district, the teachers then marched on the Government House residence of Hong Kong's leader Carrie Lam, chanting "Hong Kong police know the law, they break the law."
Following the escalation in violence during the past few days—thousands of flights were canceled earlier this week amid threatening scenes at the city's airport, when protesters began to beat up men they suspected were mainland Chinese agents—the demonstrations this weekend will test whether the protest movement can retain the broad support it has received so far.
The teachers' rally had been approved by police. Organisers estimated the protest drew 22,000 people, whereas police said there were 8,300 attendees.
Volunteers handed out herbal tea and juice. Some shops that had closed for the day left boxes of drinks out for protesters.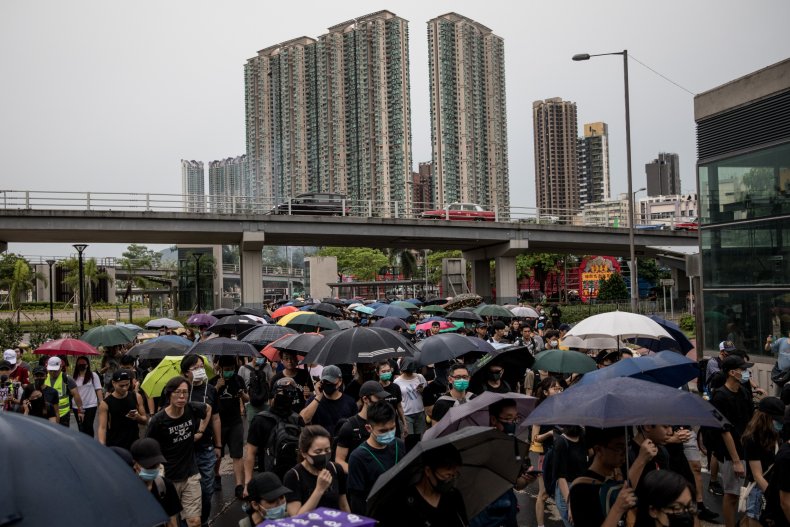 Marching in Kowloon, many demonstrators yelled to one another: "See you at Victoria Park!" in reference to a major rally planned for Sunday.
Demonstrators say they are fighting the erosion of the "one country, two systems" arrangement that enshrined some autonomy for Hong Kong since China took it back from Britain in 1997.
"The government has been ignoring us for months. We have to keep demonstrating," said CS Chan, a math teacher at a rally of teachers said to Reuters on Saturday.
Chinese officials have likened some actions by protesters as near to "terrorism" and Chinese state media outlets have urged tougher response from Hong Kong police.
Meanwhile in Australia on Saturday, hundreds of pro-Beijing demonstrators marched through Sydney in response to a growing number of rallies in support of the Hong Kong protests. Tensions between the two groups are increasingly flaring in nearby Australia. They marched through the city chanting "One China" and waving the Chinese flag.
Protesters in Hong Kong have recently used slingshots to fire marbles at police, shone lasers at them and at times even thrown bricks.
Having fired tear gas to disperse protesters in the streets, police continue to warn that they could get tougher. Police have made around 750 arrests since the unrest began in June, and have charged some protesters with rioting, which can attract a 10-year jail term as punishment.
"They are doing these hit and run lately," one senior police officer told media earlier this week. "Arrests should be a natural consequence. If we can arrest more and more because they are undertaking illegal acts, so be it."