Protesters Call Portland Police 'Murderers' After Man Lethally Shot in Park
Protesters screamed "Murderers!" and other insults at Portland police on Friday morning after officers lethally shot a man in Lents Park, a park located in the city's southeast side.
At 9:30 a.m. local time Friday morning, three officers went to the park in response to a report of a white man allegedly pointing a gun in the park, Assistant Police Chief Chris Davis said in a Friday afternoon news conference.
Two officers initially fired less-lethal 40-millimeter projectiles at the man, but then an officer shot him with a bullet, according to OregonLive.com. Though police rendered medical care and summoned emergency medics afterward, he died at the scene.
Protesters confronted police as officers appeared to close the park and begin investigating. The protesters screamed phrases like "Quit your jobs!", "Shame on you!", "You guys are murderers!", "We're sick and tired of you murdering people!" and other insults, some containing expletives.
Nearly 100 people gathered at the park, chanting "Justice Now!" with two drummers keeping a beat, The Oregonian reported. A dozen officers in riot gear faced off against the protesters as a police loudspeaker told them to leave or risk arrest.
Davis characterized the protesters as "a crowd of fairly aggressive people." He added that officers were able to "keep them from interfering too much in the investigation."
He said that members of the Portland Police Department's (PPD) detective division, internal affairs unit, training division as well as the independent police review commission and major crimes team had all arrived at the scene to begin their preliminary investigative work.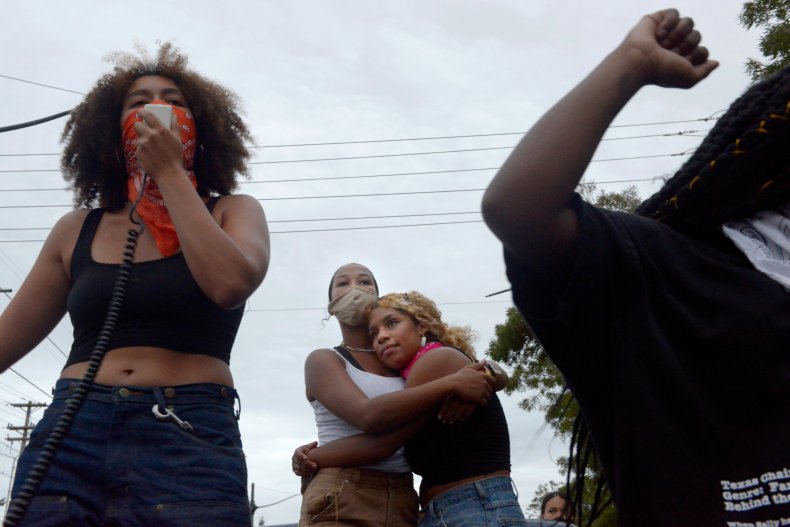 However, numerous questions remain unanswered. Police haven't said whether they recovered a weapon from the deceased suspect at the scene. They also haven't said whether the officer shot the suspect in response to a physical threat.
The PPD didn't identify the officer who shot the man, but pledged to reveal their name on Saturday. The officer has reportedly worked at the PPD for eight years and was placed on administrative leave following the shooting, according to Oregon Public Broadcasting.
Portland Mayor Ted Wheeler visited the park Friday morning, according to the aforementioned publication. There, police briefed him on what happened.
"These shootings always are traumatic for everyone involved and for our community, regardless of the circumstances," Wheeler said in a statement. "I recognize why people are concerned and possibly angry. While our understanding of this incident evolves, I urge everyone to proceed with empathy and peace."
Newsweek contacted the PPD for comment.