Protesters crowded the Michigan State Capitol on Tuesday, demanding an audit of the 2020 presidential election.
The rally was organized by a group called Election Integrity Fund and Force. The organizers said they originally anticipated roughly 100 attendees. One independent reporter, Brendan Gutenschwager, said the rally had grown to at least a few hundred people.
The demonstration comes just days after former President Donald Trump promoted the event in a statement calling for an audit of the state's 2020 election results.
"Big Michigan Rally coming up on Oct. 12th, on the Capitol steps in Lansing, where Patriots will demand a Forensic Audit of the 2020 Presidential Election Scam," Trump wrote in a statement. "The Voter Fraud is beyond what anyone can believe. Anyone who cares about our Great Country should attend, because unless we look to the past and fix what happened, we won't have a future or a Country."
Trump also noted that three Republican candidates he's given his endorsement—Matt DePerno, Steve Carra, and Kristina Karamo—would be in attendance at the event.
"Let's Go, Michigan, don't let us down!" Trump said.
President Joe Biden won 50.6 percent of the vote in Michigan compared to Trump's 47.8 percent.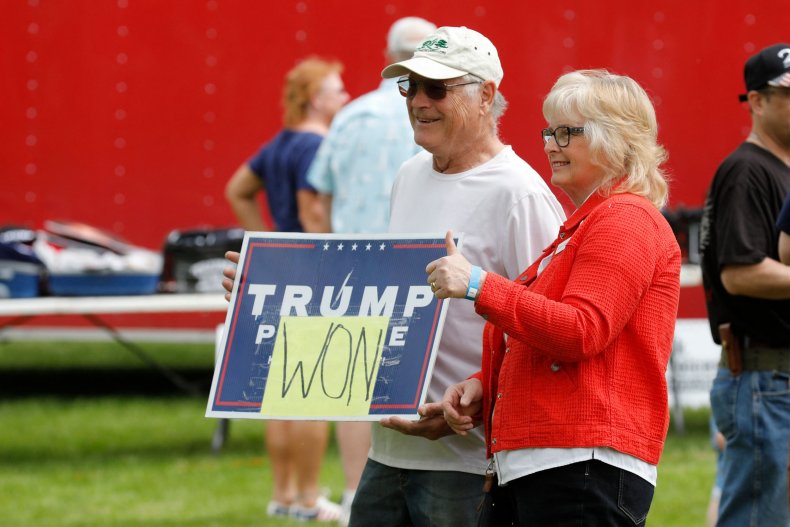 A months-long Republican-led investigation into the election concluded in June there was no widespread fraud. The state Senate Oversight Committee report said that residents should be confident that the election's outcome represents the "true results."
"The committee strongly recommends citizens use a critical eye and ear toward those who have pushed demonstrably false theories for their own personal gain," the lawmakers wrote.
State representative Carra, who has been endorsed by Trump to challenge longtime Republican congressman Fred Upton in 2022, spoke to those gathered at the Michigan capitol on Tuesday.
"Who wants to see a full forensic audit?" Carra asked, prompting cheers from the crowd.
Carra continued, "We had major issues in the last election and if we want to have fair, honest, transparent elections we need to demand a full forensic audit."
Ahead of Tuesday's protest, Michigan House Democratic Leader Donna Lasinski criticized those "stuck in the past reliving Trump's loss" while touting her party's focus on fighting COVID-19 and using relief federal relief funds to support residents.
"This childish, petulant behavior is not only embarrassingly unbecoming of a former president; It's downright dangerous," Lasinksi said. "Efforts like this to undermine faith in our democracy are no longer just about overturning the 2020 election, they're about eroding trust and laying the groundwork to overturn the next election."