Protesters Demand Release of Texas Salon Owner Jailed for Keeping Store Open Despite Coronavirus Lockdown
Protesters showed up in front of the Dallas County Courthouse Wednesday morning demanding for salon owner Shelley Luther's release from jail. She is serving a seven-day sentence for refusing to temporarily close her salon during the state's shutdown of nonessential businesses.
Luther reopened Salon á la Mode on April 24 despite Dallas County's stay-at-home orders, which are in effect until Friday for salons and barbershops. She appeared in a court hearing on Tuesday after defying a cease-and-desist order.
The judge offered Luther the opportunity to avoid jail time if she made a statement apologizing for her "selfish" actions, shut down the salon and paid a fine.
It was an opportunity she refused to take.
"I have to disagree with you, sir, when you say I'm selfish, because feeding my kids is not selfish," she said at the hearing, "I have hairstylists that are going hungry because they'd rather feed their kids. So, sir if you think the law is more important than kids being fed, then go ahead with your decision, because I'm not going to shut the salon."
Judge Eric Moyé sentenced her to seven days in jail, fined the salon $7,000 and ordered her to pay $500 each day until May 8, if the salon continues to remain open.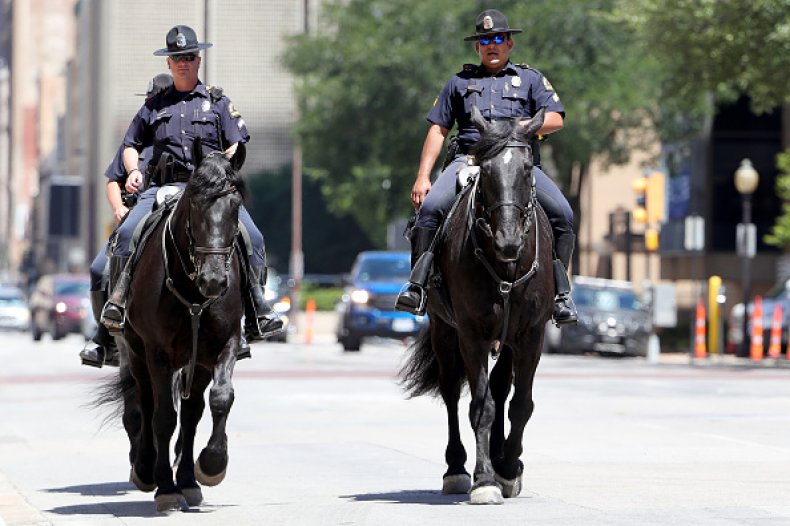 Supporters of Luther have raised more than $200,000 through a GoFundMe page and created a petition calling for Texas Governor Greg Abbott to pardon her.
Luther has been active in protests demanding the reopening of businesses in the state. Dallas residents have rallied for an end to the shutdown, after Abbott issued a statewide stay-at-home order that began April 2.
Last month, protesters gathered at Dealey Plaza calling for a return to work, a gathering that was in violation of both the county and state's social distancing guidelines.
Abbott ended Texas' stay-at-home order on April 30, making it one of the nation's shortest order despite Texas being the second-largest state by population. He announced on Tuesday that barbershops and hair salons would be allowed to reopen as early as Friday and gyms as early as May 18.
In a news conference, Abbott said there will only be one stylist per customer and recommended both the stylist and customer wear face masks. "Every owner of every salon should use their own best judgment when to reopen," he said on Tuesday.
His announcement comes as Texas records the highest number of cases in a two-day period since the beginning of the pandemic.
As of May 6, Dallas County has reported 4,623 confirmed cases of COVID-19 and 121 coronavirus-related deaths.