Protesters Flood Streets as China Rules Out Full Democracy For Hong Kong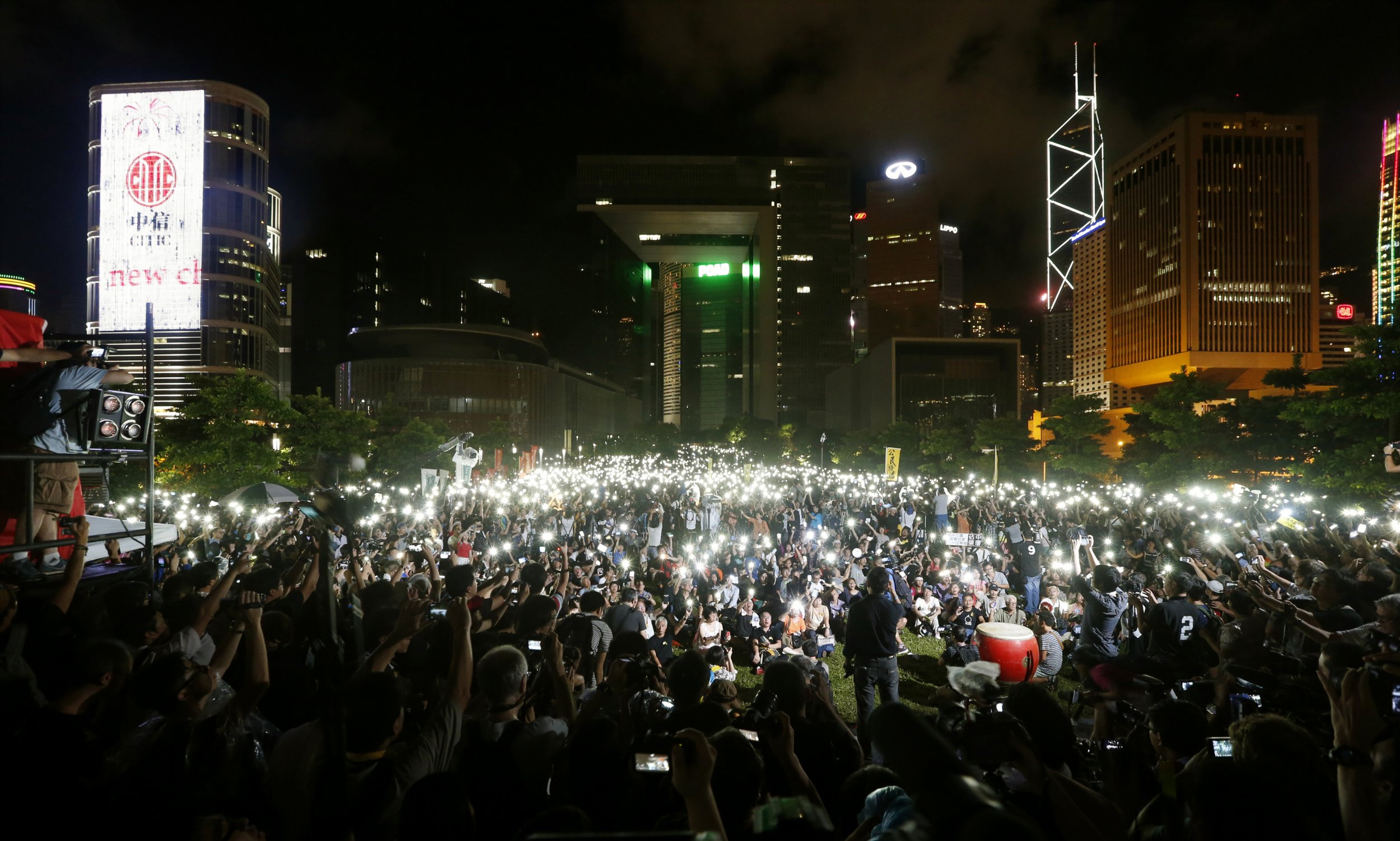 BEIJING/HONG KONG (Reuters) - Pro-democracy activists vowed on Sunday to bring Hong Kong's financial hub to a standstill after China's parliament rejected their demands for the right to freely choose the former British colony's next leader in 2017.
The Standing Committee of the National People's Congress (NPC) endorsed a framework to let only two or three candidates run in the 2017 leadership vote. All candidates must first obtain majority backing from a nominating committee likely to be stacked with Beijing loyalists.
The relatively tough decision by the NPC - China's final arbiter on the city's democratic affairs - makes it almost impossible for opposition democrats to get on the ballot.
"This is a legal, fair and reasonable decision. It is a dignified, prudent decision, and its legal effect is beyond doubt," Li Fei, deputy secretary general of the NPC standing committee, told reporters after the decision.
Hundreds of "Occupy Central" activists, who demand Beijing allow a real, free election, prepared to stage a small protest late on Sunday to formally launch a campaign of civil disobedience that will climax with a blockade at some time of the city's important Central business district.
"Today is not only the darkest day in the history of Hong Kong's democratic development, today is also the darkest day of one country, two systems," said Benny Tai, a law professor and one of Occupy Central's main leaders, referring to the formula under which capitalist Hong Kong, with a population of around 7.2 million, was returned to Communist Chinese rule in 1997.
The Occupy movement said in a statement that "all chances of dialogue have been exhausted and the occupation of Central will definitely happen." It gave no timeframe for its action.
A spokesman for Hong Kong Exchanges and Clearing <0388.HK>, which operates the Hong Kong Stock Exchange, said contingency planning was taken very seriously. "We have long had a specialist team that coordinates group response plans for scenarios that put at risk the continuing operation of the exchange or threaten the well-being or safety of our staff."
Hong Kong's current chief executive Leung Chun-ying said Beijing's decision represented a major step forward in Hong Kong's development.
"Universal suffrage for the (chief executive) election through "one person, one vote" by Hong Kong people is not only a big step forward for Hong Kong, but also a historic milestone for our country," he said, adding people should express their opinion through peaceful and legal methods.
Political reform has been a constant source of friction between Hong Kong's pro-democracy movement and the mainland since Britain returned the city to China 17 years ago.
In nearby Macau, another special administrative region, leader and sole candidate Fernando Chui was "re-elected" on Sunday by a select panel of 400 largely pro-China loyalists in the tiny but wealthy former Portuguese colony.
GIRDING FOR ACTION
Scores of police vehicles and hundreds of officers were deployed outside Hong Kong government headquarters as people began to gather late on Sunday, braving heavy rain at times, with some chanting slogans.
Key government buildings, including the Chief Executive's office and a People's Liberation Army barracks nearby, were also ringed by high fences and barricades.
"It (the NPC decision) leaves no room for us to fight for a genuinely democratic system, and we will begin our campaign for peaceful, non-violent struggle," said Joseph Cheng, the convener of the Alliance for True Democracy, a coalition of groups advocating universal suffrage in Hong Kong. "We want to tell the world we haven't given up. We will continue to fight."
The United States responded cautiously. Commenting on the planned protest, a U.S. official who declined to be identified by name said Washington supports Hong Kong's "traditions and Basic Law protections of internationally recognized freedoms, including the freedom of peaceful assembly and freedom of expression."
The official also said "the legitimacy of the chief executive will be greatly enhanced if "the election provides the people of Hong Kong a genuine choice of candidates representative of the voters' will."
"We understand that the August 31 announcement is just one step in an ongoing process leading to a final decision on election reform in Hong Kong and will continue to watch as the process unfolds," the official said in Washington.
On the surface, the NPC's decision is a breakthrough that endorses the framework for the first direct vote by a Chinese city to choose its leader. Beijing is already hailing it as a milestone in democratic reform.
However, by tightly curbing nominations for the 2017 leadership poll, some democrats said Beijing was pushing a Chinese-style version of "fake" democracy.
The NPC statement said all nominations would be carried out according to "democratic procedures" and each candidate would need the endorsement of more than half of a nominating committee that will be similar in composition to an existing 1,200-person election committee stacked with Beijing loyalists.
The proposed electoral framework will still needs to be approved by two-thirds of Hong Kong's 70-seat legislature. With pro-democracy lawmakers holding more than a third of the seats, the proposal will likely be shelved.
In that case, the next leader would likely again be chosen by a small election committee. Wang Zhenmin, a prominent legal scholar and adviser to the Chinese government, said recently that: "Less perfect universal suffrage is better than no universal suffrage," adding that this window of opportunity in Hong Kong was an historical crossroads after "2,000 years of (Chinese) feudal history without any democracy."
Senior Chinese officials have repeatedly warned activists against their "illegal" protests, and say they won't back down.
Some key members of the pro-democracy movement, including media magnate Jimmy Lai, have also come under pressure in the run-up to the Chinese parliamentary decision.
China has also repeatedly warned against foreign interference, saying it will not tolerate the use of Hong Kong "as a bridgehead to subvert and infiltrate the mainland."
The Occupy Central movement has not yet won broad support among Hong Kong's middle class, who are concerned about antagonizing China and disruptions to business. Any strong measures by China or the Hong Kong police could change that.