Protesters Gather at Fox News Host Tucker Carlson's Home Chanting 'We Know Where You Sleep at Night!'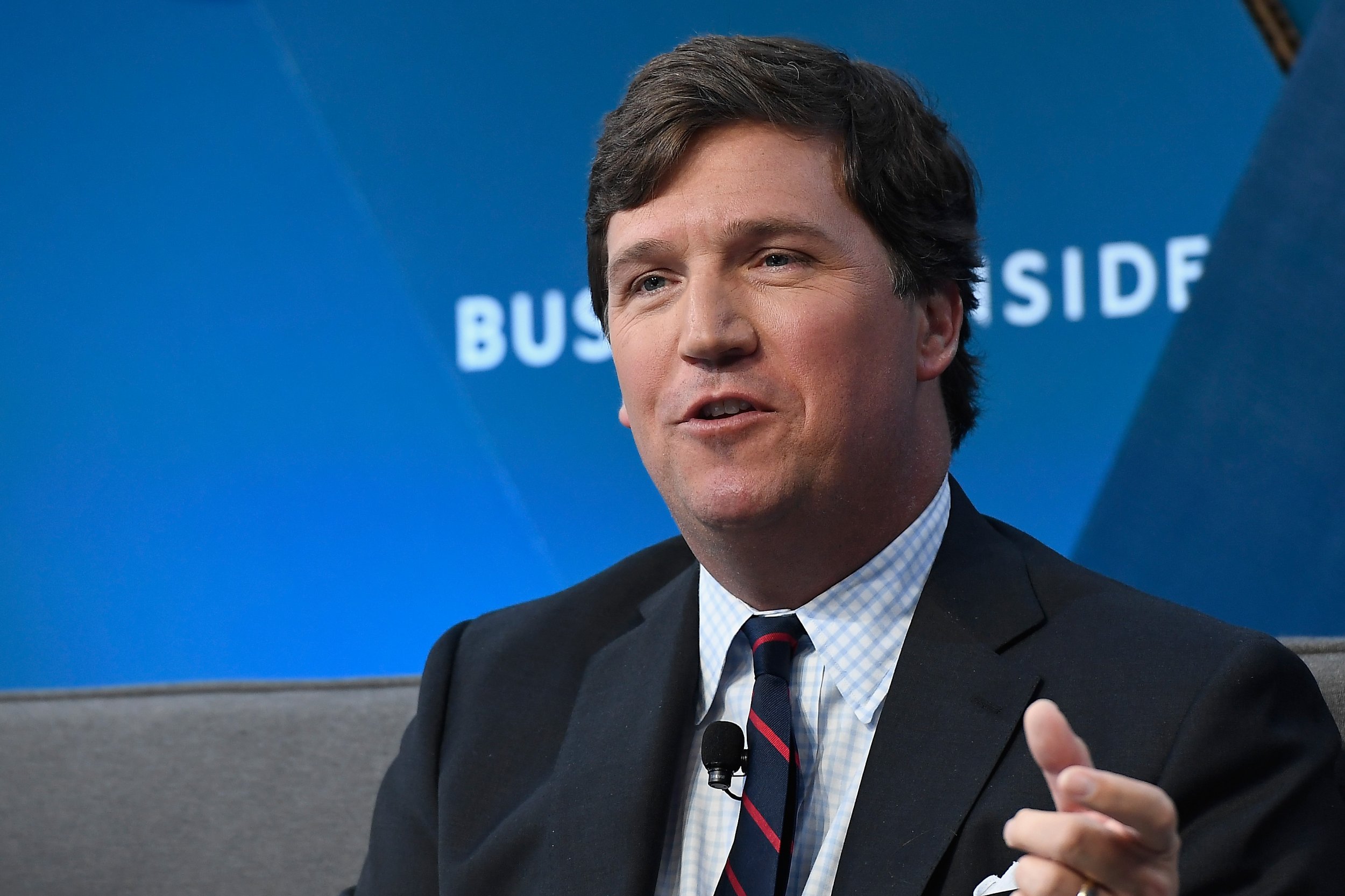 A group that says it campaigns against fascism turned up at the home of Fox News presenter Tucker Carlson, chanting that he leave town.
The group called "Smash Racism DC" posted video on social media of them ringing the doorbell at his Washington DC house. One person is heard shouting through a megaphone. "Your policies promote hate and we want you to know we know where you sleep at night."
The crowd then began chanting "Tucker Carlson, we will fight! We know where you sleep at night!" People reported.
The video has since been taken down by Twitter, but it carried a caption describing Carlson as a "racist, sexist, bigoted Fox News personality."
Carlson said his wife, Susie, was home alone and heard the noise from the kitchen. She called the police and locked herself into a pantry, Fox News reported.
He said the group posted online the home addresses of his brother and his former college roommate, Neil Patel, who co-founded the Daily Caller with Carlson.
Twitter has suspended the account of Smash Racism DC, which had published Carlson's address.
Carlson is famed for his abrasive presenting style and for exemplifying the right-of-center views for which his channel is renowned.
Last week, he compared a "whiteface" Halloween costume worn by NBC News host Lester Holt to that of recently fired "Today" show host Megyn Kelly, deeming all people offended as "self-righteous."
Recently, Carlson said that he is no longer able to dine out in restaurants because people shout insults at him.
"I don't feel threatened, but having someone scream, 'F** you!' at a restaurant, it just wrecks your meal," he told a National Review podcast, in which he denied he was in cahoots with U.S. President Donald Trump and disagreed with a number of his policies.
Smash Racism DC was also behind the ambush of Sen. Ted Cruz and his wife at a Washington D.C. restaurant during Justice Brett Kavanaugh's Supreme Court confirmation hearings.
Carlson got the support of several high profile media personalities, with Megyn Kelly describing the incident as "stomach churning." She tweeted: "This has to stop. Who are we? What are we becoming? He does not deserve this. His family does not deserve this."
Radio host Buck Sexton tweeted: "This country is headed down a very dark path because delusional cowards on the left think they are defending our way of life when in reality they are the ones destroying it."
In a joint statement, Fox News CEO Suzanne Scott and its president Jay Wallace described the incident that took place at Carlson's house as "reprehensible."
"The violent threats and intimidation tactics toward him and his family are completely unacceptable. We as a nation have become far too intolerant of different points of view.
"Recent events across our country clearly highlight the need for a more civil, respectful, and inclusive national conversation. Those of us in the media and in politics bear a special obligation to all Americans, to find common ground."
This story has been updated to include a statement by Fox News.