Protesters Gather Outside Lindsey Graham's House to 'Wake Him Up' Over Push to Replace RBG
Protesters on Monday gathered outside South Carolina Senator Lindsey Graham's house to "wake him up" over his push to quickly replace Supreme Court Justice Ruth Bader Ginsburg, who passed away Friday.
In several videos posted to Twitter, protesters can be seen filling the streets outside of Graham's home, yelling "wake him up" while banging pots and pans.
"We're here with your wake up call @LindseyGrahamSC RBG's seat will be filled after the election," Sunrise Movement DC, one of the organizers of the protest, wrote in a tweet showing protesters outside of the Senator's home.
Protesters were also seen holding signs and flags that read, "We can't sleep so neither should Lindsey."
In addition to the Sunrise Movement D.C., the protest was organized by Shut Down D.C., which posted a statement on Facebook outlining why the protest was held outside Graham's home.
"Wakey wakey Senator!! We're outside Senator Lindsey Graham's house this morning taking his advice... we're using his words against him," the Facebook post said.
The protest comes as Graham and other Republican lawmakers look to quickly vote on a Supreme Court justice to be nominated by President Donald Trump, following the death of Ginsburg.
In several tweets posted on Saturday, Graham expressed his support for the Senate to vote on Trump's nominee prior to the November 3 election. As chairman of the Senate Judiciary Committee, Graham would make the decision on whether to hold a confirmation hearing.
"I will support President @realDonaldTrump in any effort to move forward regarding the recent vacancy created by the passing of Justice Ginsburg," Graham wrote.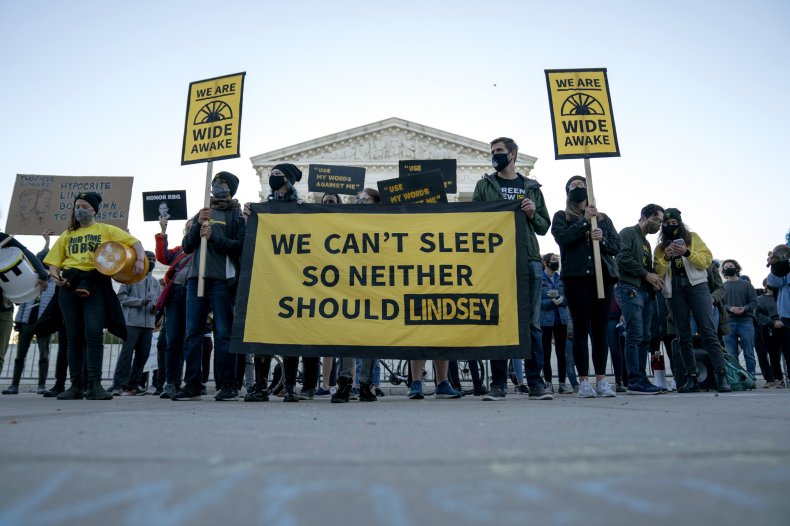 Following his tweet, many people, including those who organized the recent protest, brought up comments Graham made in 2016, when President Barack Obama nominated Merrick Garland to fill a Supreme Court vacancy created by the passing of Justice Antonin Scalia.
"This is the last year of a lame-duck president, and if Ted Cruz or Donald Trump get to be president, they've all asked us not to confirm or take up a selection by President Obama," Graham said in 2016. "I want you to use my words against me. If there's a Republican president in 2016 and a vacancy occurs in the last year of the first term, you can say Lindsey Graham said let's let the next president, whoever it might be, make that nomination."
The Facebook post by Shut Down D.C. cited Graham's previous comments and noted that the protest was following his advice and using his own words against him.
Newsweek reached out to Graham for comment but did not receive a response in time for publication.
In addition to gatherings outside of Graham's house, Sunrise Movement D.C. also shared a tweet from their North Carolina affiliate, which showed protesters gathering outside North Carolina Senator Thom Tillis' home. Tillis also recently expressed his support for Trump nominating a successor to fill the court vacancy.
"Youth voters are outside @SenThomTillis house demanding he delay a vote on #SCOTUS nomination until 2021 following his statement Sat Morning," Sunrise North Carolina wrote on their Twitter. "He wouldn't even look us in the eye; here's him fleeing his own house after he sent a dozen cop cars."