Protesters Gather in Washington, D.C., as Mayor Calls for 'More Justice' and 'More Peace'
Thousands of people gathered at the Lincoln Memorial in Washington, D.C., Saturday to begin what was expected to be the largest protest yet in the nation's capital since the death of George Floyd on May 25.
In the days since video surfaced of Floyd's death while in police custody in Minneapolis, Americans across the country rallied to call for justice and demand reform to policing procedures throughout the U.S. Dozens of city leaders and law enforcement officials have already announced plans to review their local departments' policies for evidence of systemic racism--a move former President Barack Obama encouraged every mayor to make earlier this week.
Though Floyd's death was the tipping point for this latest wave of Black Lives Matter protests, the incident echoes previous interactions between black Americans and police officers that have inspired demonstrations in years past, down to the "I can't breathe" phrase Floyd--like Eric Garner in 2014 before him--uttered in his final moments.
Standing atop a podium a few blocks away from the White House, Washington, D.C. Mayor Muriel Bowser addressed the protesters surrounding her, praising them for demonstrating peacefully and wearing masks amid the continuing coronavirus pandemic while doing so.
"If you're like me, and you saw George Floyd's life snuffed out for the world to see, you know that we have to speak up loudly for more justice and more peace," Bowser said.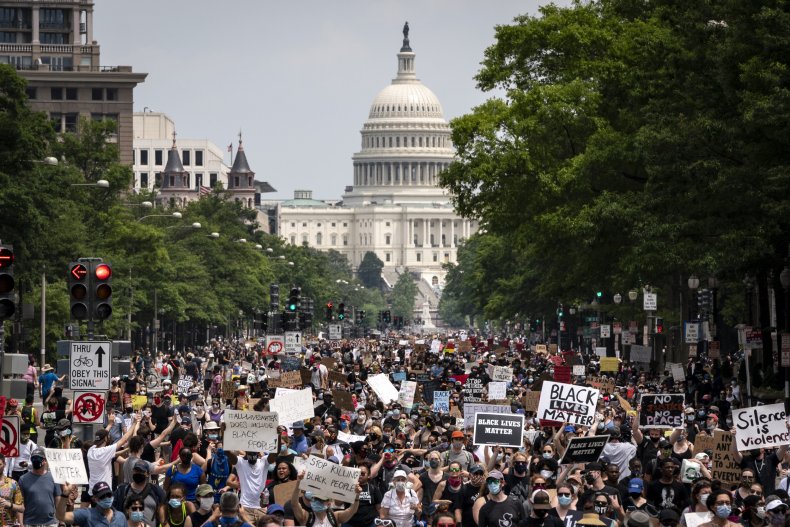 The mayor made her remarks in an area she officially designated the Black Lives Matter Plaza on Friday. The space included a mural painted along the street heading toward the White House that read "Black Lives Matter."
Bowser is one of many politicians who has been critical of President Donald Trump's response to the protests, which his administration met with calls for governors and local leaders to bring under control as quickly as possible. In a letter sent to the president on Thursday, Bowser requested Trump to retract National Guard units Defense Secretary Mark Esper called into the nation's capital earlier this week as the majority of protesters remained peaceful. The additional law enforcement presence was confusing the normal lines of communication within a city that was prepared to handle large protests such as the ones anticipated this weekend, the mayor told the president.
"If you're like me, on Monday you saw something you hoped you'd never see in the United States of America: federal police moving on American people peacefully protesting in front of the people's house," Bowser told protesters Saturday. "Our soldiers should not be treated that way. They should not be asked to move on American citizens."
Bowser's office did not respond to Newsweek's request for further comment in time for publication.
The One Million Persons demonstration that kicked off protest activity in Washington, D.C. at noon on Saturday was the first of many scheduled to take place throughout the day, as temperatures reaching the 90s triggered a local heat emergency.
According to an estimate by the D.C. Metro Police Department, about 3,000 people had gathered near the Lincoln Memorial around noon, with another group of about 3,000 near 16th and I streets.
Information regarding updated crowd estimates was not available at 4 p.m., police told Newsweek.
As protesters demonstrated peacefully in the nation's capital, Americans came together in several other U.S. cities to remember Floyd and others who have died as a result of violence against black Americans. In Los Angeles, protesters were seen marching from City Hall to the Los Angeles Police Department headquarters, while hundreds of miles away others marched across the Golden Gate Bridge in San Francisco. In New York City, photos of protesters gathering at Washington Square Park and at other spots throughout the city spread on Twitter as the day's demonstrations continued.
Surrounded by monuments and historic buildings serving as reminders of other historic moments that have taken place in the nation's capital, Bowser concluded her remarks to protesters with a nod to their mission and her hopes for the country's future.
"Today, we say 'no,'" she said. "In November, we say 'next.'"