Protesters Gather For TX to 'Count Every Vote' as Court Set to Make Ruling on 127,000 Drive-Thru Votes in One County
Protesters holding signs that read "Count Every Vote" gathered outside a federal courthouse in downtown Houston as a court is set to rule Monday on 127,000 drive-thru votes cast in Harris County.
U.S. District Court Judge Andrew Hanen is expected to decide on the fate of hundreds of thousands of early ballots cast via Harris County's drive-thru voting system with less than 24 hours until Election Day.
On Sunday, the Texas Supreme Court rejected the Republican effort to have those votes from Harris County, the state's most populous and largely Democratic county, thrown out. The Texas Supreme Court is comprised entirely of Republicans.
The request from several conservative Republican activists and candidates argued that drive-thru voting violates the U.S. constitution. Plaintiffs argued that the program, implemented after being tested during the July primary runoff, is an expansion of curbside voting and should only be available to voters with disability under state election laws.
The Harris County Clerk's Office, however, argued that drive-thru locations are distinct from curbside spots and should be accessible to all voters.
Rejection of these ballots will disenfranchise a large number of voters as these votes account for roughly 10 percent of all in-person ballots cast in Harris County's early voting.
Ahead of the hearing, Hanen said plaintiffs will need to convince him that the county had an "evil motive" in allowing drive-thru voting.
Democrats are hopeful that the ruling from the state's all-Republican court will bode well for their battle at the federal level.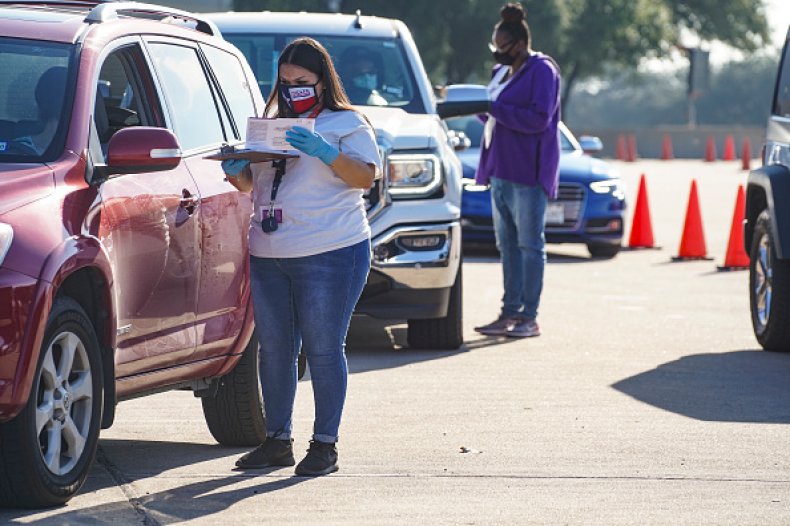 The legal fight in Harris County will be monumental to Texas voters.
In 2016, President Donald Trump won the state with a 9 point victory, roughly 800,000 votes, over Democrat Hillary Clinton. Because this year's race between Trump and Democratic nominee Joe Biden is even closer and Democrats have a real shot of taking Texas, the 127,000 votes could be of the utmost importance.
"Voting is a fundamental right in our country. The Texas Democratic Party stands on the side of democracy. We stand with everybody who wants to have Texans' voices be heard. We must turn protest into action at the ballot box," a spokesperson for the Texas Democratic Party told Newsweek in an email.
On Monday morning, Harris County Democrats arrived to a vandalized headquarters after the Texas Supreme Court ruled against Republicans over the 127,000 ballots.
Voters in Texas have faced a number of intense legal battles leading up to the election after rules around early voting changed.
Last week, the state Supreme Court upheld Governor Greg Abbott's order that Texas counties will only be allowed to have one drop-off location, per county, for mail-in ballots. The limit on drop-off boxes was argued to suppress voters in larger, Democratic counties like Harris County, where there had been 12 boxes at the time of Abbott issued the order.