Protesters Graffiti Black House Autonomous Zone in D.C., Trump Threatens 'Serious Force'
After being a vocal critic of Seattle's autonomous zone, President Donald Trump plans to squash any attempts protesters have to set a similar one up in Washington, D.C.
On Monday, protesters spray-painted "BHAZ" on the historic St. John's Church, located less than 200 feet from the White House. An acronym for the "Black House Autonomous Zone," videos and photos of the areas showed people setting up barricades tagged with "BLM," "F**k the Cops" and "BHAZ."
Trump posted on Twitter that there will "never be an 'autonomous zone' in Washington, D.C.," as long as he remains in the White House. If there are attempts at establishing one, Trump wrote they "will be met with serious force."
Protesters also defaced a statue of former President Andrew Jackson outside the White House, according to Interior Secretary David Bernhardt. They attempted to topple it off its pedestal with ropes but were thwarted by U.S. Park Police officers, who used pepper spray to disperse the crowd.
Bernhardt posted on Twitter that the administration "will not bow to anarchists" and "justice will be served." He criticized the defacement of the Jackson statue, as well as the Lincoln Memorial and World War II Memorial, which were spray-painted with the words, "Y'all not tired yet?" and "Do Black vets count?" in May.
The Interior secretary commended law enforcement officers who "stand tall against these coordinated attacks and seek peace and justice for all."
Newsweek reached out to the Metropolitan Police Department and U.S. Park Police for comment but did not receive a response in time for publication.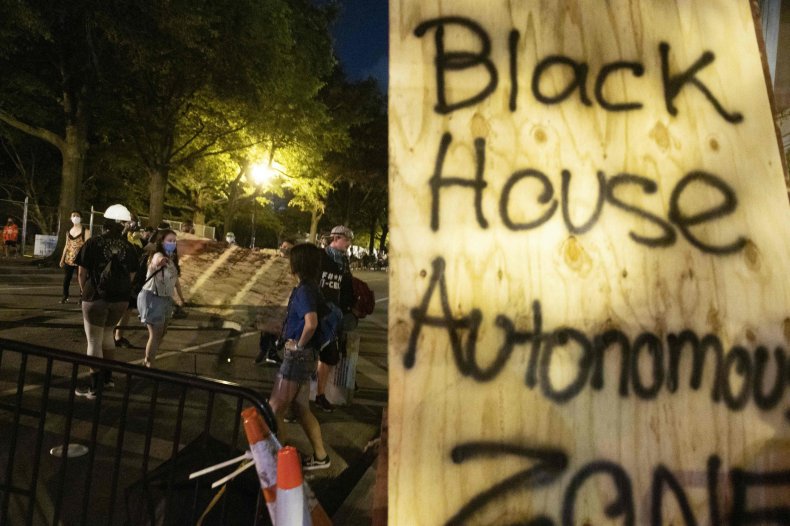 On Tuesday, Trump posted on Twitter that he authored the federal government to arrest people who vandalize or destroy a monument, statue or other federal property. He cited the Veteran's Memorial Preservation Act that allows for fines and a prison term of up to 10 years.
Since it's already a law, the Military Times reported a special authorization from Trump wasn't needed to enforce it. The president said there will be "no exceptions."
"We are looking at long-term jail sentences for these vandals and these hoodlums and these anarchists and agitators, and call them whatever you want ... They're bad people. They don't love our country, and they're not taking down our monuments," Trump told reporters on Tuesday. "I just want to make that clear."
Trump added that if "weak" governments like Seattle need help to handle "hoodlums" and "anarchists," the federal government is willing to do so. After about two weeks of protesters occupying a section of Seattle's Capitol Hill neighborhood, Mayor Jenny Durkan announced the Capital Hill Autonomous Zone, or CHAZ, would be disbanded.
"It's time for people to go home. It is time for us to restore Cal Anderson and Capitol Hill so it can be a vibrant part of the community," Durkan said during a Monday press conference. "We can still accommodate people who want to protest peacefully, come there and gather. But the impacts on the businesses and residents and community are now too much."
Trump's been a vocal critic of the state and local response to the protest and threatened to "take back" the city if officials wouldn't do it themselves. He championed the coordinated response to protesters defacing the Jackson statue on Monday for being stopped "cold."