Protesters have 'Guillotine' for Ralph Northam, Demand He Resign after Blackface Photo
Calls for Virginia Governor Ralph Northam to resign continued on Presidents Day afternoon, with environmental and racial justice advocates protesting outside his office and shouting, "We got the guillotine, you better run!" among other chants.
Along with the guillotine chant, protesters also yelled, "We want resignation!" and "No cops! No KKK! No fascist RVA!"
Northam has faced calls for him to resign ever since a photo of a man in blackface and another wearing Ku Klux Klan wear was found in his medical school yearbook.
Police on Monday locked down Capitol Square and shut the gates and stated the protesters needed a permit, leading to a small standoff, according to Virginia Mercury reporter Ned Oliver. The reporter also tweeted a photo of a fountain that was dyed red and stated that a protester was arrested for the action.
The twitter account @Blacklivesmatter757 unifying people in the Virginia area behind their cause referred to the action as the March of Reckoning and started it 10 a.m. at Monroe Park in Richmond.
"Now is NOT the time to divide. We have a stance on Governor #RalphNortham @GovernorVA & his racist ways, and we refuse to [be] distracted by the medias rhetoric," the account tweeted on Sunday in a call for supporters to join the march.
Protesters were caught on video stating they should be allowed in the public property outside Northam's office and accused police of "protecting and serving white supremacists."
"It's President's Day, it's Black History Month… and we're being denied access to a public space, which is an infringement of our rights," a protester said to a police officer. A police officer reportedly called for backup and protesters said, "Sounds like a lie."
March organizer Rebbecca Keel said they demanded that Northam present a resignation letter by Tuesday.
"As we know nationwide many folks have been pushing for Northam's resignation as well," Keel said, according to WTVR.com. "We're on the ground we're doing the work here."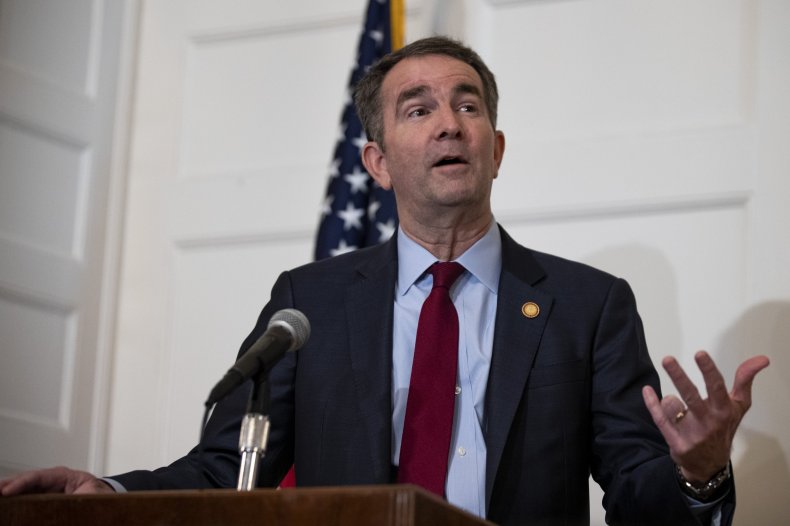 Northam has denied being in the racist photo and said he has no intention of resigning.
The governor plans to participate in a justice event at Virginia Union University in Richmond on Thursday. The university said Northam will not speak at the event, but that it is "part of his promise to start a conversation about racial injustice and the need for reconciliation where he intends to listen, learn, and continue to grow as a leader."