Attorney General Jeff Sessions Heckled by Protesters as He Leaves Church
Protesters confronted Attorney General Jeff Sessions outside church on Sunday.
The demonstrators repeatedly shouted "shame on you, Sessions," as the nation's chief law enforcement officer left mass. They also chanted slogans about believing women, appearing to reference the debate surrounding Supreme Court nominee Brett Kavanaugh, who has been accused of sexual misconduct by multiple women.
A March POLITICO/Morning Consult poll found that 42 percent of registered voters held an unfavorable view of Sessions, 24 percent had a favorable view of him and 34 percent had no opinion.
Protesters have frequently denounced his directives.
In April, Sessions announced a "zero-tolerance" policy, which has since been revoked, for people crossing illegally from Mexico to the U.S.
"If you cross the border unlawfully, even a first offense, we're going to prosecute you," he said after the policy had been enacted, according to CNN. "If you're smuggling a child, we're going to prosecute you, and that child will be separated from you, probably, as required by law. If you don't want your child to be separated, then don't bring them across the border illegally."
Almost 500 children remained separated from their parents in government-funded shelters at the border, The Washington Post reported at the end of August. Many of these separations are due to the "zero-tolerance" policy.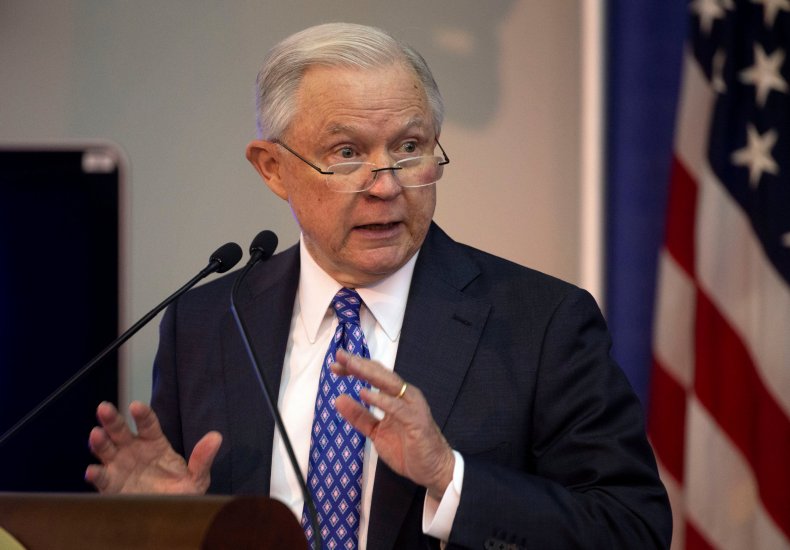 Sessions has also re-implemented mandatory minimum sentences for drug offenders and abolished the policy of not interfering with states that have lenient marijuana legislation, reversing standards during the Obama administration.
In October 2017, Sessions sent a memo to all federal prosecutors saying that federal civil rights law against employment discrimination does not include protections for transgender workers, according to CNN. This declaration reversed the prior administration's guidelines.
Protesters railed against Sessions even before he was approved to serve in the Trump administration. Last year, demonstrators dressed in Ku Klux Klan robes interrupted his confirmation hearing for the attorney general position, The Hill reported.
These protests linked to Sessions being denied a federal judgeship in 1986 due to allegations of racism. Many of these claims came from his deputy, Thomas Figures, who wrote a letter to the Senate and reporters saying Sessions had made jokes about the KKK and called the NAACP and American Civil Liberties Union "un-American" and "Communist-inspired," The Washington Post reported. Sessions also called Figures "boy," according to the letter.
Sessions has denied the allegations made against him. "This caricature of me from 1986 was not correct," he said. "I conducted myself honorably and properly.... I did not harbor the kind of animosity and race-based discrimination ideas that I was accused of. I did not!"
The attorney general has faced opposition from the president, as well. Trump has publicly criticized Sessions, particularly taking issue over his decision to recuse himself from the Justice Department probe into ties between Trump's election campaign and the Russian government.
"He took the job, and then he said, 'I'm going to recuse myself.' I said, 'What kind of a man is this?' And by the way, he was on the campaign. You know, the only reason I gave him the job, because I felt loyalty. He was an original supporter," Trump said in an interview on Fox News last month, according to The Washington Post.