Protesters in Mexico Block Border Crossing to Demand Stronger Coronavirus Screenings for Those Coming From U.S.
A small group of protesters in Mexico blocked the southbound lanes at a border crossing between the twin border cities of Ambos Nogales on Wednesday, with demonstrators calling on the Mexican government to institute stronger COVID-19 screenings for people coming from the U.S.
According to USA Today, less than a dozen people participated in the demonstration, with protesters wearing face masks and carrying signs telling U.S. residents to "stay at home."
The protesters blocked the DeConcini border crossing with their vehicles, refusing to let drivers pass.
While the demonstrators wanted Americans to "stay at home," their primary message was for Mexican President Andrés Manuel López Obrador, who is facing growing scrutiny over his handling of Mexico's response to the coronavirus pandemic.
While the U.S. and Mexico have agreed to largely shut down their borders during the coronavirus outbreak, protesters said the Mexican government is not doing enough to screen those who are being let in.
Throughout his presidency, Donald Trump has not shown much love for Mexico. But on Saturday he and his counterpart López Obrador agreed to work to keep trade and cargo flowing across the border even as they mostly shut it down.
Jose Luis Hernandez, a protester with Sonorenses por la Salud y la Vida (Sonorans for Health and Life), the group that organized the rally, said the demonstration was a "first warning" for López Obrador to boost screenings at the border and within Mexico.
Since the outbreak began, the Mexican leader has been urging a business-as-usual approach, telling citizens in a video earlier this week that Mexicans should "continue normal life."
"Don't stop going out," he said. "If you can afford it, keep taking your family out to eat. It strengthens the popular economy."
López Obrador has also insisted that not everyone concerned about coronavirus needs to be tested.
Despite the president's assurances, however, Hernandez told USA Today that citizens are concerned that are not enough health screenings being done "by the federal government to deal with this pandemic."
"That's why we're here in Nogales. We've taken this action to call on the Mexican President Andrés Manuel López Obrador to act now," he said.
He and other protesters called on the government to take actions similar to those implemented by the U.S. government at the border.
Among the group's demands were for the Mexican government to institute a temporary ban on tourism and medical visitors.
They also asked that Mexican health officials strengthen screenings for everyone crossing the border, with anyone seeking to enter Mexico expected to be screened for symptoms of COVID-19.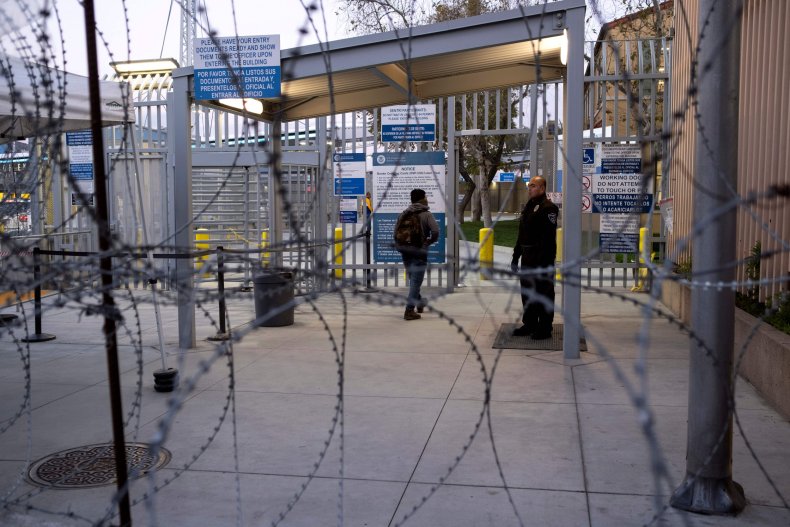 "This is for your health. This is for your family," Hernandez said. "Or what do you want to happen? That this becomes worse given the irresponsibility of the Mexican government? Of course not. That's why we're here."
On Wednesday, dozens of people were reportedly waiting outside a testing laboratory in Mexico City hoping to be tested for coronavirus.
So far, Mexico has reported 475 confirmed cases of coronavirus since first seeing infections in late February. However, many are concerned that the numbers could be much higher, given that the government has not conducted widespread testing.
According to Reuters, by Wednesday, Mexico had tested 2,445 people who had negative results for coronavirus. The country's health ministry said it was also monitoring another 1,656 cases.
Newsweek has contacted Mexican officials for further comment.