Protesters Plan to Tear Down Statue Paid for by Freed Slaves
Protesters gathered at the base of the Emancipation Memorial in Lincoln Park in Washington, D.C., on Tuesday night called for the removal of the bronze memorial statue and promised to return on Thursday to tear it down.
The protest organized by a group known as the Freedom Neighborhood, a youth-led organization dedicated to "fighting for the economic, political, and social liberation of Black people and marginalized communities" said they want the statue "gone" because it "embodies the racial undertones of Black people being inferior to white people."
"Our history has told us that Black people paid for this statue when that was not the case. Black people had no say in both the design and the message, which is what we are fighting for. This statue represents the people once again not having a say in how we want our freedom and liberation to happen. But that ends on Thursday," the Freedom Neighborhood told Newsweek.
The statue was erected in 1876 to honor Abraham Lincoln for the Emancipation Proclamation and paid for by freed slaves who wanted to honor the former president on the 11th anniversary of his death. Abolitionist Frederick Douglass spoke at its unveiling.
However, the memorial has been controversial for its depiction of Lincoln standing over a freed African American slave who is kneeling at his feet with broken shackles around his wrists.
"Although formerly enslaved Americans paid for this statue to be built in 1876, the design and sculpting process was done without their input, and it shows. The statue fails to note in any way how enslaved African Americans pushed for their own emancipation," Representative Eleanor Holmes Norton said.
"Understandably, they were only recently liberated from slavery and were grateful for any recognition of their freedom. However, in his keynote address at the unveiling of this statue, Frederick Douglass also expressed his displeasure with the statue," Norton added in a statement released Tuesday.
Norton announced she will introduce legislation to move the statue to a museum. She said she would work with National Park Service to see if the statue can be removed without an act of Congress.
Newsweek reached out to Norton for comment but did not hear back before publication.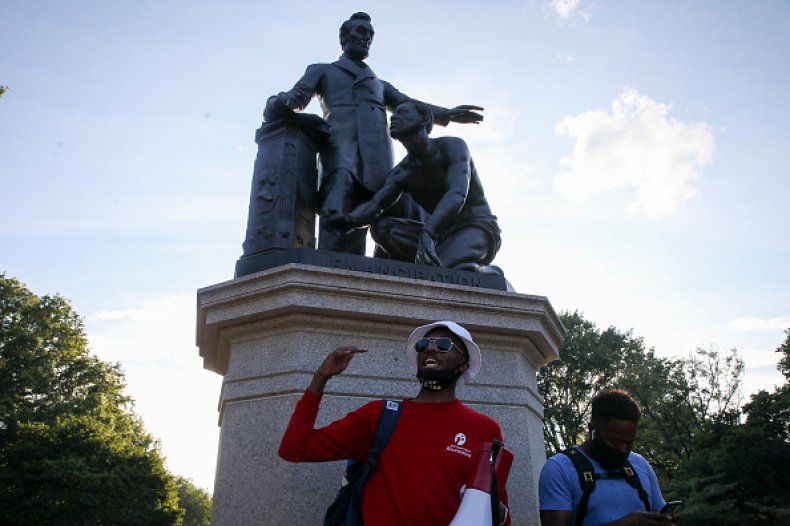 The group has openly stated that it will not work with police in the removal of the Emancipation Memorial.
"To achieve true justice, we are not working with the police, nor will we seek any relationship with them. In order to create change, we will do so by any means necessary. If you want a revolution, it won't happen by being peaceful," the organization wrote in an Instagram post.
An online petition calling for the removal of the memorial has also been started by D.C. native and candidate for an at-large seat on the D.C. Council Marcus Goodwin.
The push to remove the Emancipation Memorial comes as Confederate monuments across the country have been toppled in the wake of George Floyd's death and subsequent protests calling for an end to systemic racism in the U.S.
"It's time to take down monuments that memorialize the intended subservience of Black people in this country. Confederate statues are the obvious example, but this statue in Washington, D.C., perpetuates the idea that we are beneath white people and should simply be grateful for the scraps that have been thrown our way," Goodwin said.
"While Abraham Lincoln was a monumental U.S. president, worthy of memorializing, he already has a national monument that doesn't have degrading racial undertones."
The Freedom Neighborhood said the decision to defend the the Emancipation Memorial is greater than a single statue.
"Our lives are worth more than obedience, and if you are defending a statue more than a Black life that is contributing to the very system we are trying to get rid of," the organization said.
Update: This story has been updated to include comments from The Freedom Neighborhood.