Protesters Project 'Fuck Trump' Onto Football Stadium as President Arrives for College Football Championships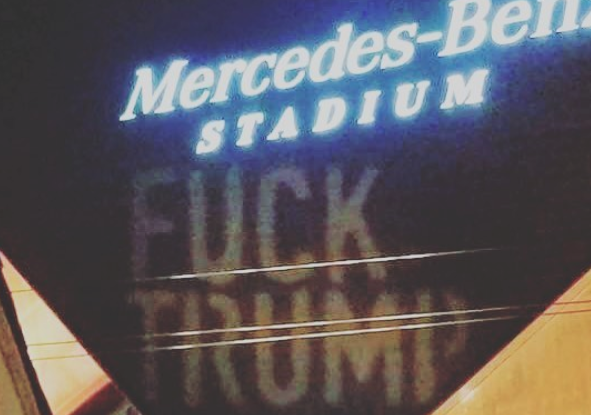 President Donald Trump was greeted with the message "Fuck Trump" projected onto the Mercedes-Benz Stadium in Atlanta when he arrived for the college football national championships.
The message was part of a protest organized by a number of groups opposing the president's visit to the Georgian city, according to SEC Country.
It was also accompanied by a number of other messages directed at the president, including "No one is illegal" and "Medicare for all."
The messages weren't the only signs of protest against the Trump administration—Alabama player Bo Scarbrough could also be heard yelling "fuck Trump" as his team walked out onto the field.
Read more: "Fuck Trump," Alabama player Bo Scarbrough appears to yell before college football playoff national championship
Fans also booed the president's motorcade as it pulled up to the stadium earlier in the night. Some alleged they had been forced to stand outside the arena in the rain until Trump arrived and was escorted into the building.
Protest group ResistNow said a number of fans were also waving towels with the "fuck Trump" message written across them throughout the game.
"He got booed," the group wrote, posting a picture of the message projected outside the venue. "And this was posted all around the stadium along with towels the crowd waved saying Fuck Trump! Notice the crowd wasn't shown that's why my friend!"
The NAACP had warned that it was expecting several groups to protest outside the College Football Playoff championship game between Georgia and Alabama on Monday night.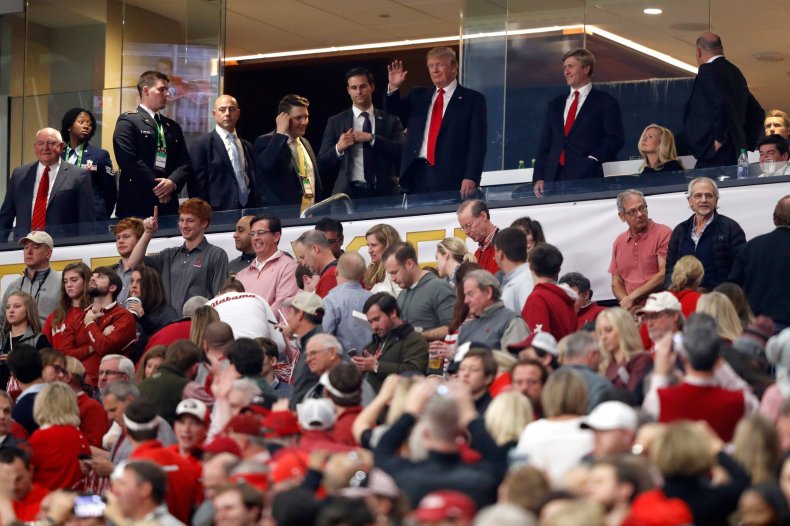 "Trump has made a terrible decision and is disrupting [the game] with his presence," the NAACP's Atlanta chapter had said in a Facebook post on Sunday.
It had encouraged protesters to bring white towels to simulate a blizzard, playing on the "snowflake" title Trump supporters have repeatedly bestowed upon their opposition.
While many fans protested in opposition of the Trump administration itself, many Atlantans have more personal beef with the U.S. president after he said the city was "in horrible shape" and "crime-infested" a year ago.
The insults came after Congressman John Lewis, a celebrated civil rights activist who was a key organizer of the 1963 March on Washington, announced he would not be attending Trump's inauguration after allegations of Russia meddling in the 2016 election emerged.
Trump responded by tweeting: "Congressman John Lewis should spend more time on fixing and helping his district, which is in horrible shape and falling apart (not to mention crime-infested) rather than falsely complaining about the election results."
It seems his words have not been forgotten in Atlanta, with one Instagram user, Bill Kaelin, sharing an image of the message projected across the Mercedes-Benz Stadium, writing: "Yes yes yes! This is what happens when @realdonaldtrump talks shit about our city and our representative civil rights hero @repjohnlewis We resist!"