Feds Blocked From Sending Airport Detainees Home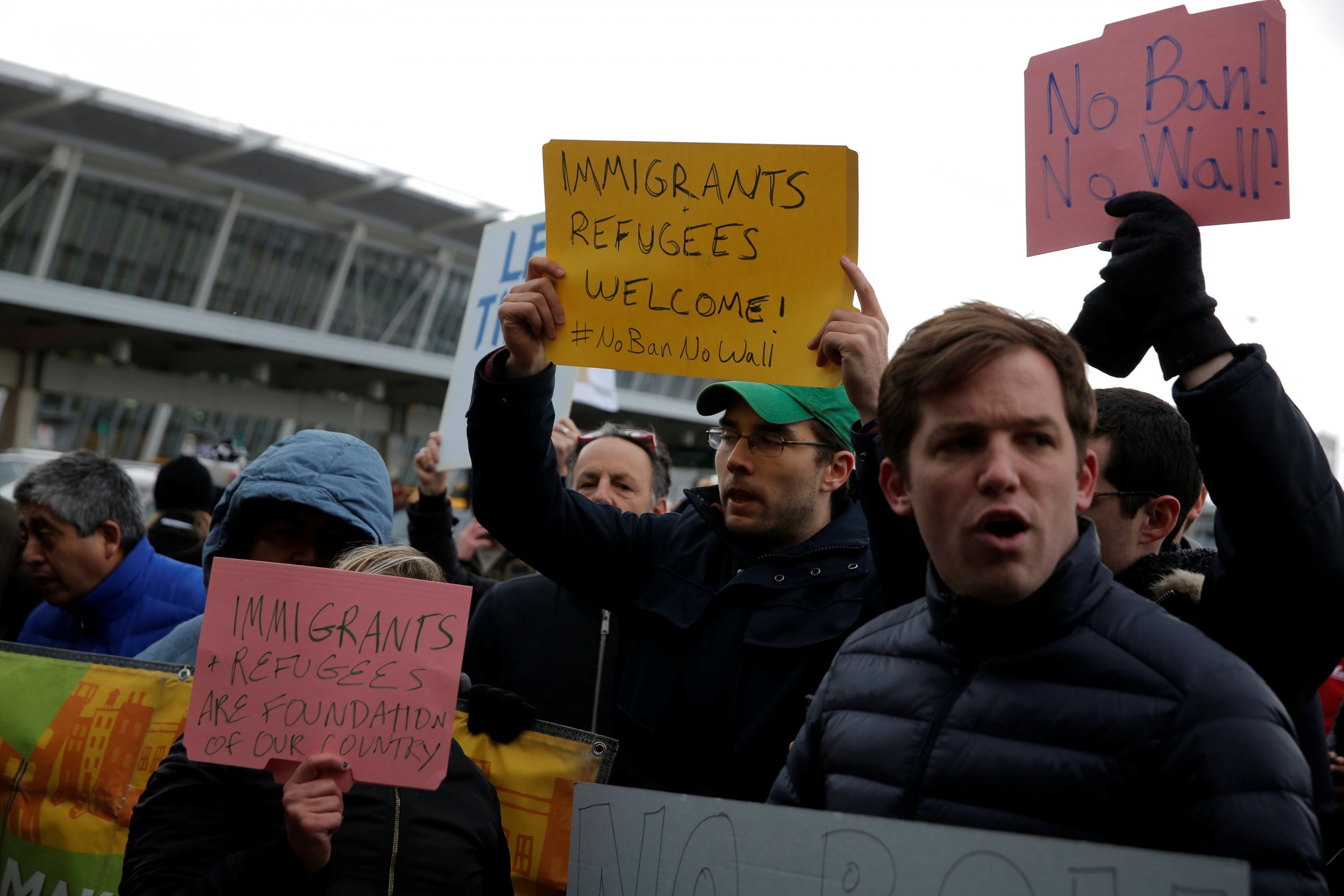 Update | A federal judge in Brooklyn blocked part of President Donald Trump's executive order banning travelers from certain Muslim-majority countries late Saturday, providing immediate relief to dozens stranded at airports around the country. Refugees and others detained at airports will not be sent back to their home countries. Similar rulings against Trump's order were issued in U.S. District Courts in Seattle and Virginia.
Concerned citizens are protesting the detention of Iraqi visa-holders at JFK International Airport in New York while a Muslim congressman calls for "mass rallies" to protest Donald Trump's ban on Syrian refugees and all travelers from certain Muslim-majority countries.
RELATED: Trump brings shame to U.S. with policy based on fear
Demonstrators massed outside the Queens airport's arrivals area Saturday afternoon after quickly organizing a protest on social media, with another planned demonstration scheduled for 6 p.m. Protesters held sings reading "No ban, no wall" and "Refugees welcome," according to NBC New York. "Today is the beginning of a long opposition from us, and our neighbors all over the country," organizer Jacki Esposito said.
Speakers are expected this evening when protesters demonstrate outside JFK to "put action behind words...to hold a vigil and rally against the detentions," according to a Facebook group that is organizing opposition. "No ban, no wall, sanctuary for all," its page reads. A separate page created to support the JFK protest reads, "We cannot stand by and let Trump turn our country into a fascist, unconstitutional haven of hate, ignorance, racism and religious homogeny."
Meanwhile, Congressman Keith Ellison of Minnesota told the New York Times Saturday that "Trump must be stopped," as he called for protests around the country.
"It's time for people to get active, to get involved, to vote and to organize...people power is what we have at our disposal to make him stop. We need mass rallies. We need them all over the country. We need them in Texas. We need them in D.C. We need them in Minnesota," Ellison told the Times.
Make the Road New York, an immigrant rights group, is monitoring the detainee situation at JFK Airport. Javier H. Valdes, co-executive director of the organization, said in a statement: "What is happening at JFK International Airport right now is an affront to American values. This harkens back to a previous dark episode in our nation's history when we turned away Jewish refugees seeking safe harbor from the horrors of Nazism. I will not and cannot stand idly by as the Trump administration begins repeating such unconscionable acts."
Up to a dozen refugees were detained at JFK Saturday, according to the Worker and Immigrant Rights Advocacy Clinic at Yale Law School, in response to Trump's order banning all travel from seven Muslim-majority nations for 90 days as well as a four-month halt of all refugee admissions. One of the detainees, Hameed Khalid Darweesh, a former U.S. Army translator, has since been released but was held despite holding a valid visa. The Department of Homeland Security confirmed Saturday that Trump's order extends to those with green cards—legal, permanent residents of the United States.
A lawsuit filed on behalf of Darweesh and a second Iraqi, Haider Sameer Abdulkhaleq Alshawi, has been filed in federal court in Brooklyn, challenging the executive order on constitutional grounds. The suit alleges the order violates the Constitution's due process clause by eliminating their ability to apply for asylum, and discriminates against them on the basis of their nationality, violating the equal protection clause.
Trump has wide latitude to set limits on immigration when it's in the national interest. However, legal experts say he cannot choose one class of immigrants over another based on ethnicity or religion. Although the order does not specify religions, Trump has said he was acting to help Christians in Syria. "There were comments during the campaign that focused very much on religion as the target," Hiroshi Motomura, an immigration expert at the UCLA School of Law, told Reuters. "If the record showed that the origins of a particular measure were based on targeting a particular group, that could be challenged in court."
David J. Bier, an immigration policy analyst at the Cato Institute's Center for Global Liberty and Prosperity, wrote in the New York Times that, "Mr. Trump asserts that he still has the power to discriminate, pointing to a 1952 law that allows the president the ability to 'suspend the entry' of 'any class of aliens' that he finds are detrimental to the interest of the United States...But the president ignores the fact that Congress then restricted this power in 1965, stating plainly that no person could be 'discriminated against in the issuance of an immigrant visa because of the person's race, sex, nationality, place of birth or place of residence.'
Another suit is expected Monday. The Council on American-Islamic Relations has said it plans to file a suit arguing that Trump's order targets Muslims and violates the U.S. guarantee of religious freedom.