Protesters Stage 'Die-In' Outside of Donald Trump's Manhattan Skyscraper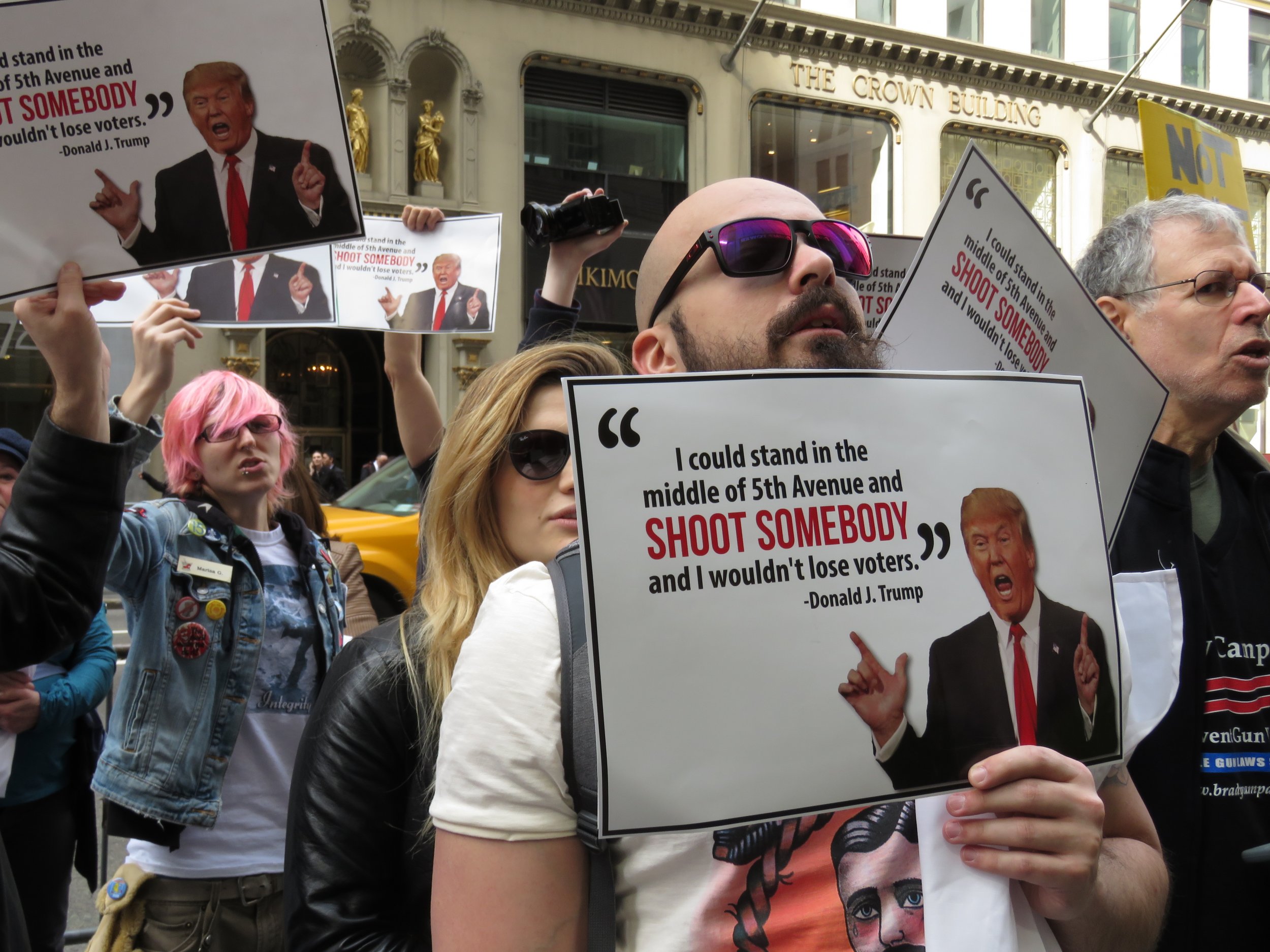 A group of protesters gathered peacefully Wednesday in front of one of Republican presidential front-runner Donald Trump's New York City skyscrapers to protest his comment from January that he "could stand in the middle of Fifth Avenue and shoot somebody" without losing support from voters.
About 40 people from the Brady Campaign to Prevent Gun Violence and other gun-control advocates gathered outside of the candidate's headquarters for the so called die-in demonstration. On the stretch in front of the building, they briefly laid down and covered themselves in white sheets to represent the 90 Americas who are killed by gun violence each day. Then they stood up and repeatedly chanted, "Ninety a day, no more, no way!" Some held signs that read, "Hey Trump, gun violence is not a joke," "Not one more [gun death]" and "Love Trumps hate." The entire event lasted just 10 minutes, but the participants said they hope Trump hears their message.
"We don't think talking about killing people with a gun is a joke," Jonathan Perloe, leader of the southwestern Connecticut chapter of the Brady Campaign, tells Newsweek. "If he is president, he will be guiding the policies that direct our country."
The protest came a day after residents in five states and a U.S. territory participated in Republican primaries and caucuses to select which candidate they want to win the party's nomination. Continuing with his momentum, Trump won at least four of the six contests, including delegate-rich Florida, a result that consequently forced Senator Marco Rubio to suspend his campaign.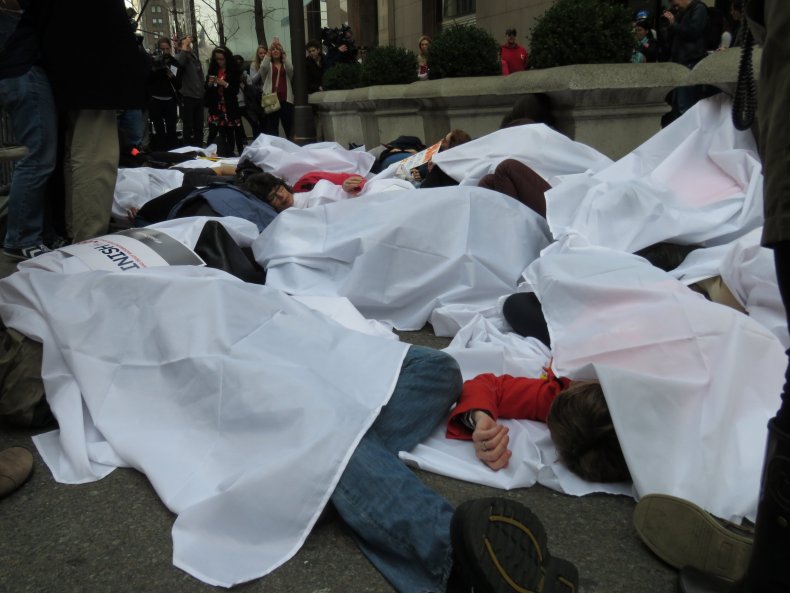 Similar to his Republican competitors, Trump touts his support for the Second Amendment and promises to veto President Obama's recent executive actions on gun control, if he is elected into office on November 8. Among his gun beliefs, Trump thinks arming more Americans with firearms could prevent mass shootings. He is a proud member of the National Rifle Association and publicly has said he owns both a gun and a concealed-carry permit. At the October 28 GOP debate, the billionaire said he carries a gun in New York "sometimes a lot" to be "unpredictable."
"Trump's rhetoric and positions on gun violence prevention are deeply troubling," said Brady Campaign President Dan Gross. "They're dangerous, misinformed and vile to their core." The Brady Campaign, which works to expand federal background checks to all firearms sales, has endorsed Democratic front-runner Hillary Clinton for president.
Trump wasn't anywhere near his midtown Manhattan skyscraper when the protesters gathered there on Wednesday afternoon. Perloe says they aren't interested in clashing with his supporters; rather, they want other Americans to hear their concerns.
Coney Cinco, of Brooklyn, says she hadn't demonstrated prior to Wednesday, but joined to help spread the Brady Campaign's message.
"Thinking he can shoot anybody without repercussions, it's scary. That could be me he shoots at," she says.
Robin Frank, of New York City, also participated and says "enough is enough." "The violent rhetoric of his campaign is abhorrent. We can't have a man running for president who speaks so glibly about shooting people in the street," she says. "I'm just sick of hearing all of the violent rhetoric from his campaign. It's frightening."