Protesters Stop Columbia University Speech by U.K. Far-Right Figure Tommy Robinson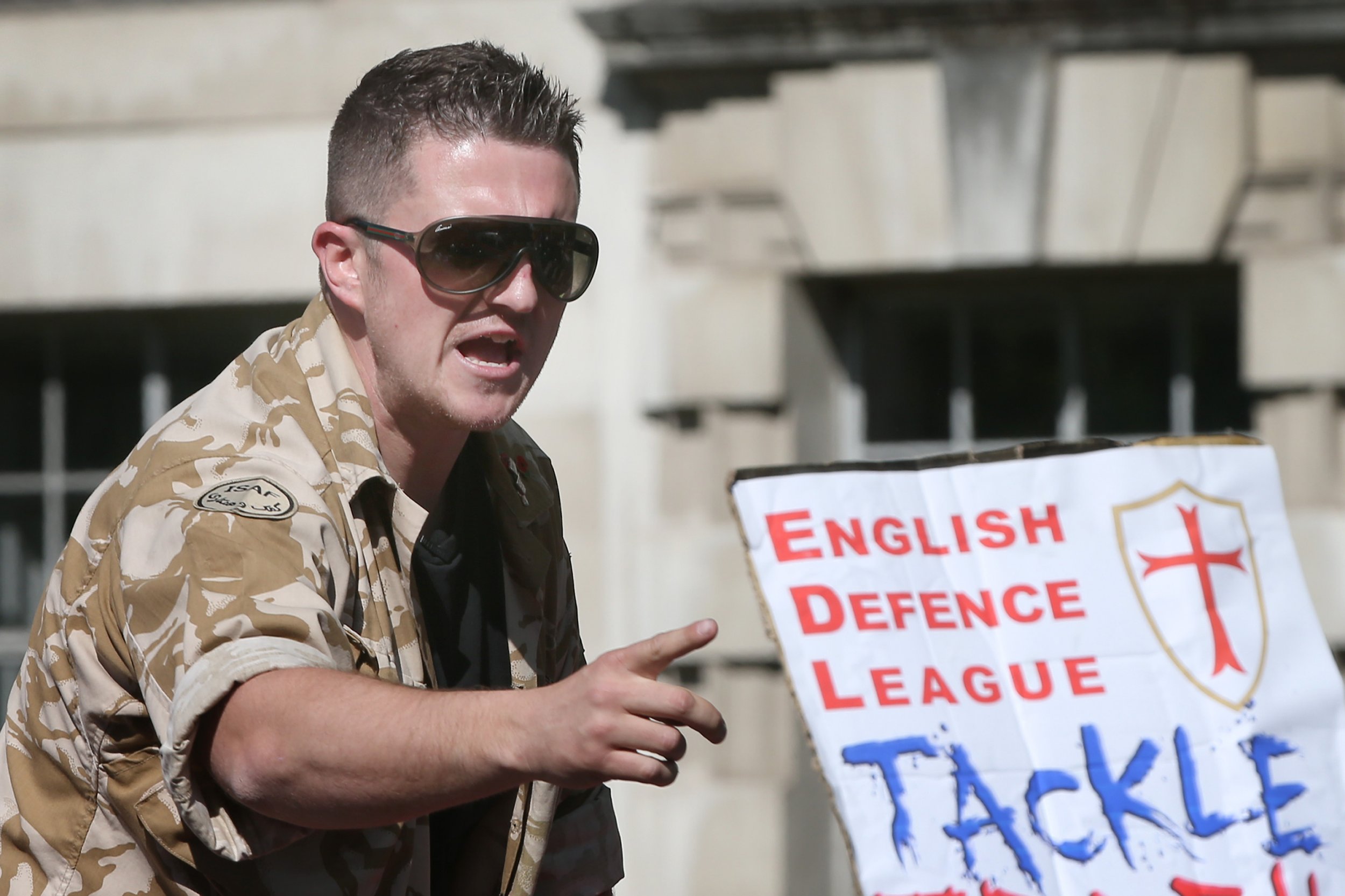 Demonstrators at Columbia University disrupted an address by a U.K. far-right leader who has been accused of stoking Islamophobia.
Tommy Robinson, whose real name is Stephen Yaxley-Lennon, has described Islam as "fascist" and "violent." He was scheduled to deliver a talk titled "The Fall of Europe: Mass Immigration," but students at the prestigious Ivy League college in New York City shouted at Robinson as he was preparing to deliver his speech via Skype and heckled his statements, the Columbia Daily Spectator reported.
In a video of the protest obtained by conservative college news site campusreform.org, protesters are seen chanting "good night alt-right," and hold up placards denouncing the event.
Public safety officers reportedly demanded that protesters hand over their student identity cards, and blocked other students from entering the auditorium. The students then chanted and banged on the walls during the event, interrupting it. College groups are banned from disrupting events under the university's code of conduct.
In a video of the event posted on the Facebook page of the Columbia University College Republicans, the group that organized the event, Robinson is challenged and shouted down by protesters as he discusses his views on Islam and terrorism in Britain.
In a joint Facebook statement, the left-wing student groups that organized the protest declared their determination to show that "alt-right speakers like Tommy Robinson are NOT WELCOME on our campus."
"As students and community members, we are disappointed in our campus Young Republicans for choosing to aid the trend violent provocation over intellectual discourse," reads the statement.
"Far-right extremism has relied upon Young Republican chapters at universities for audiences, promotion, and credibility. We condemn CUCRs decision to assist the white nationalist agenda which has consistently promoted violence and aggression toward some of the most vulnerable communities on our campus and in the U.S.."
In a video posted on Twitter, Robinson blamed the so-called antifa (short for anti-fascist) movement for "hijacking" the event.
He alleged the Republicans who had invited him had been "intimidated," adding he was unable to give the speech "because of the hostility and the attack on free speech by the far left."
College campuses in the U.S. In recent months have been the subject of fierce debate over the limits of free speech, with protesters arguing that speakers with allegedly racist views should be barred, and right-wing student groups defending their freedom to propound their views.
In April, there were scuffles between pro-Trump and left-wing groups on the campus of Berkeley College, California, ahead of a speech by a provocateur of the so-called alt-right, Milo Yiannopoulos. A planned rally by white nationalist Richard Spencer was canceled by the University of Texas A&M in August over security concerns, days after an anti-racism activist was killed at the Unite the Right rally in Charlottesville, Virginia.
Robinson's talk is one of a series planned at the Columbia by hard right political figures, with activist Mike Cernovich—who propogated the controversial "pizzagate" conspiracy theory about Hillary Clinton—scheduled to speak on October 30.
The Columbia University College Republicans club described Robinson as "an important political figure in England and Europe" who has "championed the notion that radical Islam is incompatible with Western values and the freedoms we currently enjoy."
It also claimed Robinson "has been jailed unfairly due to his politics, which should frighten any American who values freedom of speech."
The group posted the campusreform.org video on its Twitter feed Wednesday, commenting "no words are needed."
Robinson co-founded the far-right English Defence League in 2009 and left it in 2013. He has in recent years given speeches at anti-Immigrant rallies in Germany. Robinson is prevented from entering the U.S. because of his criminal record. He was jailed for a drunken assault on an off-duty police officer in 2005, jailed in January 2013 for using someone else's passport to enter the U.S. illegally, and again in January 2014 for his part in a mortgage fraud.
In a statement, Columbia University's executive vice president for university life, Suzanne Goldberg, denounced white supremacism but affirmed the college's commitment to allow speakers with unpopular views to speak on campus.
"It is foundational to Columbia's learning and teaching missions that we allow for the contestation of ideas," Goldberg wrote. "This includes expression of ideas that are deeply unpopular, offensive to many in our community, contrary to research-based understandings, and antagonistic to University tenets."