Protesters Storm Starbucks Where Two Black Men Were Arrested For Not Placing An Order
Starbucks is now facing protests, boycotts and criticism after a Philadelphia branch of the store called police to report two black men for "trespassing," despite the pair simply waiting for a friend before placing an order.
Protesters stormed the store on Monday morning (April 16) chanting "Starbuclks is anti-black," Fox News reported, also shouting "we're going to shut you down."
The protests came after demonstrators gathered outside the City Center Starbucks on Sunday, carrying placards that read "too little too late" and calling for the employee who phoned the police to be dismissed. On Staurday, the company's CEO Kevin Johnson apologized to the two men in a statement, NPR reported.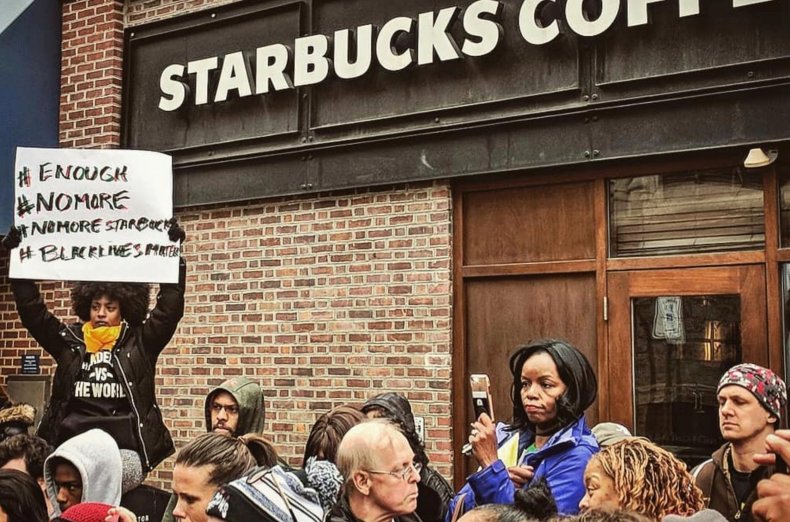 "I'm writing this evening to convey three things: First, to once again express our deepest apologies to the two men who were arrested with a goal of doing whatever we can to make things right. Second, to let you know of our plans to investigate the pertinent facts and make any necessary changes to our practices that would help prevent such an occurrence from ever happening again. And third, to reassure you that Starbucks stands firmly against discrimination or racial profiling," Johnson said in a statement, after protesters and social media users accused the store of racially profiling the men.
The two men were escorted from the Starbucks store in handcuffs on Thursday after staff called police. On arriving, police were told by staff that the men had wanted to use the restroom but were informed it was only for paying customers, Police Commissioner Richard Ross said in a statement.
The pair repeatedly refused to leave when politely asked to do so by the employees and officers, he said.
However, customers who witnessed what happened said they believed the men were racially profiled, with one sharing a video of the arrest. In footage shot at the scene, the friend of the men arrives and asks the police: "What did they get called for, because there were two black guys sitting here, meeting me?" PBS reported.
Following threats to boycott Starbucks over the weekend, protests took place outside the store. Meanwhile, the call to join a boycott is growing on social media.