A lawsuit filed in federal court Tuesday alleges that the Seattle Police Department (SPD) used "unnecessary violence" to suppress the constitutional rights of racial justice and Black Lives Matters protesters against anti-black police violence.
The lawsuit—filed against the city of Seattle on behalf of Black Lives Matter activists, four protesters, a would-be protester and a journalist with the local weekly newspaper, The Stranger—says the city's police forces violated citizens' First Amendment rights to free speech and Fourth Amendment protections against unreasonable search and seizure, according to The Seattle Times.
The plaintiffs also claim that use of police force has escalated even as the protests have become more peaceful.
"On an almost nightly basis, the SPD has indiscriminately used excessive force against protesters, legal observers, journalists, and medical personnel... has repeatedly sprayed crowds of protesters with tear gas and other chemical irritants," the lawsuit states.
One of the plaintiffs is Sharon Sakamoto, a retired woman who was deterred from protesting over concerns that tear gas and other police crowd-control weapons might harm her health.
Tear gas is a chemical weapon banned in war zones—except to protect supply convoys, control prisoners of war and on personnel rescue missions—by the 1925 Geneva Protocol and the United Nations' Chemical Weapon Convention (CWC) which went into effect in 1997. However, the CWC says tear gas "may be used for certain law enforcement purposes including riot control."
Purvi Parikh, an allergy and immunology doctor at NYU Langone Health, told ProPublica that tear gas can trigger asthma attacks and damage breathing tissue that leaves one more susceptible to infections.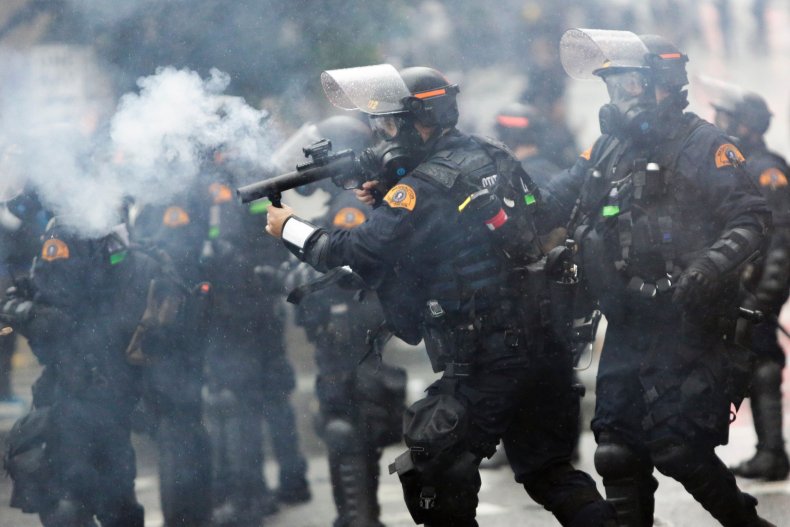 On June 3, Seattle City Council Member Kshama Sawant wrote on Twitter about her plan to introduce legislation banning police use and purchase of chemical weapons including tear gas, mace, pepper spray, rubber bullets and bean bags, water cannons, sonic and ultrasonic weapons.
On June 5, Seattle Mayor Jenny Durkan and Seattle Police Chief Carmen Best both promised a 30-day ban on use of tear gas by police. However, multiple news outlets claimed that city police used tear gas on protesters barely three days after Durkan and Best's pledge.
Police claimed that it retaliated after people amongst the crowd launched bottles, rocks, fireworks, and other items at officers.
Neither the mayor nor police have commented publicly about the lawsuit. Newsweek reached out to Durkan's office for comment. This story will be updated with any response.
"Use of force must be rare, it must be necessary, and it must be proportional.... De-escalation is critical in every interaction officers have – from individual actions to crowd management." Durkan said on Tuesday.
"I know that safety was shattered for many by images, sounds and gas more fitting of a war zone: I am sorry," she continued. To all those who came peacefully and had their constitutional right to protest impacted: I am sorry."