Protesters Take Over Inside of Interior Department in Demonstration Against Fossil Fuels
Dozens of protesters filled the U.S. Department of the Interior building on Thursday for a climate sit-in, following a march through Washington D.C. that attracted hundreds of people, The Washington Post reported.
Those individuals who could not enter the building attempted to push past police to enter the building which led to a shoving altercation and some police using their tasers. This came as the group looked to speak with Interior Department Secretary Deb Haaland who was not in the building at the site of the sit-in, The Post wrote.
Thursday marked the fourth day of protests as part of the ongoing People vs Fossil Fuels demonstrations. These activists demand that President Biden declare a national climate emergency and cease his approval of fossil fuel projects.
Native American activists in the building focused on occupying the space held by the Bureau of Indian Affairs. The Indigenous Environmental Network, which was present at the protest, wrote that this marked the first time the Bureau had been occupied since the 1970s, writing:
"We will no longer allow the U.S. government to separate us from our relationship to the sacred knowledge of Mother Earth and all who depend on her." It continued: "Politicians do not take care of us. Presidents will break their promises, but Mother Earth has always given us what we need to thrive. We will not back down until our natural balance is restored."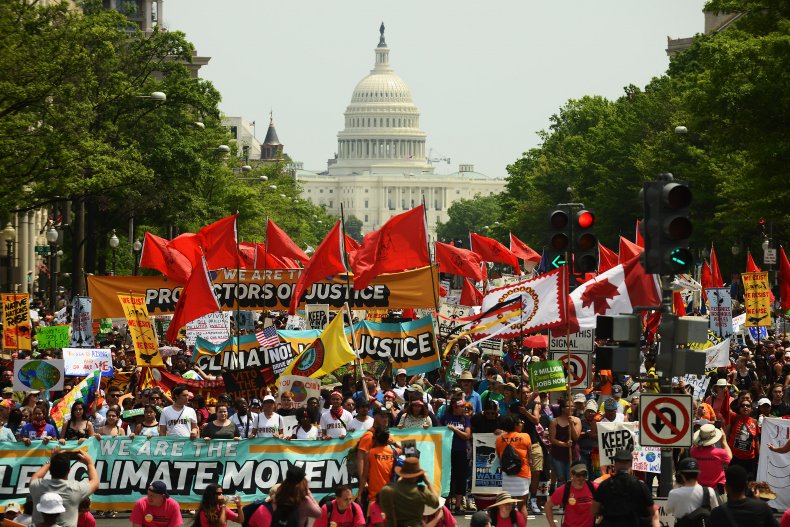 The group's post demanded that Biden abolish the Bureau of Indian Affairs, restore 110 million acres of Native land, establish a new commission to form treaties with Native nations and "bring home" the remains of children buried at Native residential schools, among others.
In conjunction with this protest, the Post reported that members of the climate organization Extinction Rebellion organized outside of the Chamber of Commerce. Some individuals climbed a ledge and set off smoke flares, while others used retrofitted fire extinguishers to spray fake oil on the building.
A number of protesters and police were harmed during the altercations. Specifically, the Post reported that one police officer was sent to the hospital as a result of injuries sustained during the Department of Interior occupation. Demonstrators said the police response was "out of proportion" with one officer being accused of using a chokehold and hitting others with his freehand. A spokesperson for the Department of the Interior provided the Post with the following statement.
"Interior Department leadership believes strongly in respecting and upholding the right to free speech and peaceful protest. Centering the voices of lawful protesters is and will continue to be an important foundation of our democracy," it wrote. "It is also our obligation to keep everyone safe. We will continue to do everything we can to de-escalate the situation while honoring first amendment rights."