Protesters Target Mitch McConnell as He Leaves Restaurant, Shouting 'Where Are the Babies?'
Senate Majority Leader Mitch McConnell has become the latest Republican to be confronted by protesters over the Trump administration's now ended policy of separating families at the U.S. southern border.
The politician was chased from a restaurant by a group of protesters, one of whom yelled: "Where are the babies, Mitch" as he got into his car.
The incident occurred outside the Bristol Bar & Grille in Louisville, on Saturday, with McConnell leaving the restaurant, where he dined with Kentucky outgoing House Majority Floor Leader Jonathan Shell, and being accosted by what Shell described as "a small group of extremists," The Courier Journal reported.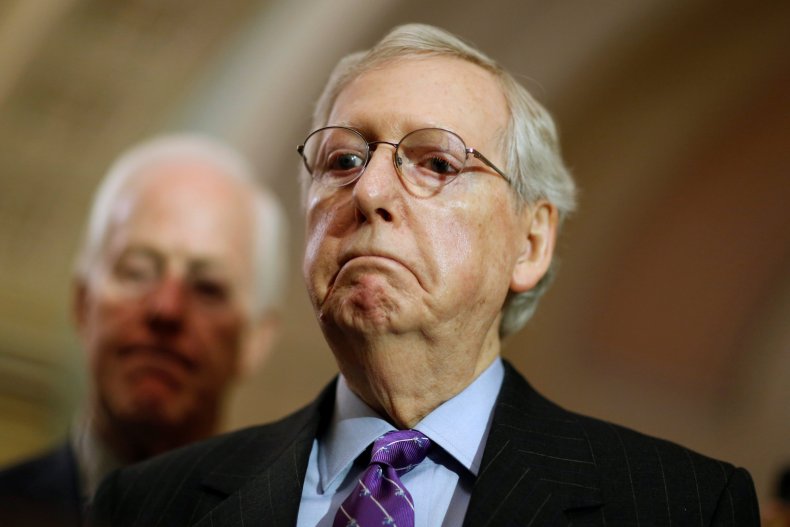 As he walked to his car, protesters asked McConnell "What are you doing to get the babies back?" and shouted "Abolish ICE." The Journal reported that one protester shouted "We know where you live."
The incident occurred following a series of similar protests against members of Trump's administration. White House press secretary Sarah Huckabee Sanders was refused service at a restaurant, and Homeland Security Secretary Kirstjen Nielsen and White House adviser Stephen Miller were both confronted by protesters while at restaurants.
After a string of Cabinet members were confronted by protesters, Representative Maxine Waters, a California Democrat, told a rally in her state that members of the Trump administration should be prepared to be met with protest if they continued to defend the border separation polic, which has since been changed.
"I have no sympathy for these people that are in this administration who know it is wrong what they're doing on so many fronts, but they tend to not want to confront this president," Waters said.
"For these members of his Cabinet who remain and try to defend him, they're not going to be able to go to a restaurant, they're not going to be able to stop at a gas station, they're not going to be able to shop at a department store," she added.
Her comments were slammed by Donald Trump and other Republicans, as well as some Democrats, with Shell describing the recent protest against McConnell as a "not-so-subtle threat right out of the Maxine Waters playbook," telling the Journal it was "very distasteful."