Protesters in Thailand Adopt 'Hunger Games' Protest Sign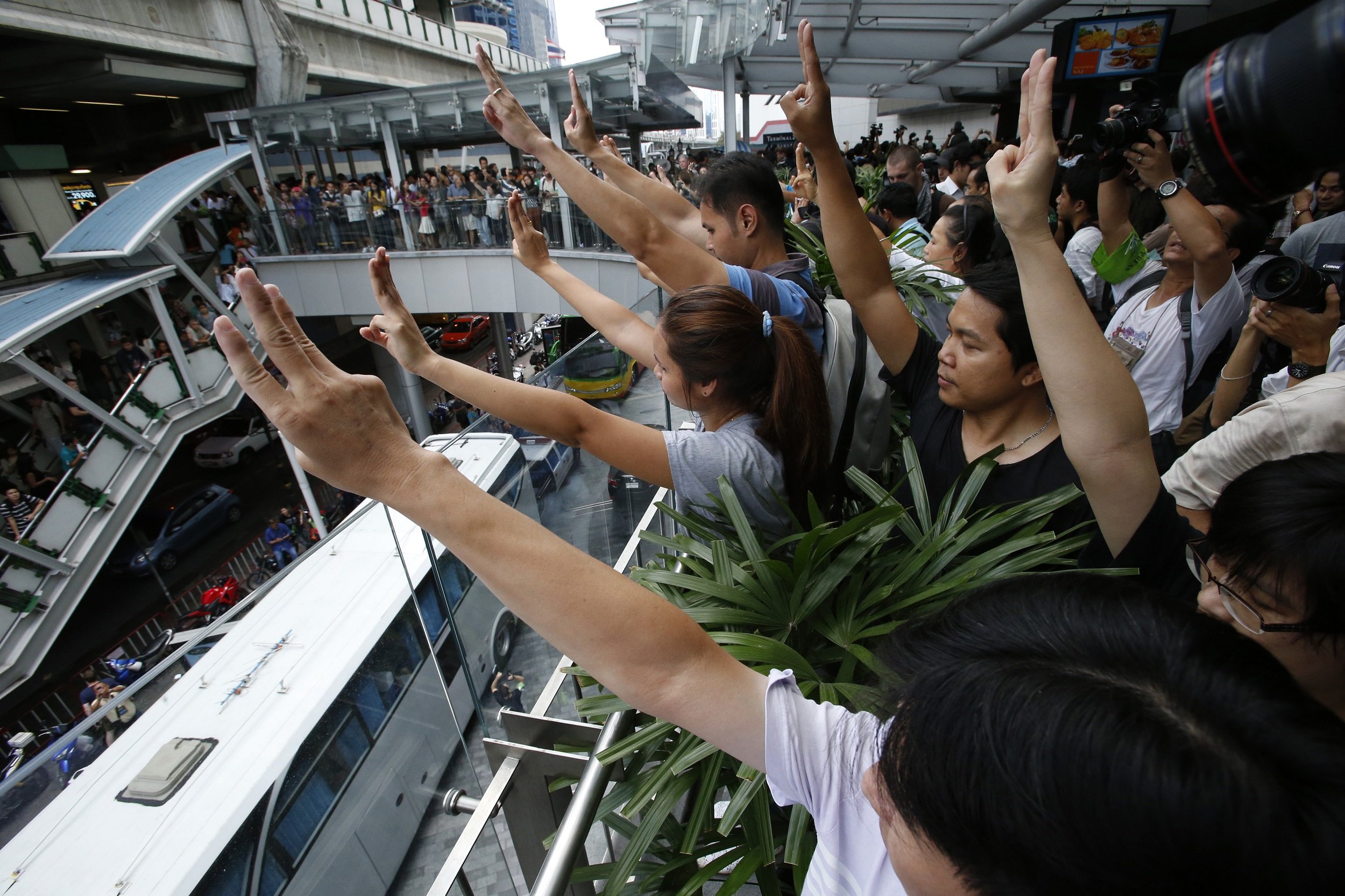 Thai demonstrators have adopted a new hand sign as part of silent protests against the military coup, according to reports: the three-finger salute used in the wildly popular Hunger Games movie series based on Suzanne Collins's hit trilogy of books.
The salute is a gesture of solidarity in the fictional series, set in a dystopian world where young people are forced to fight to the death for the amusement of the ruling class. As demonstrators gathered in downtown Bangkok on Sunday, the salute was raised as an unofficial symbol of resistance against the junta, which has banned all public protest in the country. A spokesperson for Thailand's military rulers told the Associated Press on Tuesday that they intend to crack down on any "obvious form of resistance," and that they are "monitoring" the use of the new three-fingered hand sign.
On May 22 the coup brought down the nation's elected government, replacing it with Thai army chief and now-self-appointed prime minister, Prayuth Chan-ocha. The military has taken steps to ban criticism of the coup by shuttering politically affiliated television stations and by blocking hundreds of websites, the AP reports.
The youngest daughter of the ousted premier Thaksin Shinawatra posted a photograph of herself flashing the three-finger salute on social media, according to the AFP.
Boonngamanong, an activist who has reportedly helped organize anti-coup protests, posted an explanation of the salute on his Facebook page:
"Raising three fingers has become a symbol in calling for fundamental political rights," Sombat wrote, according to the AP. He called on people to raise "3 fingers, 3 times a day"—at 9 a.m., 1 p.m. and 5 p.m., for 30 seconds each time—in safe public places where no police or military is present.