Protesters Want First-Degree Murder Charge Against Derek Chauvin, But That Might Acquit, Not Convict Him
As protests across the country continue in the wake of George Floyd's death, many are calling for former Minneapolis police officer Derek Chauvin to face first-degree murder charges—including Floyd's family—but legal experts say that would be unlikely to lead to a conviction.
"A charge for first-degree murder would simply make the case weaker," said David Harris, a criminal law professor at the University of Pittsburgh and host of the podcast Criminal Injustice.
That's because a first-degree murder charge requires proof of intent, which experts say would be hard to do in this case. The criminal justice system, they added, generally favors law enforcement officers.
"It's going to be pretty unlikely to be able to convict this as premeditated," said Mark Osler, a former federal prosecutor and criminal law professor at the University of St. Thomas in St. Paul.
Minnesota Attorney General Keith Ellison upgraded the charge against Chauvin from third-degree to second-degree murder on Wednesday. He also brought charges against the other three officers who were on the scene when Floyd was killed. All four men have been fired.
The elevated murder charge says Chauvin killed Floyd "without intent" in the course of committing assault in the third degree, and Harris described it as "a perfectly valid, provable theory for second-degree murder." If found guilty, Chauvin could face a prison sentence of 40 years.
Floyd's family called the new charges "bittersweet." His brother Philonis told CBS News that he nevertheless still believes his death was intentional as "they murdered him in broad daylight in front of everybody." Ellison also said Wednesday he would keep the door open for more changes, saying he'd consider first-degree murder charges "if we get evidence to support that."
In a graphic video shot on May 25, Chauvin is seen kneeling on Floyd's neck for nearly nine minutes during an arrest. Floyd, a 46-year-old black man, was already handcuffed and could be heard saying "I can't breathe" before going motionless. Two autopsies have found Floyd died by homicide.
But convicting Chauvin at all, whether it be on first-degree or second-degree murder charges, will be a challenge because as research shows, police officers rarely face jail time even in cases of severe legal misconduct.
"Juries are very reluctant to second guess the split-second, life or death decisions of on-duty police officers in potentially violent street encounters," said Phillip Stinson, a criminal justice professor at Bowling Green State University.
Stinson collects one of the most reliable data sets on police prosecutions in the nation. By his count, only 110 law enforcement officers have been arrested for murder or manslaughter resulting from an on-duty shooting since 2005. Of those 110 officers, 42 were convicted, 50 were not and 18 cases are still making their way through the courts.
"However, the stranger the circumstances get of an incident that leads to an officer's arrest the more likely that the officer is going to be convicted," Stinson. "The greatest likelihood of a conviction is going to be when the facts are so bizarre that they simply can't be rationally explained. That's what we have here frankly in Minnesota."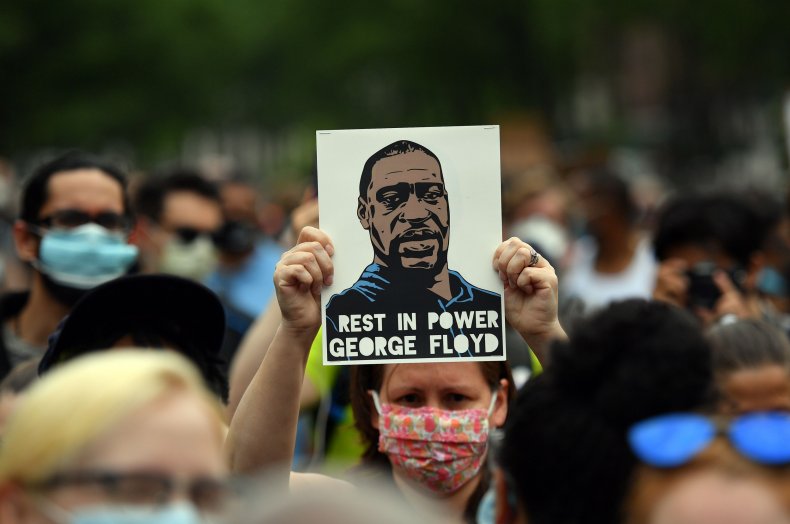 The Minneapolis police initially said they arrested Floyd because he matched the description of a man suspected of passing a counterfeit $20 bill at a grocery store and that he resisted arrest. But a criminal complaint filed by one of the other officers on the scene described Floyd as "calm" and that when they tried to put him in the squad car he "stiffened up and fell to the ground."
According to documents, Floyd told officers "he was not resisting but did not want to get in the back seat and was claustrophobic." Floyd repeatedly told the officers that he couldn't breathe, cried out for his mother and asked the officers "please."
Elizer Darris, an organizer for the Smart Justice program at the American Civil Liberties Union of Minnesota, said there was a "level of relief" when Attorney General Ellison elevated the charges.
This case, he added, can serve as a "chilling effect for officers who would want to utilize levels of force that are completely unnecessary."
Only one officer has ever been convicted of murder while on-duty in Minnesota. Last year, Mohamed Noor was convicted on counts of third-degree murder and second-degree manslaughter for the death of Justine Ruszczyk Damond, an unarmed white woman he killed while on patrol in 2017. Noor, a black Somali-American, was sentenced to about 12 and a half years in prison. During the prosecution, Damond's father accused some Minneapolis police of "active resistance" to the investigation and said the Minnesota Bureau of Criminal Apprehension investigators showed "gross incompetence."
"However," Darris said, "there has never been one conviction of any white officer in the history of this entire state for killing an African American resident. Not one in the couple hundred years this state has been in existence."