Trump Lauds Secret Service in Handling Protesters at White House, Blasts D.C. Mayor for Not Getting Police Involved
In a Twitter thread on Saturday morning, President Donald Trump thanked the Secret Service for their handling of the protesters at the White House on Friday night, while also accusing Washington D.C. Mayor Muriel Bowser for not having the city's police department involved.
According to CNN, protesters gathered at the White House, angered over the death of George Floyd. Protesters pushed against riot shields and moved barriers, while chanting. Secret Service used pepper spray on protesters on at least one occasion. Protests in D.C. began around 7 p.m. and moved to the White House around 10 p.m. CNN reported that they had mostly ended around 3:30 a.m.
The president thanked the Secret Service for the work they did: "They were not only totally professional, but very cool. I was inside, watched every move, and couldn't have felt more safe."
Trump also explained when protesters "got too frisky or out of line, [the Secret Service] would quickly come down on them, hard - didn't know what hit them. The front line was replaced with fresh agents, like magic."
While Trump praised Secret Service for not allowing any protesters to breach the fence, he said that had anyone been successful they "would have been greeted with the most vicious dogs, and most ominous weapons, I have ever seen. That's when people would have been really badly hurt, at least." He also said that Secret Service agents were "just waiting for action."
In the last tweet in the thread, Trump criticized D.C. Mayor Bowser, saying that she "wouldn't let the D.C. Police get involved."
WUSA9 reported that protesters gathered around a Secret Service agent, which resulted in a protester knocked down to the ground, and a woman was apprehended after climbing over the barrier.
The U.S. Secret Service later tweeted that local D.C. police were present during the demonstrations.
"The Metropolitan Police Department and the U.S. Park Police were on the scene," the statement read.
Bowser responded to Trump's tweet at a Saturday afternoon press conference. "I want to be very clear: my police department in Washington D.C. will always protect D.C. and all who live and visit here. In fact that is exactly what we did yesterday and last night. No one needed to ask the Metropolitan Police Department to get involved, because we were already involved," she said. "D.C. police supported uniformed Secret Service last night like we have done literally dozens of times at Lafayette Park."
She also criticized Trump's response to the protesters. "As we go forward, I call upon our city and our nation to exercise great restraint even while the president tries to divide us," she said.
Bowser also responded in her own tweet thread shortly after the president tweeted. "My police department will always protect DC and all who are in it whether I agree with them (such as those exercising their First Amendment Right) or those I don't (namely,@realdonaldtrump)," she wrote in the first tweet.
She also called on the president to exercise restraint and finished her thread with a quote from Dr. Martin Luther King, Jr.
In a later tweet, Trump criticized the protesters and said they "had little to with the memory of George Floyd" and "were just there to cause trouble." He also wrote: "Tonight, I understand, is MAGA NIGHT AT THE WHITE HOUSE???" In another tweet, he criticized protesters again, calling them "Organized Groups," going further to say that they had "nothing to do with George Floyd."
WTOP reported that chants saying "Hands up, don't shoot" and "No justice, no peace" were heard from protesters, and Secret Service began lining up as some protesters threw bottles and cans.
Newsweek reached out to the White House for comment Saturday morning, but did not receive an on-the-record response. The D.C. mayor's office did not respond to Newsweek's earlier emailed request for comment in time for publication.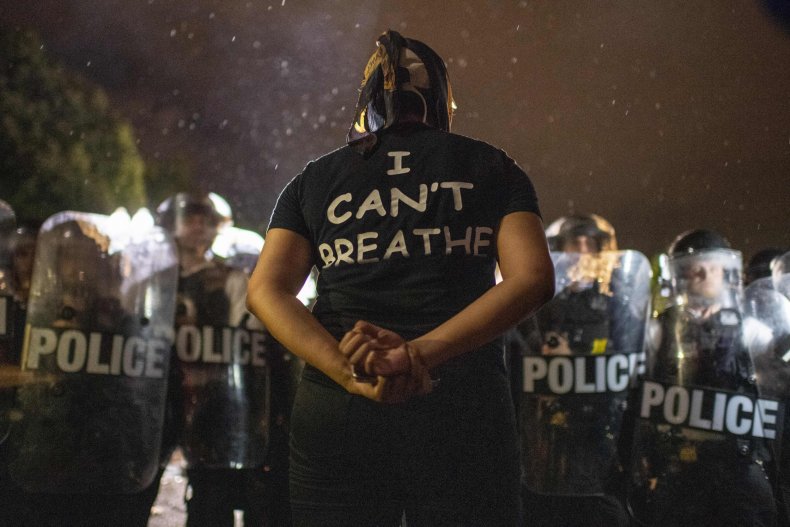 Updated 1:40 p.m. EST: This story has been updated to include the U.S. Secret Service's statement on the protest, which was released after the story was originally published.
Updated 4:49 p.m. EST: This story has been updated to include Mayor Bowser's response to Trump's tweet on Twitter during her news conference.