Protesters Outside White House Demand 'Moscow Mitch,' Trump Act to Curb Gun Violence After Mass Shootings
As the nation and its leaders continue to react to the mass shootings that killed at least 31 people over the weekend, hundreds of protesters from more than a dozen activist organizations banded together in front of the White House on Tuesday to demand that Washington politicians take action in ways they believe would help prevent future gun deaths.
The civil rights and gun reform groups—Voto Latino, The Leadership Conference on Civil and Human Rights, MoveOn, Labor Council For Latin American Advancement, United We Dream, Service Employees International Union, Planned Parenthood Action Fund, NAACP Legal Defense and Educational Fund, American Federation of Teachers, Muslim Advocates, March for Our Lives, Human Rights Campaign and the Interfaith Alliance—demanded that President Trump immediately cease his "racist, violence-inducing attacks" against minorities and immigrants, which they claimed has promoted violent acts toward people of color committed by white supremacists.
The groups also called on Senate Minority Leader Mitch McConnell, a Kentucky Republican, to end August recess early and to allow votes on gun control legislation H.R. 8 and H.R. 1112 that the House passed in February and would expand and strengthen the background check requirements for firearm purchasers, or implement what are commonly referred to as universal background checks.
"We have to make our voice heard, tell [lawmakers] that we demand that Mitch McConnell get out of the way, if he doesn't want to lead the Senate," Sherrilyn Ifill, president and director of the NAACP Legal Defense and Educational Fund, told protesters. "There are a few who are blocking our voice—that is not democracy. We have to make our voice heard."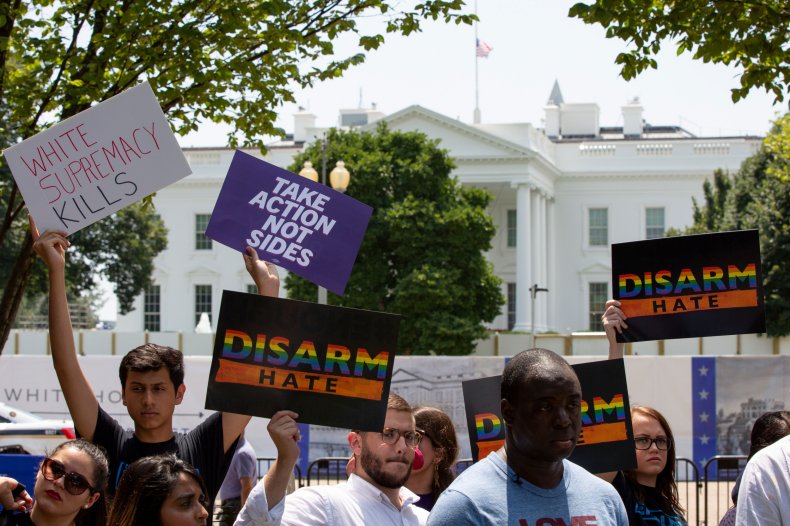 McConnell has condemned the violence as "sickening," after two mass shootings that resulted in 31 deaths—22 people in El Paso, Texas, from a gunman on Saturday who police say had anti-immigrant and white supremacist views; and another nine in Dayton, Ohio, in the early morning hours on Sunday. It is still unclear what the second gunman's motives were. But McConnell has so far not shown a willingness to allow a vote or to debate the legislation for potential amendments that could help muster more GOP support for the gun bills.
Trump has expressed a willingness to develop new measures to address identifying mental illnesses and preventing those with such a disease from owning firearms. But Trump said the root of the problem stems from "mental illness and hatred," which "pulls the trigger—not the gun," a further indication that he would not support the strengthening of background checks. In fact, he's threatened to veto the background check legislation, should it ever reach his desk.
Senators Richard Blumenthal, a Democrat, and Lindsey Graham, a Republican, have said they've teamed up in a bipartisan effort to craft new "red flag" legislation that the president could support. "Red flag" laws seek to make it easier for police to remove guns from the homes of mentally ill people.
"We... need to ensure that 'Moscow Mitch,' who basically is captive to the [National Rifle Association], internalizes that he is at risk, and that any other person who's up for reelection in 2020 who doesn't take a vote on this issue needs to go look for another job," Kris Brown, president of the gun violence group Brady United, told Newsweek. "Events like this, but not just here—all over the country. All of the members are home on recess, and we have to show up at their district office, show up at their plan town halls."
Critics of McConnell have dubbed him "Moscow Mitch" for blocking election security bills in the Senate in the wake of former special counsel Robert Mueller warning Congress that Russia continues to try and subvert U.S. elections.
Senate Minority Leader Chuck Schumer, a New York Democrat, and Representative Peter King, a New York Republican, pleaded for McConnell to allow the House-passed gun legislation be voted on. King was just one of eight House Republicans who voted to strengthen background checks for firearms.
"This should not be, in any way, a partisan issue. All this legislation does is that people who are criminals and mental patients and spousal abusers should not be able to purchase a gun," King said alongside Schumer at a press conference in their home state. "I believe it's essential that Senator McConnell allow this to come for a vote. He doesn't have to support it; he doesn't have to get behind it. Just let it come to a vote. This is common sense legislation."
Ohio Governor Mike DeWine unveiled a new proposal Tuesday morning that would strengthen background checks and implement "red flag laws."
Protesters outside the White House also accused Trump of playing a role in the El Paso attack due to the shooter leaving behind a manifesto with rhetoric about immigration similar to that of the president's.
They chanted phrases like "white supremacy has got to go!" while holding signs that read "Disarm Hate," "United against white supremacy" and "Thoughts and prayers and action and reform."
"President Trump did not create white supremacy or racism in this country. He has licensed it. He incites it. He encourages it. But he did not create it," Ifill said. "We already faced the problem of Mitch McConnell refusing to do his job as Senate majority leader."