'Protesters, Your Ass,' Donald Trump Says About Demonstrations After RNC
One day after accepting the Republican Party's presidential nomination, President Donald Trump held a campaign rally in Londonderry, New Hampshire on Friday.
Many in attendance at Trump's rally, held at an airplane hangar at ProStar Aviation, could be seen wearing face masks. New Hampshire has mandated facial coverings for any public gathering of more than 100 people. Trump's primary opponent in the 2020 election, Democratic presidential candidate Joe Biden, finished fifth in New Hampshire's Democratic primary in February.
President Trump described the protesters outside the Republican National Convention on Thursday as Biden supporters.
"Today's Democrat Party is filled with hate," Trump said. "Just look at Joe Biden supporters on the streets, screaming and shouting at bystanders with unhinged manic rage. It's crazy. You ought to see Washington last night. It's a disgrace. It was a disgrace that these people are representing the United States of America."
"Protesters? You know what I say? Protesters, your ass," Trump continued. "I don't talk about my ass."
"They're not protesters," Trump added. "Those are anarchists. They're rioters. They're looters."
Trump also said he was considering bestowing "some kind of medal" on the police officers who came to the defense of Senator Rand Paul, who was surrounded by demonstrators following Thursday's keynote address at the Republican National Convention.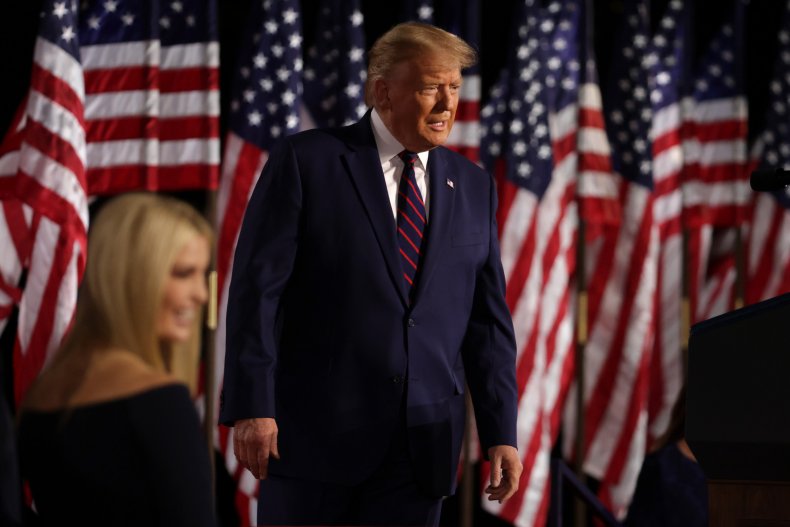 Senator Paul tweeted that he had been attacked by an "angry mob" of at least 100 people after Thursday's convention. Paul also thanked members of the Washington, D.C. police force for their protection.
Trump decried the behavior of demonstrators toward political dignitaries outside the White House after his speech.
"They get accosted?" Trump said of the lawmakers who attended Thursday night's convention. "They get abused? They get spit on? It's a disgrace and our country is going to change. We're not gonna allow that to happen."
Trump went on the attack against Biden, describing him as "weak as hell" for not discussing law and order during the Democratic National Convention. Trump also ridiculed the Biden campaign's announcement that Biden would begin holding in-person campaign events again in then days.
"That's like an eternity in Trumpville," President Trump said. "I view ten days as an eternity. That's a big percentage of the remaining time." Trump also reiterated his statement that Biden was a figurehead for "radical left" Democrats.
"It's not Biden," Trump said. "It's his masters. They tell him what to do, his masters."
During his acceptance speech on Thursday, President Trump said Biden's record was "a shameful roll call of the most catastrophic betrayals and blunders of our lifetimes. He has spent his entire career on the wrong side of history."
Biden's campaign responded to Trump's statement with a Thursday tweet. "I will put the integrity of my whole career in public service to this nation up against Trump's lack of integrity any day of the week," read the graphic displayed within the post.