Protesters Against Police Brutality Storm Portland's City Hall, Injuring Guard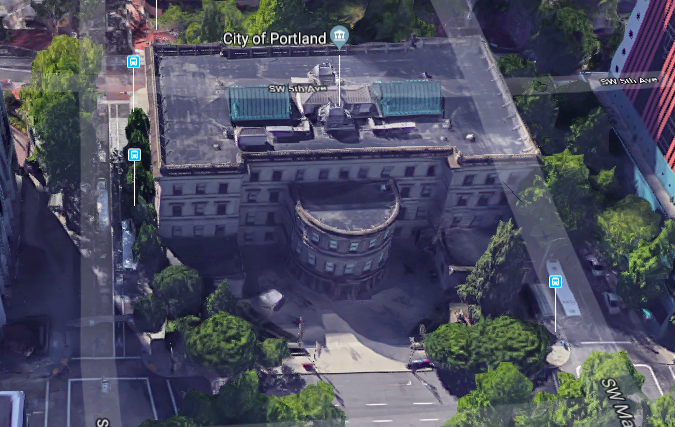 Protesters upset by what they see as police brutality stormed Portland's City Hall this afternoon, injuring one guard and scuffling with others, according to reports.
The Portland City Council was meeting in City Hall this morning when protestors gathered outside, according to The Oregonian.
The newspaper reports that guards had "blocked people from entering the building after protesters disrupted the morning City Council meeting. Around 50 protesters surrounded City Hall's main entrance and a few pushed back against security personnel barricading the doors.
"One demonstrator, who was masked and wearing a baseball helmet, smashed a security guard over the head repeatedly with a megaphone. The guard was seen afterward clutching a bag of ice, a bruise beginning to form on his cheek."
Hundreds of protests arrived at Portland's City Hall this morning to "question how the city handled the counter-protest to Patriot Prayer on Saturday," according to TV station KOIN.
Mayor Ted Wheeler told the TV station that he and other city council members walked out of their meeting when hecklers disrupted it. He said the council meeting moved to another room but the protestors did not stop, gathering in the lobby and chanting, "Go get Ted."
KOIN reports that several people were injured as a result, with arrests made, and that City Hall went on lockdown.
Portland declared a disturbance during a rally and its counter protest and told Patriot Prayer members and antifa members to disband.
One reporter on the scene called it "intense" and one news reporter was photographed bleeding after tensions escalated.
The protest featured "small scuffles" that broke out Saturday and Portland police deployed "flash bang" devices and other means to disperse hundreds of right-wing and self-described anti-fascist protesters, according to The Associated Press.
Among those at Wednesday's City Hall protest that turned violent were people who said they were physically harmed by police when they broke up Saturday's Patriot Prayer rally and its counter protest.
"I should be home recovering from the pain and trauma I'm suffering. But I'm also suffering from complete outrage and powerlessness," said Michelle Fawcett, according to oregonlive.com.