Protestors Remove U.S. Flag and Raise Mexican Flag In Its Place at ICE Detention Center
Outside an U.S. Immigration and Customs Enforcement (ICE) detention center in Aurora, Colorado, hundreds of protestors gathered during a demonstration that resulted in a U.S. flag being brought down off the flag pole, and a Mexican flag raised in its place.
Protestors also reportedly spray-painted "Abolish ICE" on a "Blue Lives Matter" flag before hoisting that up as well.
The demonstration took place two days before the agency confirmed the launch of a multi-city operation seeking to round up at least 2,000 immigrant families for deportation. Denver is one of those cities, where 50,000 undocumented migrants currently live, according to reports.
The Denver Post said Aurora demonstration was part of a nationwide protest billed as "Lights for Liberty: A Vigil to End Human Concentration Camps." Organizers aimed to bring a stop to possible roundups in Denver and other major cities across the country and to "shine a light on the horrific abuses of the Trump administration in human detention camps," organizers said on Facebook.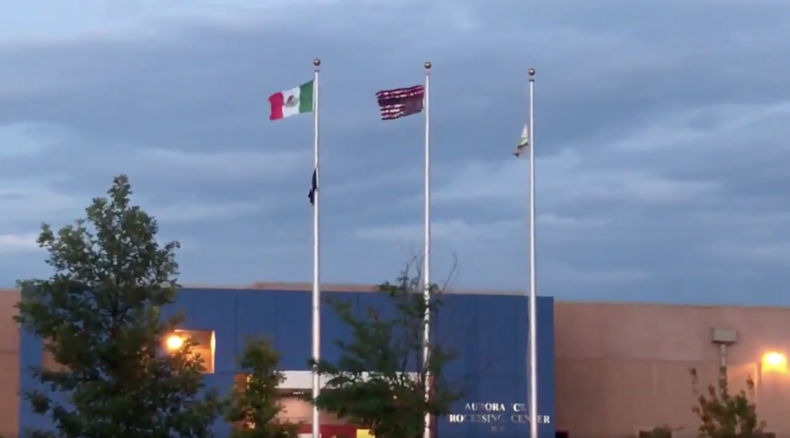 The "Lights for Liberty" website describes the organization as "a coalition of people, many of whom are mothers, dedicated to human rights, and the fundamental principle behind democracy that all human beings have a right to life, liberty and dignity."
Roughly 13 miles from Denver, the rally at the Immigration and Customs Enforcement center in Aurora was just one of many similar events that took place at detention centers across the country. Chanting slogans like "free them all," a reported number of 2,000 people gathered to protest the upcoming ICE raids and what they allege to be inhumane conditions for the detainees.
"We feel every person has the right to dignity. We also feel that immigrants are not being given the dignity that they deserve, like everyone else," Jason Hayman, who brought his four children to the rally in Aurora, told The Denver Post.
Protestors raised a Mexican flag on a flagpole directly in front of the facility after taking down a US flag. A Blue Lives Matter flag was also taking down, and spray-painted with the words "Abolish ICE" before being armed guards outside the center took down both flags, and reportedly re-hoisted the U.S. and Colorado flags in their place.
Since 1986, the Aurora center is privately run by the The Geo Group, which contracts with the federal government to operate detention facilities of various types. The center reportedly houses 150 detainees.
Speaking to reporters Friday after announcing the resignation of Labor Secretary Alexander Acosta, President Donald Trump said that the previously announced nationwide immigration arrests will indeed start on Sunday, as had been reported by multiple news outlets.
"They're going to take people out, and they're going to bring them back to their countries," he said on Friday. "We're focused on criminals as much as we can, before we do anything else."
The ICE raids come after an earlier plan in late June to conduct mass immigration arrests stalled after receiving fierce pushback; Trump claimed he put the earlier plans on hold "at the request of Democrats."
In a statement to Newsweek, ICE refused to comment about the nature of Sunday's raids.
"Due to law-enforcement sensitivities and the safety and security of U.S. Immigration and Customs Enforcement personnel, the agency will not offer specific details related to enforcement operations," an ICE spokesperson said in a written statement. "As always, ICE prioritizes the arrest and removal of unlawfully present aliens who pose a threat to national security, public safety and border security. In fact, 90 percent of aliens arrested by ICE's Enforcement and Removal Operations component in FY2018 had either a criminal conviction(s), pending criminal charge(s), were an ICE fugitive, or illegally reentered the country after previously being removed."