Protests Follow Turkey's Move to Take Over Newspaper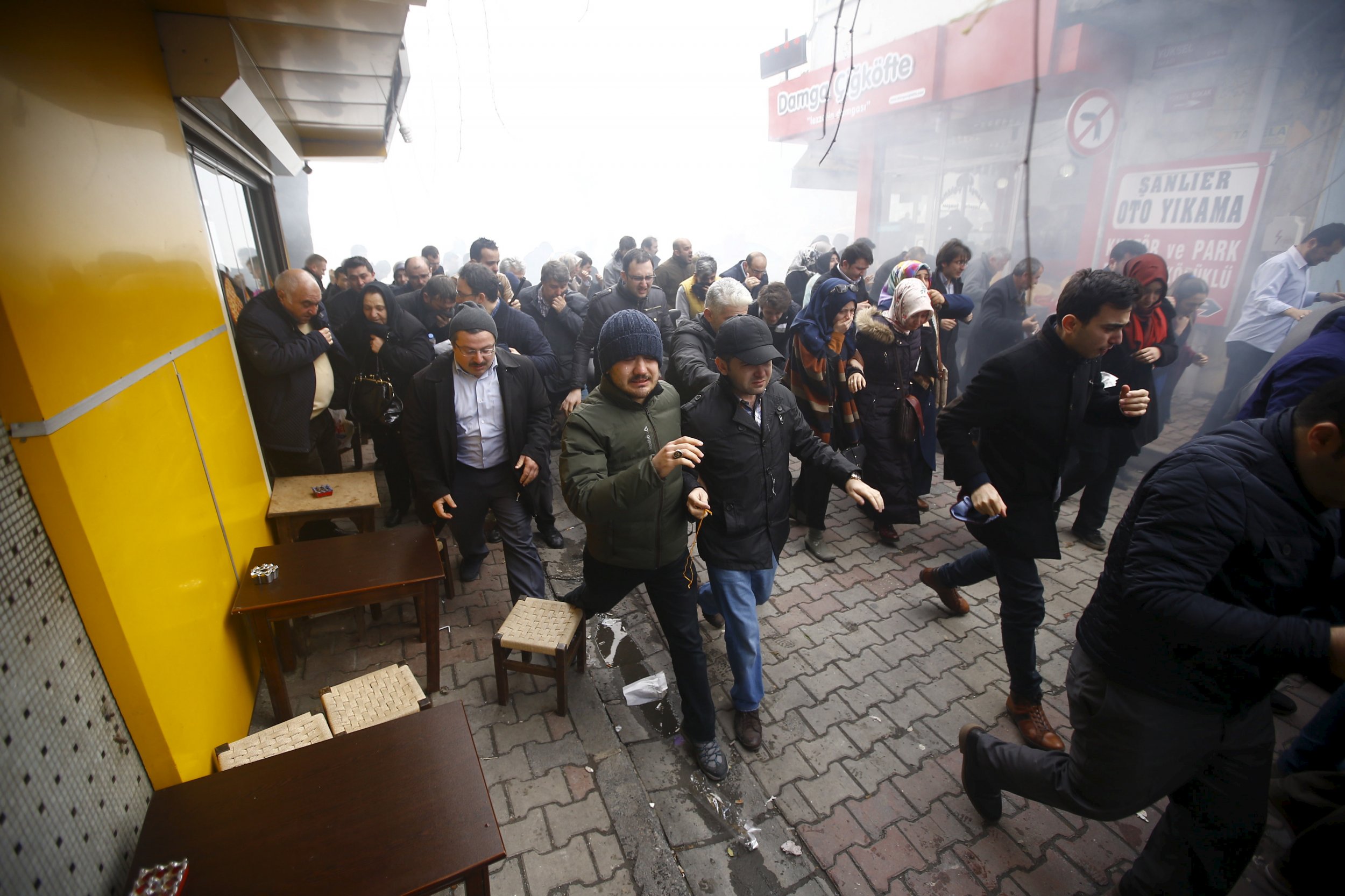 ISTANBUL (Reuters) - Turkish police fired tear gas and rubber bullets on Saturday to disperse protesters outside the country's biggest newspaper after authorities seized control of it in a crackdown on a religious group whose leader the government accuses of treason.
A court on Friday appointed an administrator to run the flagship Zaman, English-language Today's Zaman and Cihan agency, linked to U.S.-based cleric Fethullah Gulen who the government says plotted a coup. The ruling came at the request of a prosecutor probing Gulen on terrorism charges, state media said.
Rights groups and European officials condemned the takeover, seeing it as proof the government silences dissident views. Other media outlets affiliated with Gulen's movement were seized in October, and companies, including a bank, have been confiscated, wiping out billions of dollars in valuations.
"Extremely worried about latest developments on Zaman newspaper which jeopardizes progress made by Turkey in other areas," European Enlargement Commissioner Johannes Hahn said on Twitter. "We will continue to monitor this case closely. Turkey, as a candidate country, needs to respect freedom of the media."
European Parliament President Martin Schulz tweeted that the takeover was "yet another blow to press freedom" and pledged to discuss the matter with Prime Minister Ahmet Davutoglu on Monday.
In Berlin, Norbert Roettgen, chairman of the foreign affairs committee in the German Bundestag and a senior lawmaker in Chancellor Angela Merkel's Christian Democrats, said: "Not only the violent action against a critical newspaper, but also the fact that the government takes over the whole paper is a severe blow by the Turkish leadership against the freedom of press."
Critics have accused the European Union of largely turning a blind eye to Turkey's worsening rights record because it needs its help curbing the record flow of refugees and migrants.
Turkey, which borders Syria, Iraq and Iran, and the bloc hold an emergency summit in Brussels on the crisis on Monday.
Police first raided Zaman around midnight, firing tear gas and water cannon and forcing open a gate to enter the offices.
FIRINGS
Employees returned to the newsroom on Saturday to work under the new administrator, but Zaman editor-in-chief Abdulhamit Bilici and columnist Bulent Kenes were fired and escorted from the premises, said Sevgi Akarcesme, top editor at Today's Zaman.
"It is a dark day for Turkish democracy and a flagrant violation of the constitution," Akarcesme told Reuters, adding most Turkish media were not fully reporting the takeover out of fear they could face similar reprisals.
Kemal Kilicdaroglu, head of the main opposition Republican People's Party (CHP), said the Istanbul court that ordered Zaman's seizure was acting as a political tool.
"That judge is carrying a stick for the political authority," he said in a speech broadcast live. "We are failing at press freedom. Thirty journalists are in jail...for writing the truth, 7,000 are unemployed. Newspapers are being seized."
Zaman's editors were largely supportive of President Tayyip Erdogan during much of his rule since 2003, but Gulen's movement fell out with the administration over foreign policy and a move to close schools run by the Gulen movement, a source of much of its influence and finances.
Then, police thought to be in the movement leaked news of a corruption investigation into Erdogan's inner circle in December 2013, which he described as a "coup attempt."
Human Rights Watch (HRW) said the raid on Zaman and its sister publications amounted to a "government takeover."
It is "nothing but a veiled move by the president to eradicate opposition media and scrutiny of government policies," said Emma Sinclair-Webb, HRW's senior Turkey researcher.