Protests Against COVID Restrictions Erupt in Netherlands, Police Car Set on Fire
Images circulating across Twitter showed what appeared to be hundreds of people congregating in the streets of Rotterdam, Netherlands in protest of what users said to be the country's COVID-19 restrictions.
One image showed a police car ablaze while others show flares littered across the streets as smoke fills the air and masses of people shouted in Dutch. One user posted a video featuring the sounds of "explosions and gunfire."
These protests trail an announcement last Friday that the government intended to implement a partial lockdown amid a recent surge. The seven-day average for new COVID cases jumped by nearly 1,000 percent from the rate reported by Our World in Data on October 1 to the current rate as of November 18.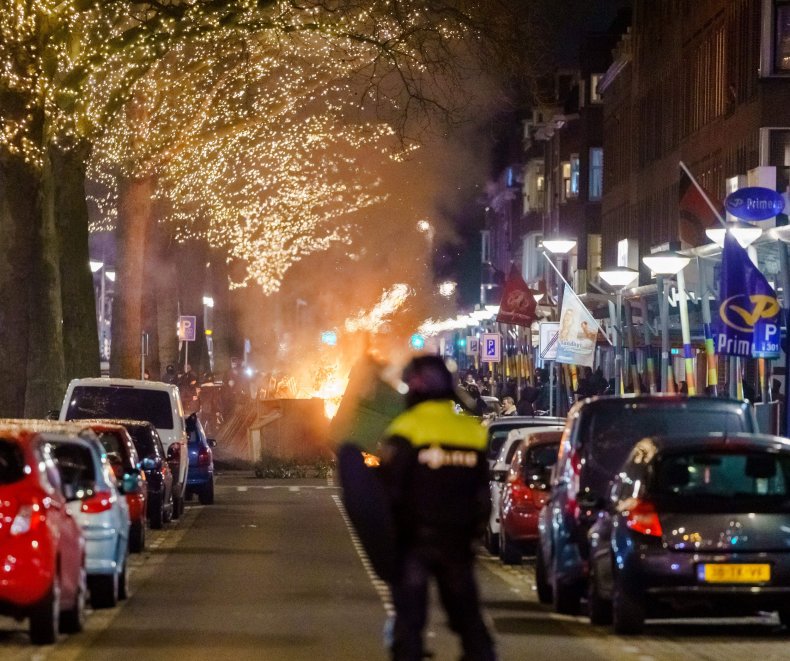 "Tonight we are bringing a very unpleasant message with very unpleasant and far-reaching measures," Prime Minister Mark Rutte said in a televised address on the Friday evening of the announcement. "The virus is everywhere and needs to be combated everywhere."
The measure requires that restaurants, shops, and supermarkets close early and bans spectators from attending major sporting events. It also recommends that people host no more than four visitors in their homes.
When Reuters covered this announcement on November 12, the outlet reported protestor backlash similar to that carried out on Friday. A group of roughly 100 protestors took to the streets outside the government building where Rutte was speaking and set off fireworks, later throwing objects at police when they arrived at the scene.
French newswire Agence France-Presse (AFP) reported that issues surrounding the Coronavirus will "dominate" Dutch politics.
"This election of course it's very much COVID and also the economic decline crisis that will emerge from this," Andre Krouwel, a political science professor at the Vrije Universiteit Amsterdam, told AFP. "That changes from previous elections when it was more about immigration and European integration."
Despite the public protests, the current administration remains popular in its handling of COVID. According to a survey reported by German state-owned media entity Deutsche Welle, 77 percent of the nation support the government's handling of COIVD-19.
Rutte remains a leader in the nation's political polls, and the country's conservative opposition leader Geert Wilders admits that COVID should continue to uplift the Rutte camp moving forward.
"The current government is rather popular now, at least the prime minister is, but then again in a time of crisis people tend to rally around the flag," Wilders told AFP in an interview. "Other issues such as immigration are still important, for my voters it's still number one, but if you look at the average Dutchman, corona is the number one issue indeed."